The Nocturnal Times Top 15 Electronic Dance Music Albums of 2015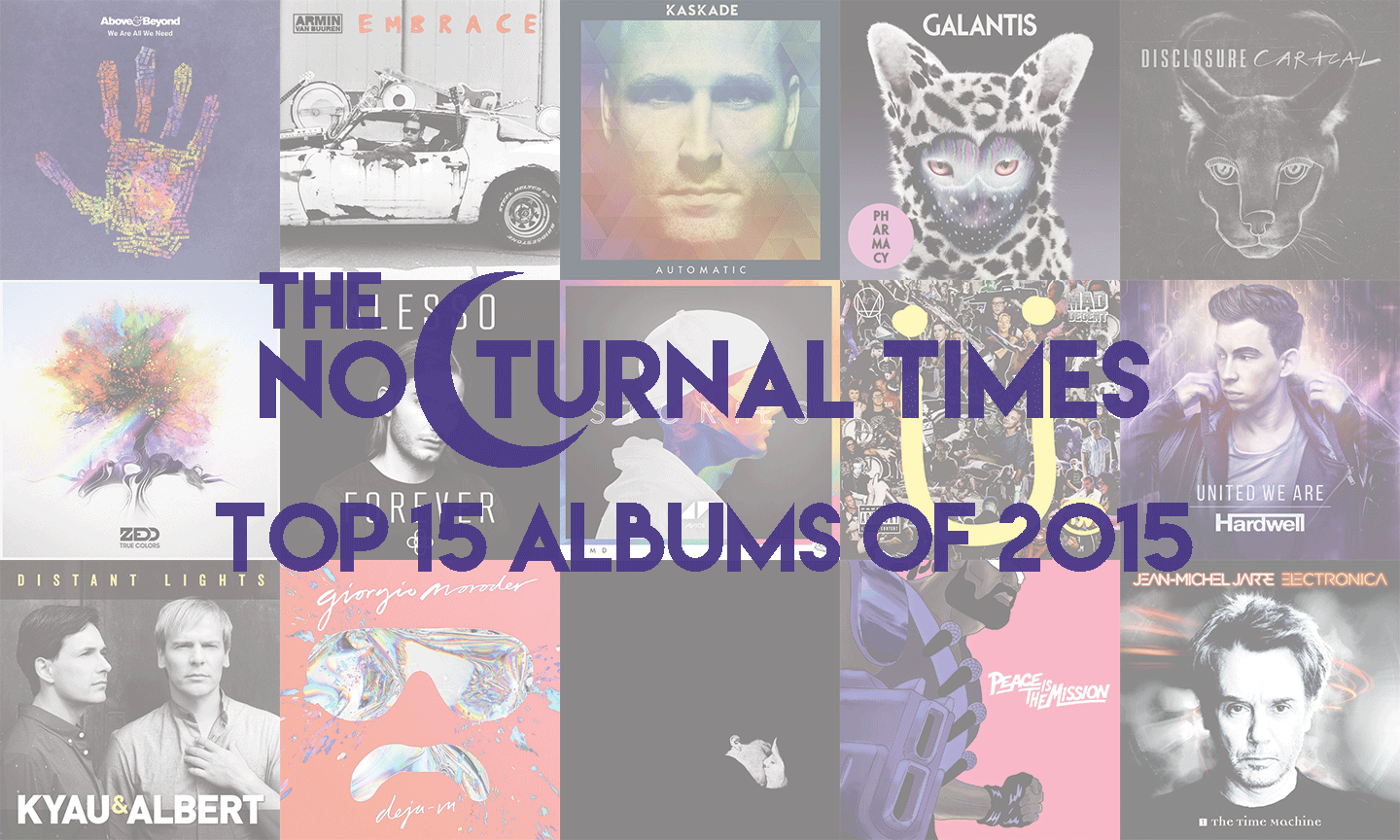 Above & Beyond – We Are All We Need [Anjunabeats]
Emotional dance music at its finest, Above & Beyond delivered another artistic masterpiece with We Are All We Need, which saw its release on their Anjunabeats label in January. Almost a continuation to their Group Therapy album, the We Are All We Need chapter divulges deeper into the classic Above & Beyond sound. Unlocking elements capable of captivating and uniting, Jono, Tony, and Paavo enrapture the trance world with their new 16-track LP.
With vocals from Zoe Johnston, Justine Suissa, Alex Vargas, Gemma Hayes, and band member Tony McGuinness, We Are All We Need touches on real life: the highs and lows, trumps and triumphs, and the good and bad. It doesn't get any more real than Above & Beyond. All of the tracks are single worthy, which is why they each deserve their moment to shine.
From "Sticky Fingers" to "Blue Sky Action," "Peace Of Mind" to "All Over The World," "Counting Down The Days" to "Hello," "Fly To New York" to "Save Me," and "Treasure" to "Little Something," We Are All We Need is 70 minutes worthy of a listen (or a bunch!).
We Are All We Need also includes the Grammy Award-nominated single "We're All We Need" feat. Zoe Johnston, which earned a nomination for Best Dance Recording at the 2016 GRAMMYs.
Armin van Buuren – Embrace [Armada Music]
Extremely productive and action-packed are easily terms that can be used to describe Armin van Buuren's 2015. The release of his highly-anticipated Embrace album, his annual A State of Trance (ASOT) 2015 compilation, an additional ASOT compilation (A State of Trance Live From Ushuaia, Ibiza 2015), millions of listeners on his weekly radio show, touring the globe, ASOT 700, and more, Armin shows no signs of slowing down anytime soon.
Already released from Embrace include singles "Another You" ft. Mr. Probz, which saw remixes from Mark Sixma, Headunterz, Ronski Speed, and Pretty Pink, among others. Additional single releases from Embrace include "Off The Hook" with Hardwell and "Strong Ones" ft. Cimo Fränkel.
Armin van Buuren fans can catch the trance titan and Armada Music mogul in 2016/2017 as he embarks on his Armin Only: Embrace World Tour. The Nocturnal Times sat down with Armin for an exclusive interview in May 2015, read it HERE.
Kaskade – Automatic [Arkade/Warner Bros. Records]
Another successful year for the talented Ryan Raddon—better known to electronic dance fans as Kaskade—with the release of his ninth studio album. With an artist such as Kaskade, a new LP such as Automatic truly takes listeners on a musical journey, which is undoubtedly a testament to Raddon's artistic capability.
Each of the tracks on Automatic provides the listener with something different, something unique. From already released tracks "We Don't Stop," "Never Sleep Alone" ft. Tess Comrie, "A Little More" ft. Sansa, "Disarm You" ft. Ilsey, and "Mercy" ft. Galantis, Automatic is chock-full of proper dance anthems suitable for any mood.
Galantis – Pharmacy [Big Beat Records/Atlantic Records]
Explosive is one word that can be used to describe the 2015 debut album from Galantis. Pharmacy, which saw its release on Big Beat Records/Atlantic Records in June, includes the smash singles "Peanut Butter Jelly," "Gold Dust," "In My Head," and "You." Their smash hit "Runaway (U & I)," which is arguably one of the biggest tracks of the year, just earned a GRAMMY Award nomination for Best Electronic/Dance Song.
Read our exclusive interview with Galantis from Electric Zoo: Transformed 2015 on Randall's Island, HERE.
One half of Miike Snow and Style Of Eye joined forces for an electronic project a few years ago—and there's no looking back now. Embarking on their Louder, Harder, Better Tour, fans can expect the power duo's scene domination to carry over into 2016.
Disclosure – Caracal [PMR/Island Records]
What a year for the Lawrence brothers, who landed a massive show on their Caracal Tour at the World's Most Famous Arena, New York's Madison Square Garden, a successful new Caracal album, and a musical guest spot on NBC's 41st season of Saturday Night Live (where they were joined by Sam Smith and Lorde).
Caracal offers a refreshing take on dance music and showcases Disclosure's signature sound. From its popular early single releases "Omen" ft. Sam Smith and "Magnets" ft. Lorde, the album possesses something for everybody. Slowing down the tempo a bit—from what some might associate with dance music—Disclosure fills an authentic and irreplaceable void with Caracal, which is sure to be played on repeat into 2016 and beyond.
It was announced on Dec. 7 that Disclosure's Caracal is nominated for Best Electronic/Dance Album at the 2016 GRAMMYs.
Zedd – True Colors [Interscope]
Zedd is an innovator, a musician, and a genre-breaking master. True Colors is a testament to his artistic capabilities, showcasing the many sides of the multifaceted producer and DJ. A true musical journey from start to finish, True Colors by Zedd expresses many different art forms in the form of music. From big-room sounding tracks, to intimate and intricately produced tracks, from heartfelt lyrics to catchy vocals, Zedd's latest LP adds even more diversity to his discography.
True Colors includes the radio smash "I Want You Know" with Selena Gomez and "Beautiful Now" feat. Jon Bellion, among nine other crafted creations. The DJ/producer known for his massive single "Clarity" ft. Foxes hit the ground running with his True Colors Tour in 2015, which included a visually stimulating experience at The World's Most Famous Arena, Madison Square Garden in New York City.
Alesso – Forever [Def Jam Recordings/Virgin Records]
Swedish talent Alessando Lindblad—better known as Alesso—released his debut album, Forever, on Def Jam Recordings/Virgin Records this year. Alesso is an electronic dance music (EDM) act who showcases his big-room capabilities, but in a darkly, intriguing, and unique way. Forever, the debut album from Alesso includes the colossal single "Heroes (We Could Be)" feat. Tove Lo ("Habits"), "Cool" feat. Roy English, "Sweet Escape" feat. Sirena, "Under Control" with Calvin Harris feat. Hurts, "If I Lose Myself" with OneRepublic, and "Scars" feat. Ryan Tedder.
Avicii – Stories [PRMD/Island Records]
An eclectic display of diversity, Stories is truly comprised of a range of various styles and sounds. Far from ordinary dance music, Avicii began teasing album tracks across his social platforms ahead of its official release on PRMD/Island Records. The album's lead single "Waiting For Love" saw a slew of remixes, while additional previews of "For A Better Day," and "Pure Grinding" hit Avicii's socials, followed by "Broken Arrows."
Jack Ü – Skrillex & Diplo Present Jack Ü [Atlantic/Mad Decent/OWSLA]
What a year it's been for Skrillex & Diplo both as solo artists and as Jack Ü. The successful return and comeback of pop music sensation, Justin Bieber, can and should be credited to Skrillex and Diplo. With the explosive smash single "Where Are Ü Now," which is included on Jack Ü's LP and Bieber's new album, Purpose, the pop star's career was reinvented and dance music truly hit the mainstream harder than ever before. It hit the mainstream so hard that it even earned the trio a 2015 American Music Award for Best Collaboration of the Year. Skrillex & Diplo Present Jack Ü also includes singles "Jungle Bae" feat. Bunji Garlin & MX Prime and "To Ü" feat. AlunaGeorge.
Skrillex & Diplo Present Jack Ü earned a Grammy Award nomination in the Best Dance/Electronic Album category at the 2016 GRAMMYs.
Hardwell – United We Are [Revealed Recordings/Cloud 9 Dance]
Two-time DJ Mag Top 100 number one; Hardwell released his debut album, United We Are, on his Revealed Recordings label. Showcasing a number of collaborations and vocal inclusions, his anticipated LP featured Tiësto, W&W, Fatman Scoop, Headhunterz, Jason Derulo, Joey Dale, Matthew Koma, Bebe Rexha, DallasK, Luciana, Jonathan Mendelson, Amba Shepherd, and Harrison, among others. Taking his I AM HARDWELL tour concept to new heights in 2015, the DJ/producer sold out the infamous Ziggo Dome in Amsterdam.
Kyau & Albert – Distant Lights [Euphonic Records]
Trance music is finely showcased in Kyau & Albert's 2015 full-length release, Distant Lights. Sticking to their unique and signature sound throughout the course of their musical career, the duo is a longtime favorite of the veteran electronic music aficionados. The pair "Let The Thunder In" with angelic trance vocalist Neev Kennedy and stuck to their roots with the release of Distant Lights on their very own label, Euphonic Records.
Giorgio Moroder – Déjà Vu [RCA]
Giorgio Moroder is a musical icon, a legend amongst industry veterans and newcomers. Déjà Vu is chock-full of collaborations with some of the biggest names in the current music scene including Sia, Britney Spears, Charli XCX, Kelis, Markus Schulz, Kylie Minogue, Mikky Ekko, Foxes, and more. Moroder's last album, From Here To Eternity…And Back, was released in 1985.
Bob Moses – Days Gone By [Domino Recording Co]
Bob Moses released a refreshing debut album, Days Gone By, on Domino Recording Co this year, which offers some listeners an opportunity to hear genuine and quality productions. An artistic creation, the duo's Days Gone By includes 10-tracks and comes in just shy of 60 minutes. Musical influences from across a multitude of genres, Bob Moses members Tom Howie and Jimmy Vallance have released one of the most enjoyable and intricate dance music albums of the year. YourEDM calls Days Gone By "one of the strongest albums of the year," and Billboard reveals, "Bob Moses is proof that underground dance music and pop-savvy songwriting don't have to be mutually exclusive."
Major Lazer – Peace Is The Mission [Mad Decent]
Diplo had a titanic year as a solo artist and with Skrillex as Jack Ü, which is why it should come as no surprise that his Major Lazer project also reached new heights in 2015. Peace Is The Mission includes one of the biggest tracks of the year, "Lean On" ft. MØ & DJ Snake, which spent the year in rotation across major radio stations, and dominating satellite radio, digital streaming services, radio shows, and DJ sets (both nightclubs and musical festivals) across the world.
Jean-Michel Jarre – Electronica 1: The Time Machine [Columbia]
Another iconic name returned to the dance music scene in 2015 following an extensive career, rich in music history. Electronica 1: The Time Machine includes collaborations with the biggest names in electronic music across each genre imaginable. Starting off the LP is a collab with Boyz Noize, followed by tracks with M83, Air, Vince Clarke, Moby, Gesaffelstein, Tangerine Dream, Armin van Buuren, 3D (Massive Attack), John Carpenter, and Lang Lang, among others.