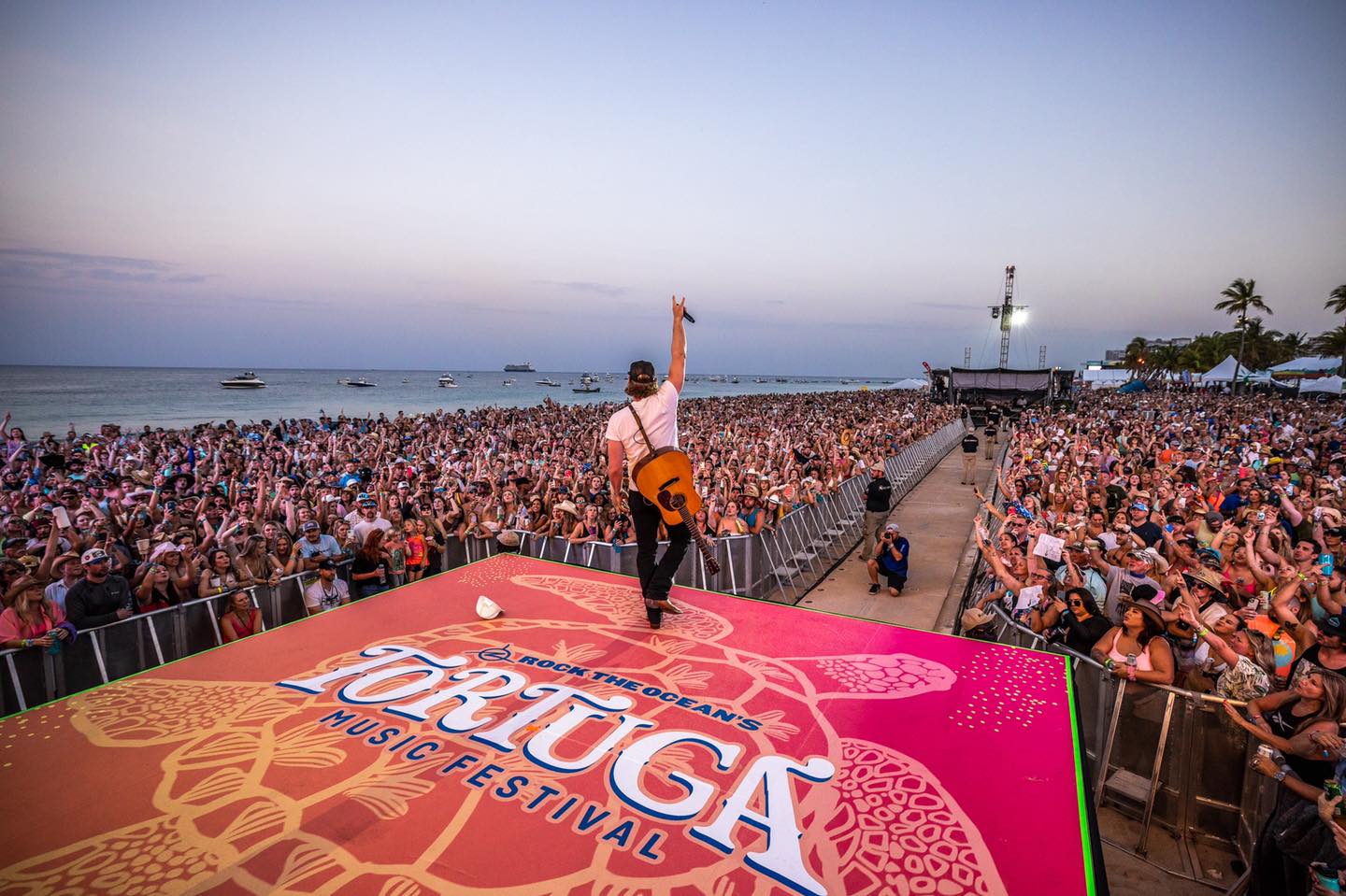 Tortuga Music Festival 2022 Goes Down in Country Music History with Morgan Wallen, Thomas Rhett & Luke Combs
It's officially a wrap on Tortuga Music Festival 2022. Another year for the books, this edition reminds the world of music just why Tortuga remains the top country music festival in the US. For three incredible days and nights, country music lovers poured into Ft Lauderdale by the tens of thousands for a weekend of pure sunshine, good vibes, and top-tier country artists.
Of course, we can't talk about Tortuga without talking about its absolutely quintessential Florida location. Set directly on Fort Lauderdale beach, the atmosphere of this festival exceeds 10/10 expectations. It's safe to say that most people agree country music goes seamlessly together with sunshine, palm trees, boats, and ocean breeze, and year after year, Tortuga continues to prove itself as a frontrunner in country music festivals amidst this exact kind of setting and world-class talent. Well-known for outdoing themselves in summer decor, fans stumbled upon all kinds of fun activities throughout the beach like corn hole, a side-stage pool, tiki bars, beach lounges, creative stations, and more.
Built up with three stages including Main Stage, Sunset Stage, and BACARDÍ's Next From Nashville Stage, dozens of country music artists graced these Floridian shows for a whirlwind weekend. Kicking off the festivities on Friday was hip-hop icon Nelly who blew Tortuga away with his performance chock-full of Nelly classics and smash hits like "Ride Wit Me," and two of his anthems "Cruise" and "Lil Bit" with Florida Georgia Line. Country heartthrob Chase Rice also performed on Friday, as did Travis Ritt, Walker Hayes, Noah Hicks, Lainey Wilson, and more. Continuing the excitement on opening night was headliner Morgan Wallen, one of country's hottest acts at the moment. Recently releasing his massive success of an album Dangerous, Morgan threw down a slew of tracks from this album as well as his other original hit songs. Morgan's crowd was absolutely mesmerized as he performed fan-favorites like "Chasin' You," "More Than My Hometown," and "7 Summers" amidst tons more.
Holding down day 2 on Saturday was a host of enormous names including Scotty McCreery, Surfaces, and Jordin Davis. Jordin Davis drew in one of the most fun crowds of the weekend as he played all-time favorite records like "Almost Maybes," "Take It From Me," and "Singles You Up." Headlining Saturday night was none other than country music legend Thomas Rhett, who knocked this performance out of the park (per usual). Something about Thomas Rhett and Tortuga just go hand-in-hand, and fans agreed during his set as they danced the night away to his classics like "Life Changes," "Unforgettable," "Slow Down Summer," "Half Of Me," "T-Shirt," and strings more.
Closing out Tortuga 2022 on day 3 was an all-star lineup featuring Drew Parker, Caitlyn Smith, Mitchell Tenpenny, Sublime with Rome, Randy Houser, Brothers Osbourne, Luke Combs, and many more. There's no doubt that a closer like Luke Combs would ring in fans by the thousands, and this set was no exception. Ft Lauderdale beach was absolutely shaking with excitement as Luke Combs dropped country anthems including "When It Rains It Pours," "One Number Away," "Cold As You," "Must've Never Met You," and "Even Though I'm Leaving" just to name a few.
Tortuga is also recognized for its 'Rock The Ocean' name, and this year's edition did an absolutely beautiful job in incorporating this theme all weekend as well as making it an interactive experience for all fans who were interested. The Rock The Ocean Foundation is the non-profit that Tortuga partners with and each year a portion of the proceeds are donated. Along with the massive help of Tortuga fans, the festival has raised over $2,000,000. At the festival itself, Tortuga's Conservation Village where fans have a whole range of interactive options which all help support Rock The Ocean's 5 core values; turtle conservation, shark conservation, coral reef degradation, overfishing, and Marine Pollution.
Tortuga Music Festival 2023 is officially announced for April 14-16. For all information including tickets visit HERE.