Anthony Bourdain Releases "Appetites" Book, Stopped by Barnes & Noble in Union Square This Week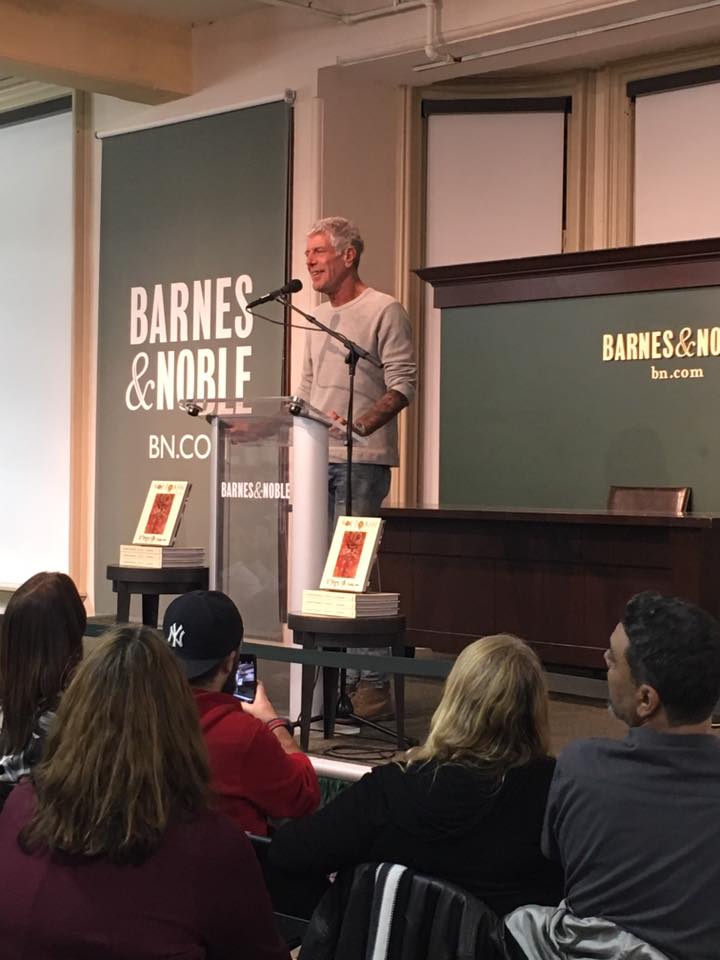 The famed chef and TV personality, Anthony Bourdain, stopped in New York to discuss his new "Appetites" cook book
TV personality and renowned chef Anthony Bourdain was in New York city this past Tuesday to talk about his new cookbook (his first in the last 20 years!) called "Appetites" at the Union Square Barnes and Noble event. In order to attend the event, fans had to purchase the cookbook which came out that same day, October 25, 2016. With the purchase of the book, you were given a wristband which granted you access to the talk, as well as an opportunity to have your picture taken with Bourdain and the book to be signed.
Around four hundred guests were seated in the audience on the 4th floor of the store, and a standby line was snaked around the escalators. Bourdain walked on to the stage at 7:00 PM, to a full house of applause. The structure of the event was a talk about the book, followed by a question and answer forum, followed by the meet and greet book signing. He started off touching upon the background of the cookbook and why he decided to write it, along with his co-author Laurie Woolever. Overall it is a very basic and simple cookbook, featuring classic American dishes such as macaroni and cheese and Thanksgiving turkey, along with a bit more eclectic recipes like Korean stew, that are still very simple to make. The artwork and photography are very unique, and beautiful to look at.
Bourdain credits the idea behind the book to his nine-year-old daughter, who has been the person he has been cooking for the most as of late. His goal with this cookbook was to provide the basic foreground for daily meals and hosting dinner parties, that are realistic and simple. Instead of attempting to pull together a complicated and creative menu for the book, Bourdain said he wanted to provide the steps to favorite comfort food dishes that everyone enjoys. Even college kids should be able to cook their own meals in this way, instead of resorting to take out and Ramen, Bourdain says.
Bourdain's question and answer portion was quite inspirational, as he talked about the progression of his career to where he is now. His career advice was to focus on what you are good at and not good at, which is a process he went through while writing the book. He has never been skilled at baking pastries or dessert since the process is so different from cooking, so he left out a 'Dessert' portion of the cookbook in this way. He touched upon his experience on the CNN show "Parts Unknown" where he is essentially paid to travel the world and tell a story through culture and food. His influences include chef Action Bronson, as he speaks about cooking in a way that people "actually" speak, with his cooking show appropriate titled "F*ck, That's Delicious." He talked about his interview techniques, on how he gets locals that are not used to being on camera, to open up about cultural issues, by asking them controversial questions that spark emotions and tell the unique story each nation has, to viewers all over the world.
The event on the whole was very organized by Barnes and Noble, and allowed for a seamless and memorable experience. Bourdain's presence on stage was also quite remarkable, and extremely personable. Be sure to check out his book Appetites, which is now the 7th top selling book on Amazon! Follow Nocturnal Times to keep up with more events like these!