10 Reasons to Buy VIP Tickets For EDC Las Vegas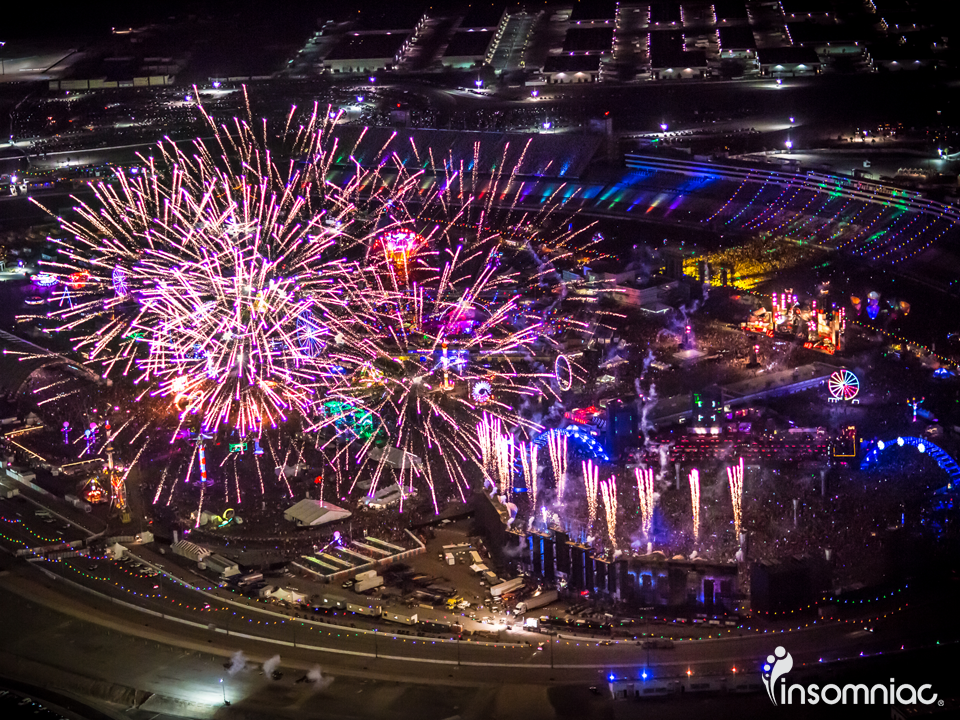 The annual Electric Daisy Carnival is returning to the Las Vegas Motor Speedway from June 17-19, 2016 and is slated to draw more than 400,000 attendees across its three-day span
GA passes for the 20th annual installment are officially sold out, which is why we've compiled 10 reasons why you should consider VIP tickets for EDC Las Vegas. If you're longing for an unforgettable experience Under the Electric Sky, we're giving you ten reasons why you should act fast and buy your 3-day VIP passes for EDC LV 2016 before it's too late!
Insomniac Events and the city of Las Vegas dedicates a whole week to EDC each June (EDC Week). A weeklong string of nightclub events, pool parties, and EDMbiz Conference & Expo concludes with the three-day Electric Daisy Carnival. Can you envision a better way to cap off EDC Week 2016 than with your own 3-day VIP pass to the top music festival of the season?
From dusk til dawn, party-goers bask in a slew of carnival rides including a massive Ferris Wheel overlooking the Speedway, swings, bumper cars, and more, EDC is sure to bring out the inner child inside you with its magical and magnetically spirited headliners. Serving an enchanting atmosphere from sunset to sunrise, the Electric Daisy Carnival offers the dance music community three-days to unite under the electric sky.
Here's 10 reasons you'll want to buy VIP tickets for EDC Las Vegas 2016:
Rapid entry
While EDC offers multiple festival entrances scattered across all side of the Las Vegas Motor Speedway, wouldn't it be fanciful to have rapid entry into the grounds? Considering the festivities sold out before a lineup announcement, it's a safe bet that you'll want to get inside the festival grounds to catch your favorite acts soon as possible.
VIP bars, private lounge areas, and restrooms
During EDC 2015, fans were able to opt into a VIP dining experience. Another plus side to having a VIP pass for EDC are the bars, which are only available to VIP ticket holders. Indulge in fancy cocktails, your favorite brews, or non-alcoholic beverages at the VIP bars. As a three-day VIP pass holder, you'll also receive access to the private VIP lounge areas and even private restrooms.
General admission tickets are sold out
If you still haven't gotten your tickets for EDC 2016, only a few remain. So, let's face it, while it may be tempting to purchase secondhand tickets from a third-party source, that's a chance you don't necessarily want to take. When it comes time to purchase your ticket, consider all of the perks that accompany a three-day VIP pass.
Special memorabilia
With the purchase of each three-day VIP pass for EDC Las Vegas, fans will receive special memorabilia. Exclusive to VIP patrons only, attendees will acquire souvenir laminate and lanyard. You won't want to miss out on the chance to feel like a very important person, and be treated like one too!
VIP viewing platforms
Have access to VIP viewing platforms and have the greatest views of your favorite performances. Because EDC Las Vegas has seven stages, you'll want to have the best view imaginable, which is why opting to purchase VIP passes to the carnival guarantees a better view of the kineticFIELD. Insomniac has crafted awe-inspiring main stages at Electric Daisy Carnival in years past, which is why attendees can expect another massive production and the unveiling of yet another colossal monstrosity of a main stage this year.
Payment plan
If the price up front or all at once is too steep for your wallet, consider that Insomniac is offering a payment plan option. With the payment plan option, buyers are encouraged to pay a percentage of their ticket upon purchase, and the remaining balance can be deducted automatically each month.
The people you'll meet
You are certainly bound meet many characters in Sin City, but since EDC Las Vegas is an event of epic proportions, it's a cultural melting pot. And since VIP patrons must be 21+, those with VIP passes may expect a seasoned crowd. People travel from all over the country and world to be a part of the magical experience the Electric Daisy Carnival has to offer. If you attend EDC Las Vegas, you are bound to meet individuals of many different cultural backgrounds from a variety of places. Attending the festival allows dance music enthusiasts to connect and meet with fans from all over the world. The festival brings fans of all backgrounds to one location for a culturally enriching dance music experience.
It's another way to express yourself
Insomniac Events CEO, Pasquale Rotella, emphasizes that the festival attendees are the headliners who create the ultimate experience for each other at the annual event. He has consistently encouraged creativity and has said that, "it's your own creativity that helps breathe life into each festival." The creativity and imagination that Pasquale Rotella and Insomniac Events bring to the Electric Daisy Carnival is truly enchanting. Freedom is encouraged, and with VIP, it's just another way to express yourself! Whether gathering at the many art installations or being entertained by the onsite performers, expression is the center of attention. So, party-goers, feel free to sport your latest rave gear, neon colors, or just dance with like-minded individuals under the electric sky.
Closer to the fireworks
With enough fireworks and pyrotechnics to rival the Olympics, the seven stages featured at EDC Las Vegas offer hypnotizing visual displays and are artistically crafted with the partygoers' enjoyment as a top priority. With VIP tickets you'll be granted access to the raised VIP viewing platforms, therefore you'll essentially be closer to the mind-blowingly mesmerizing firework spectacular that lights up the desert sky above the Las Vegas Motor Speedway each night.
Because all headliners deserve to be VIP
Whether it's your first time attending Electric Daisy Carnival or you're an EDC veteran, what better way to experience the festival than with a 3-day VIP pass? Las Vegas is an adult playground, which is already full of thrills and excitement, so don't you think you deserve to visit the Speedway as VIP—at least once?
Purchase VIP passes for Electric Daisy Carnival Las Vegas 2016 at http://www.lasvegas.electricdaisycarnival.com.
Photos courtesy of Insomniac.com