The Nocturnal Times Exclusive Interview: Galantis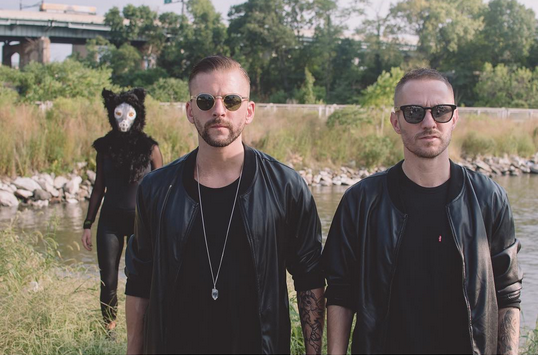 Galantis has taken the dance music world by storm since first joining forces in 2012. The Nocturnal Times sat down with the duo minutes before they took the stage at Electric Zoo: Transformed this past weekend. On Friday, September 4, Galantis delivered a one-hour showcase at the Hilltop Arena at the popular New York music festival, which just completed its seventh installment, this past Labor Day Weekend.
Rich in musical history, the two music veterans have spent years mastering their craft. Galantis members—GRAMMY Award-winning musician Christian Karlsson is well known for his production duo Bloodshy & Avant and Indie-pop band, Miike Snow and Linus Elköw, who is produced and mixed as Style of Eye—are a force when they're together. Sparks ignite between the two talents, which leads to something fun and unique.
Galantis released their debut album, Pharmacy, on Big Beat Records in June 2015. The highly anticipated release has been well received by music enthusiasts and critics alike. Refreshing electronic dance music (EDM), the duo explores the many faces of music, fusing elements from a multitude of EDM sub-genres.
Included on their 13-track Pharmacy LP are familiar dance anthems "You," "Gold Dust," "Peanut Butter Jelly," and "Runaway (U & I)."
The pair's "Runaway (U & I)," which was officially released last year, is still a surefire festival favorite, and one of the biggest tracks of 2014 and 2015.
Most recently, the duo has released their contagiously energetic "Peanut Butter Jelly," which is accompanied by a hilarious official music video, and remixes from Jacques lu Cont, GTA, Moska, and Genairo Nvilla.
Known for their signature seafox, The Nocturnal Times sat down with Galantis to discuss the notoriously familiar artwork, their debut album, their origination, and they're upcoming Kaskade collaboration, "Mercy," which is included on his new Automatic album.
The Nocturnal Times: When did things first get started for Galantis as a duo and how you first come together?
Galantis (Christian Karlsson): We started working seriously as Galantis in 2012, but it kind of started when I reached out to Linus as Style of Eye, while I was Miike Snow. At the time, I needed a remix for the debut album of Miike Snow. That's how we met in the studio, he did the remix, and we became friends. From that point on we started to talk about doing something together, but we didn't really know exactly what it was going to become.
Nocturnal Times: What influences would you say you've taken with you from Miike Snow and Bloodshy & Avant, and Style of Eye?
Galantis (Linus Eklöw): I think it's more specific to that we've brought where we come from and we bring things from our lives into something that we felt was a side of me and a side of Christian that we haven't been able to express before. So, it's pretty much everything we've done in the past that sticks with us, and with those projects as well. Christian has been writing songs for much longer than I have so, he brings a lot of that to the table.
Nocturnal Times: Outside of the electronic dance music (EDM) realm, who are some of your favorite artists?
Galantis: There's so many! It's really all over the board for us!
Christian: You really have to go back and listen to music from the 60s and 70s, stuff like that, where the arrangements and the whole concept of a song might be completely different. I like that. I like to try and take stuff from that time and that era of music.
Linus: Also a lot of different genres. I come from a lot of jazz and soul, while Christian is punk rock and hip-hop and a lot of things like that.
Nocturnal Times: We've got to ask: why the seafox and how was the art first conceptualized?
Galantis (Christian): Why the seafox? Well, as the official piece of art, we had been working on music for a very long time and we also worked on visual content for a very long time. We also thought it was very important for us to have a brand. That's when we had the idea of a fox and a jellyfish, but it took a long time to make it work. Now we've got it and it's a part of us.
Nocturnal Times: You've released your debut album Pharmacy on Big Beat Records this year. How long did it take to complete from start to finish?
Galantis (Christian): 2 years. It takes longer when you do your first album because you pretty much have to invent your sound. So, making the next one, we know what Galantis is now, but we didn't with the first one. You have to experiment and [test things out]. You have to see if something goes good here or something goes good there. You'll find your first core song, and for us, it was "Smile." After "Smile," we knew that was Galantis. From there, you only start to grow.
Nocturnal Times: Very interesting! So, "Smile" was the first completed song. What was the second?
Galantis: Yes, the first song we wrote that we knew that was the sound that we were going for. "You" was the song that came after.
Nocturnal Times: Have you gone into the studio to work on any new material or thought about a follow-up to Pharmacy yet?
Galantis: Yes, we already have.
Nocturnal Times: Can you give us any ideas as to what the next single will be from Pharmacy?
Galantis: Yes, we actually just finished shooting a new music video. We actually shot a video, which is for sure, the best video that we've ever done.
Nocturnal Times: Speaking of music videos, Galantis just released the hilarious music video for your current single, "Peanut Butter Jelly." A song like "PBJ" really stands out. How did you come up with such a unique, fun, and original track? Who wrote it?
Galantis (Christian): I had it in my head, most of the lyrics at least, 10 years ago, but it couldn't properly place it into a song. I tried to do it a few times and I made a piece of music, but I originally wasn't brave enough to play it for Linus. That was for a while, but once in the studio, while we were playing a bunch of music, I finally played it for him—and he freaked out and wanted to work on it. We actually even kind of kept the vocal that I had in there originally.
Galantis "Peanut Butter Jelly" Official Music Video:


Nocturnal Times: Galantis worked alongside Kaskade (Ryan Raddon) for the release of "Mercy." What can you share with The Nocturnal Times about your Kaskade collaboration?
Galantis: It comes out on September 25 on Kaskade's new Automatic album. He's a really good friend of ours and he's been a really big supporter since day one, since we wrote "Smile," actually.
Nocturnal Times: You guys have been touring with him. What can you share with us about your on-the-road experiences with Kaskade?
Galantis: Yeah, it's great! He's such a wise man! It's also a lot of things outside of being on tour and music that you talk about (such as family and life), and he's just an overall good guy.
Nocturnal Times: This is your first time playing at Electric Zoo Festival in New York. As you prepare to take the stage in a few minutes, what do you have in store for your Randall's Island set today?
Galantis: Well, we've been working the last few days to prepare for this set. We've even been working on things for it all morning. We've done a lot of new shit for this set!
Nocturnal Times: Where do you see Galantis five years from now?
Galantis: We don't look that far. We hope to just survive today!
For more information on Galantis, visit http://www.wearegalantis.com.
Galantis is on Twitter, Facebook, and Instagram.
[Featured photo: Mike Greenberg]