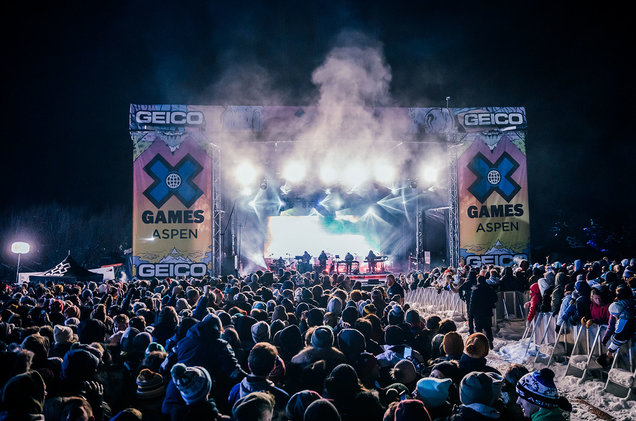 One Week Away until the X Games Aspen Music Festival Featuring Alesso, Illenium, Bazzi & Rae Sremmurd
We're officially one week away from the X Games kickoff in Aspen, Colorado, where sports enthusiasts and music fanatics are gearing up for a weekend of top-tier performances by more than just athletes. This year, the X Games Music Festival is showcasing A-List artists Rae Sremmurd, Alesso, Illenium, and Bazzi for three days of action-packed thrills.

Taking over the GEICO Music Stage at Buttermilk Mountain in the paradisiacal landscapes of Aspen, the X Games Music Festival has been a whirlwind attraction over the years, as its adventurous spirit and stunning lineups are a winter dream. The 2020 acts coming into town are giving fans a dose of styles across the spectrum, as each of the four appeal to musical tastes of just about anyone and everyone.

Jumpstarting the weekend is hip-hop duo Rae Sremmurd, the ideal pair to rowdy the crowd up for events ahead and throw themselves into it all. The brains behind smash songs "No Type," and "No Flex Zone," just to name two glaring ones, alongside albums SR3MM, SremmLife, and SremmLife 2, Rae Sremmurd's debut X Games slot is going to be one of unmistakable moments.

Sliding into Saturday night are world-class electronic DJs and Producers Alesso and Illenium. It's no surprise die hard dance music fans will be pouring into Aspen for these two adored artists. Responsible for a string of timeless, staple dance records including "Under Control," "Sweet Escape," "If I Lose Myself," "Heroes," "City Of Dreams," the list goes on….Alesso is going to melt hearts Saturday night like you can't imagine. Upping the ante of X Games music-shattering elements, Illenium is going to be an experience to never forget for all those in attendance. It seems as though no matter how many times you experience an Illenium set, his inventive, brilliant, and gifted stage presence wrap us all into a mesmerizing trance. Coming off of his slam dunk album Ascend, as well as selling out venues across the nation during his Ascend Tour, Illenium is riding this high all the way to Aspen to lock in 2020 as another heart-soaring year.

Closing out X Games festivities is musical chameleon Bazzi, and who better to pull the curtains down on a roaring weekend than this music guru. A treasured artist from all angles, Bazzi lifts any crowd's vibration to a new level of peace, fantasy, elegance and liveliness all at once. The genius who created "Mine," "Beautiful," "Dreams," "Paradise," and album Soul Searching, one can derive the meaning of his music solely upon these names. A swirling presence both in the studio and on the stage, crowds will be ending the X Games on a wave of delight with Bazzi's finale.
Get tickets to the X Games Music Festival here.

Photos Courtesy of Galen Oakes, Eddie Perlas, and Dave Camera