The Nocturnal Times Exclusive Interview: Armin van Buuren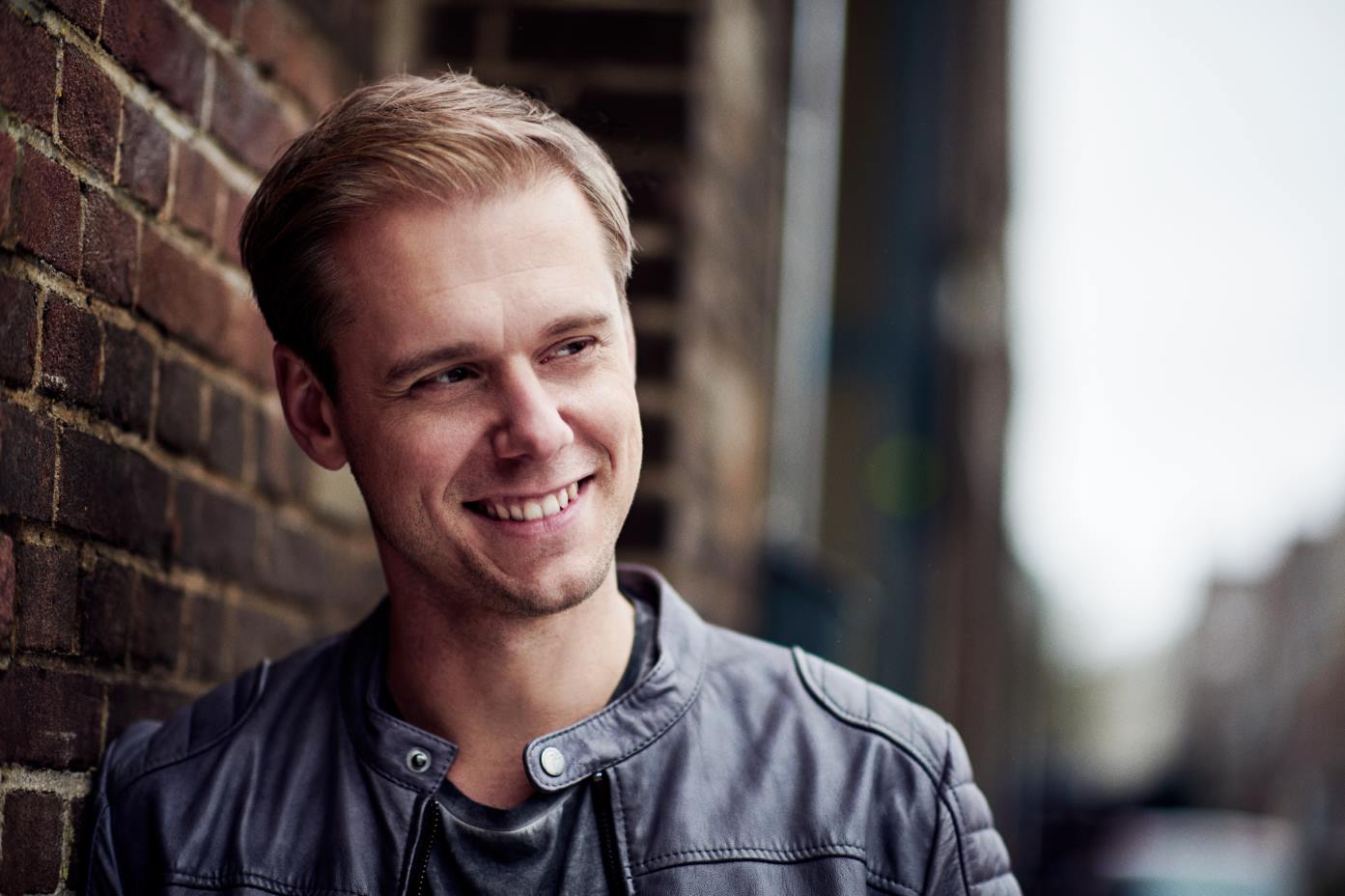 It's Memorial Day Weekend. Internationally acclaimed, GRAMMY-Award nominated DJ and producer Armin van Buuren spent the weekend traveling back and forth across the country for headlining performances at nightclubs and music festival main stages.
The globetrotting artist started his weekend off on Friday with a DJ showcase at the new Omnia Nightclub at Caesars Palace in Las Vegas, where he is a resident. Directly to New York on Saturday for Electric Daisy Carnival, Armin closed the 4th annual festival with a high-energy DJ set at the massive circuit GROUNDS. It was straight to Tampa for the Sunset Music Festival late Sunday and back to NYC early on Monday.
The avid John Lennon fan—who has a photo of the Beatles icon wearing a New York City shirt hanging up in his home in Holland—concluded his EDC NY showcase with his new interpretation of Lennon's "Imagine."
Understandably exhausted from his hectic Memorial Day Weekend schedule, the famed Dutch musician was nevertheless radiating with positivity, ambition, and most of all, passion.
Armin recollected on New York City performances of the past, where he's headlined shows at Madison Square Garden, Roseland Ballroom, Tobacco Warehouse, Brooklyn's McCarren Park Pool, Pacha NYC, Pier 94, Governors Island, Randall's Island (Electric Zoo), and MetLife Stadium (EDC NY), among others.
An influential businessman, van Buuren admits that he could just focus on the corporate side of the business. The non-practicing lawyer—who earned his degree in law before deciding to pursue his musical career—possesses a keen sense of legal knowledge and even considers working solely on the business front.
But there's something about the performance side that keeps the esquire coming back for more. A highly motivated and driven talent, Armin admits that he's recently purchased a piano and looks forward to making music with it.
With a Grammy nomination under his belt, an extensive discography of solo productions, remixes, and collaborations, his Armada Music label and weekly ASOT radio show, the five time DJ Mag number one is preparing for release of his forthcoming full-length artist album later this year. The album's first singe, "Another You," which features vocals from Mr. Probz, has been released on Armada Music with remixes from Mark Sixma, Headhunterz, and Pretty Pink.
It's been more than a decade since van Buuren exploded onto the dance scene, inevitably creating and re-inventing trance music throughout the course of his career. As fans eagerly await the release of AvB's newest studio effort, which still remains nameless, they can bask in the glory of his past works: "76," "Shivers," "Imagine," "Mirage," and "Intense." Showing no signs of slowing down anytime soon, the career-driven multi-talent is the virtuoso behind tracks such as "This Is What It Feels Like," "Shivers," "Burned With Desire," "In And Out Of Love," "Not Giving Up On Love," "Communication," "Ping Pong," "The Sound of Goodbye," "Control Freak," "Going Wrong," and many more.
Every Thursday, Armin hosts his 2-hour A State of Trance radio show, which broadcasts to millions of listeners each week. Additionally, he releases an annual ASOT mix compilation every year, which sets the trend for the year in trance. A State of Trance celebrates milestone episodes each year with live broadcasts from massive events around the globe. In 2015, van Buuren took his ASOT radio show to new heights with the introduction of the ASOT Festival. As the first-ever DJ to introduce such a concept, Armin appears more innovative than ever, and after all these years, still possesses such an infectiously uplifting energy.
The international success and fame hasn't gotten the best of this passionate and humble musician, who remains hopeful for the future. We discuss the chaotic lifestyle of a traveling DJ, New York City, festival and club life, new music, "Another You," HBO's Game of Thrones, and the future of Armin van Buuren in our Nocturnal Times exclusive.
The Nocturnal Times: You spent the weekend traveling for a nightclub gig at Omnia in Las Vegas, Electric Daisy Carnival New York, Sunset Musical Festival in Tampa, and now back to New York. What can you share about your busy weekend?
Armin van Buuren: It was an amazing weekend. It seems like every weekend keeps getting bigger and bigger. I started out at Omnia in Las Vegas and it's incredible. It's Memorial Day Weekend, which is a very big weekend. Hakkasan had more than 4,000 people, and Omnia had more than 4,000 people. I mean, where is this ending? It feels like it's never going to end anymore. It's really great, I'm happy for everybody. To be honest, as such a "veteran" in dance music, I'm glad to be on this boat.
TNT: You've been a traveling DJ for your entire musical career. Has the lifestyle of a traveling musician become easier over time?
van Buuren: No, it actually hasn't gotten any easier. If you look at my eyes right now, you can see they're massively infected. My immune system is coping with the traveling and intense touring. The problem is, I have such a drive. I want to finish my new artist album, I want to finish this remix, I have the A State of Trance radio show every week, I run my company, and I can't say no to everything. It's so much work but I have so much nice stuff going on right now and I really do enjoy it so much. I don't plan on cooling down anytime soon, although I should. So, my manager out of self-protection has been giving me less gigs recently, and cherry picking out the big and important weekends—like this weekend, which was a very important weekend. I do miss playing smaller gigs as well, especially because people think I only play bigger gigs and not play clubs. For me, playing nightclubs is still essential to do. But it comes down to having to make a choice because you can't always play the small gigs.
TNT: You've played dozens of gigs in New York City over the course of your career. What are some of your fondest recollections from shows you've played in NYC?
van Buuren: Of course both of the Madison Square Garden shows but that's easy. But aside from the shows at The Garden, there's one show that stands out for me. I'll never forget the show I did under the Brooklyn Bridge, which was probably one of my favorite gigs. It was two days in a row, under the Brooklyn Bridge, and it was just spectacular. The event was so raw, and the location was so super. I can remember the party, the atmosphere, and it was just amazing.
TNT: The legendary Roseland Ballroom recently closed its doors for good. You celebrated ASOT 450 at Roseland Ballroom, along with other shows. What can you recall about your Roseland experiences?
van Buuren: Yes, I know! I think [ASOT 450] was the first time we did a live stream, now everybody is doing that. I think we were one of the first to do that. It was so exciting because it was such a new thing to be broadcasting live from New York City. I remember the big dish standing up outside of Roseland Ballroom that was broadcasting. Also, I remember that because I was playing at Roseland Ballroom, I couldn't play at Trance Energy in the Netherlands. They wanted me to have a special performance at the event so I played via video connection at Trance Energy in Utrecht. That was actually a little strange because I was playing for 40,000 people that I couldn't see.
TNT: You teamed up with Mr. Probz on "Another You," which is the first single from your forthcoming artist album. How did the collaboration come to fruition and what made you decide to work alongside Mr. Probz?
van Buuren: I met Mr. Probz at the Buma/Stemra Awards. Buma/Stemra is a collecting society—like ASCAP in the Netherlands—and every year they have this awards dinner where they give awards for Most Played Track on Dutch Radio, Most Played Track on Foreign Countries, Most Sold Track on iTunes last year [in that country], etc. Mr. Probz was picking up a lot of awards for his track "Waves," which I really really love and I was picking up a few awards for "This Is What It Feels Like." So, when we met each other, we were both kind of showing off at the awards and goofing around. We agreed that we should do something together. I happen to know his manager, which is good because 9 out of 10 times nothing ever comes out of an agreement like this. Because I happen to know his manager, it was one phone call away. Before I knew it, a couple of weeks later, he was in my studio. He already had this idea for a chorus ready that he wrote with Niels Geusebroek and I really liked it. I asked him if I could develop it and he said, "yeah, sure." It was just an acapella, so there was no music underneath it or anything. So, I created the music underneath and he really loved it. I then said to him, "if you want to do this, we should go into a real studio and record real strings and write some more lyrics." So, together, we wrote some more lyrics and in another studio and combined the two sets of lyrics that we had and recorded real strings—and then the track was done. It was really nice to work with Mr. Probz because it took him out of his comfort zone. He comes from the world of hip-hop and rap and actually wasn't used to singing. His track "waves" was actually his first track that he sung. He's a really great performer but he's really insecure. It took a lot of times to actually finish the track. For him, it was the first actual real original dance track so we both sort of had to meet in the middle.
TNT: "Another You" is the first single from your forthcoming full-length studio album on Armada Music. Can you share any details about the "Intense" follow-up with The Nocturnal Times?
van Buuren: I can't reveal anything about the new album just yet. We're still signing contracts with all of the artists so not quite yet. I really wish I could because it's like here. I just want to say, right now, the album is way more ambitious, again, than "Intense" and I didn't make the deadline. The deadline was supposed to be the end of May, but I'm about 80 percent there. I'm really really happy with the tracks that I have, the songs that I have, and I've got some singles ready. I'm just fine-tuning everything at the moment, signing all the contracts with the artists and with the lawyers, and making sure that everything is fixed before we go out because that's the way it works. I hope you understand that if reveal anything about to album too soon I could get into some legal trouble, so we have to wait until everything is cleared. Trust me, there's no person in the world that wants to share this information more than me.
TNT: You've taken A State of Trance to new heights after celebrating the 700th episode with the ASOT Festival. What do you have planned for the 750th episode and future milestone episodes? What do you see for the future of A State of Trance?
van Buuren: We're already making plans for ASOT 750, which is coming soon, and time is going so fast. I can't believe that [ASOT] 750 is already around the corner. I know that ASOT may be an established brand right now. Having said that, that doesn't mean we can take it easy. On the show itself, we've made quite a few changes—if you aren't already aware—we did them quite silently. We added things such as "Trending Track," "Progressive Pick," and we do the HOTMIX in the first hour, to play more of the current stuff. We're constantly updating the radio show itself as well. What's new this year and you already touched on the ASOT Festival, so I guess I'm the first DJ to have not only his own event but also his own festival. It's super exciting to be able to promote new trance talent who rely on the support of A State of Trance for their work to come out. I think that's still a shame because I don't think I should be having that much power. A good track is a good track—and I'll admit it, I'm a human being. A State of Trance is not perfect, not any radio show is perfect. Sometimes I miss out on great tunes that I should have played. From the beginning, I always tried my best to make a two-hour journey every week, which is a lot of work to pull off every week. It's so great to do and so great to see such a great response from the fans for so many years. There's such a big community. And in order to satisfy that community, we decided to still do five massive events throughout the year but not five in a row anymore. That was something that we started with [ASOT] 500, so we spread out the events a little more throughout the year so [listeners] don't hear DJs play the same tracks or sets over and over. By doing it this way, they have new tunes that they add. What was new this year, of course, is that we had guys like Eric Prydz in Miami, which was a huge success. People are still raving about that [Eric Prydz] set. Also, we had psy-trance in Utrecht, which was new. I think the horizon for trance is very broad, for me. On one hand you have the more commercial, more EDM sounding DJs and on the other hand you have psy-trance guys, and everything in the middle for us is trance. We're trying to bring that across to the fans to keep it interesting in an effort to not have five stages with the same sound. You'll have trance in every form and every genre: vocal trance, uplifting trance, psy-trance. There are so many different colors to it now, so it's really amazing.
TNT: You recently included a tribute to HBO's Game Of Thrones during your Ultra Music Festival main stage set in Miami. What can you share about the featured remix/track? Who is your favorite character on the show?
van Buuren: I am a fan of the show. I can't reveal anything about the track, just yet. There will be very big news in the A State of Trance episode next week, not this week, next week [ASOT 716]. I would say my favorite character is… maybe… Tywin Lannister.
TNT: Where do you see Armin van Buuren five years from now?
van Buuren: I keep asking myself that very question. I still want to make music and I still want to produce. Apparently, I haven't run out of ideas. There are so many ideas for tracks in my head. Like "Ping Pong" was a crazy track, and hate it or love it, it did really well. I have a lot of ideas for tracks and collaborations. I also see myself producing other artists. I mean, in recent years, one of the things I focused on most have been production skills. I'm learning every day. I actually bought a piano and I'm learning to play piano for the first time. After twenty years of music making and a GRAMMY nomination, I finally started learning how to play music [on the piano]. I've made the decision in my life that I don't want to do anything else aside from making music. I know I could be a corporate guy right now and start a management company, manage other artists, and I will always help other artists. But my true passion, my true love, is trance music. Trance in the broad sense, meaning everything from ambient to synthesizer music. I want to collaborate and I want to keep making music because that's really what drives me.
For more information about Armin van Buuren visit arminvanbuuren.com.
For more information about A State of Trance visit astateoftrance.com.
Armin van Buuren is on Twitter, Facebook, and Instagram.
Photos: Gary Venditti Jr.