Minus Zero 2017 Announces New Headliners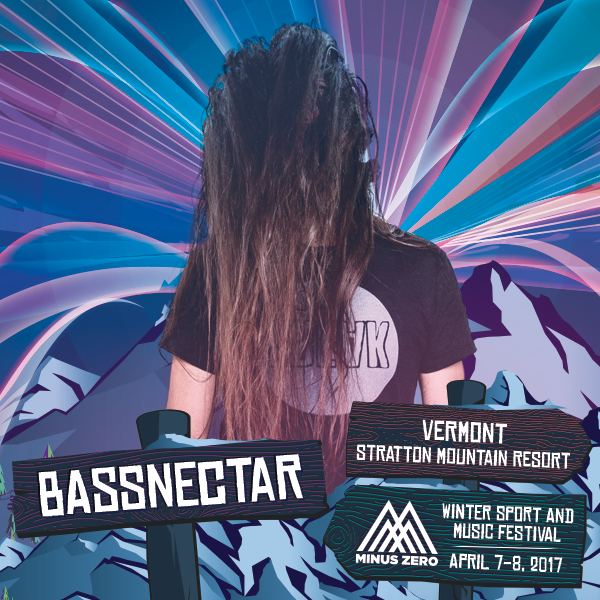 With Minus Zero's return they once again bring you some of dance music's best talents to Stratton Mountain, Vermont
Just months ahead of Minus Zero 2017 the first headliners are announced for the winter themed festival. Last year saw two greats, Deadmau5 and Kaskade, take to the mountain in one of the most unique settings possible. This year they're going bigger and better than ever with the announcement of a set from Bassnectar, Griz, and Pierce Fulton.
The man behind some of the most insane live sets, a residency at Electric Forest, and has fans camping the rail days in advance, Bassnectar will also be at this year's Minus Zero Festival in Vermont. As of late Bassnectar is just getting done with his NYE project New Year's Eve 360 2016 and a full-album release earlier in 2016 with Unlimited. Already since the announcement tier one ticket sales have nearly been drained three months in advance. This act alone will be why Minus Zero 2017 will be a full house.
Griz had one of the greatest festival runs last year making appearances in everything from Bisco, Electric Forest, Northern Lights, and many more. He's the undeniably funky man with the sax, and will surely cool the mountains with his steamy performance. One of his freshest tracks he released just recently is the Grizmatik collab "As We Proceed." A Griz performance from the upper deck on the chalet, or down feet away from the sax swaying artist, would make for the perfect weekend getaway.
Another act of Minus Zero hits home on a literal meaning, as Pierce Fulton returns for a second year after performing at the premier Vermont showcase last April. Pierce grew up in Vermont and told The Nocturnal Times last year family and friends were in attendance. This year we're sure he'll bring out another memorable set of the weekend.
For more information on Minus Zero and tickets to the winter festival go here.