Bassnectar New Year's Eve 360 at Birmingham-Jefferson Convention Complex in Birmingham, AL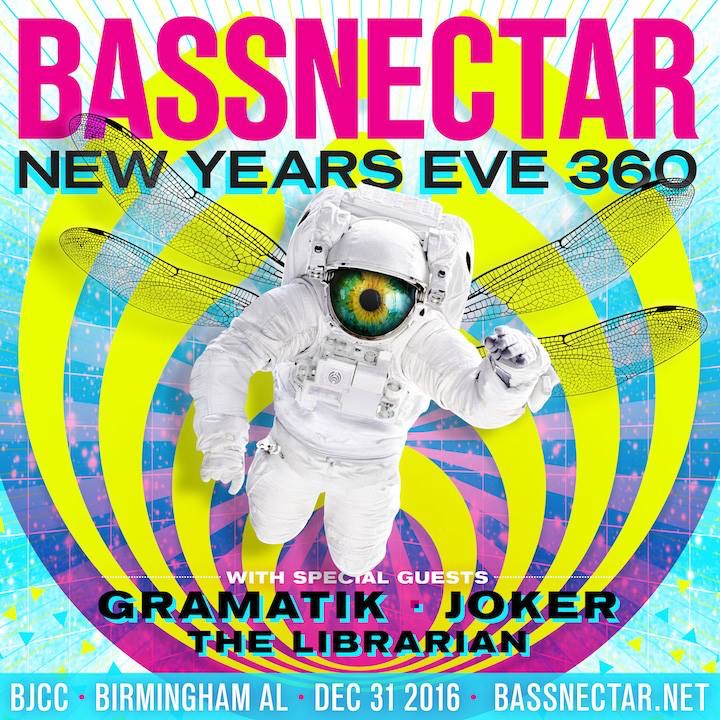 The sixth annual Bassnectar New Year've 360 event is set to take over the Birmingham-Jefferson Convention Complex in Birmingham, AL this New Year's Eve.
New Year's Eve is around the corner and it's time for festival goers and music lovers of all sorts to begin planning the way they want to ring in the new year. Bassnectar NYE 360 takes hardcore Bassheads deep into the heart of the center with the special #NYE360 spaceship and the entire Bassnectar community together under one roof.
Last year was the first year #NYE360 took place at the BJCC in Birmingham, a completely sold-out venue able to holding upwards of 19,000 dedicated Bassheads from all over the nation, and was described by Bassnectar himself as being a "barrier-smashing brainstormer", and that "[he] will return to take it up another notch in our pursuit of unlimited heights and infinite depths".
The #NYE360 experience is complete with always flawless sound engineering, top notch visual and light production, stacks upon stacks of subs and speakers facing every angle, and a centrally positioned, rotating stage with a direct view from all angles, or the #NYE360 "spaceship". This brilliant perspective allows Lorin, as well as every single ecstatic Basshead to be visible by everyone at all times. This experience provides attendees with an incredibly intimate feeling of celebration and unison. Special guests include Gramatik, Joker, and The Librarian.
For Bassnectar, 2016 was a wildly successful year; gracing the stages of many festivals including Electric Forest, Paradiso, Mysteryland, Summer Set, Electric Zoo, and more, as well as selling out the debut of his very own festival, Basscenter, selling out a two-day gathering in Atlanta, and putting together a three-stop Midwest tour for Halloween weekend.
Bassnectar New Year's Eve 360 offers one VIP travel option which includes the following:
– 2-Nights Stay @ Sheraton Hotel (1 Room – Check in 12/30/16, Checkout 1/1/2017)
– 2 x VIP Tickets to Bassnectar NYE
– Early Entry into venue
– VIP Family Photo w/ Lorin
– Access to Bass Space – with private bar, lounge, and bathrooms
– 2 x Screen Printed Posters
– 2 x Bassnectar Merchandise Items
– 2 x Floor Wristbands
#NYE360 tickets go on sale Friday, 9/16 at 11am CDT. For more information and to purchase tickets, visit bassnectar.net.