The Chainsmokers at Jewel Nightclub at ARIA Las Vegas on Monday, May 30 – MDW 2016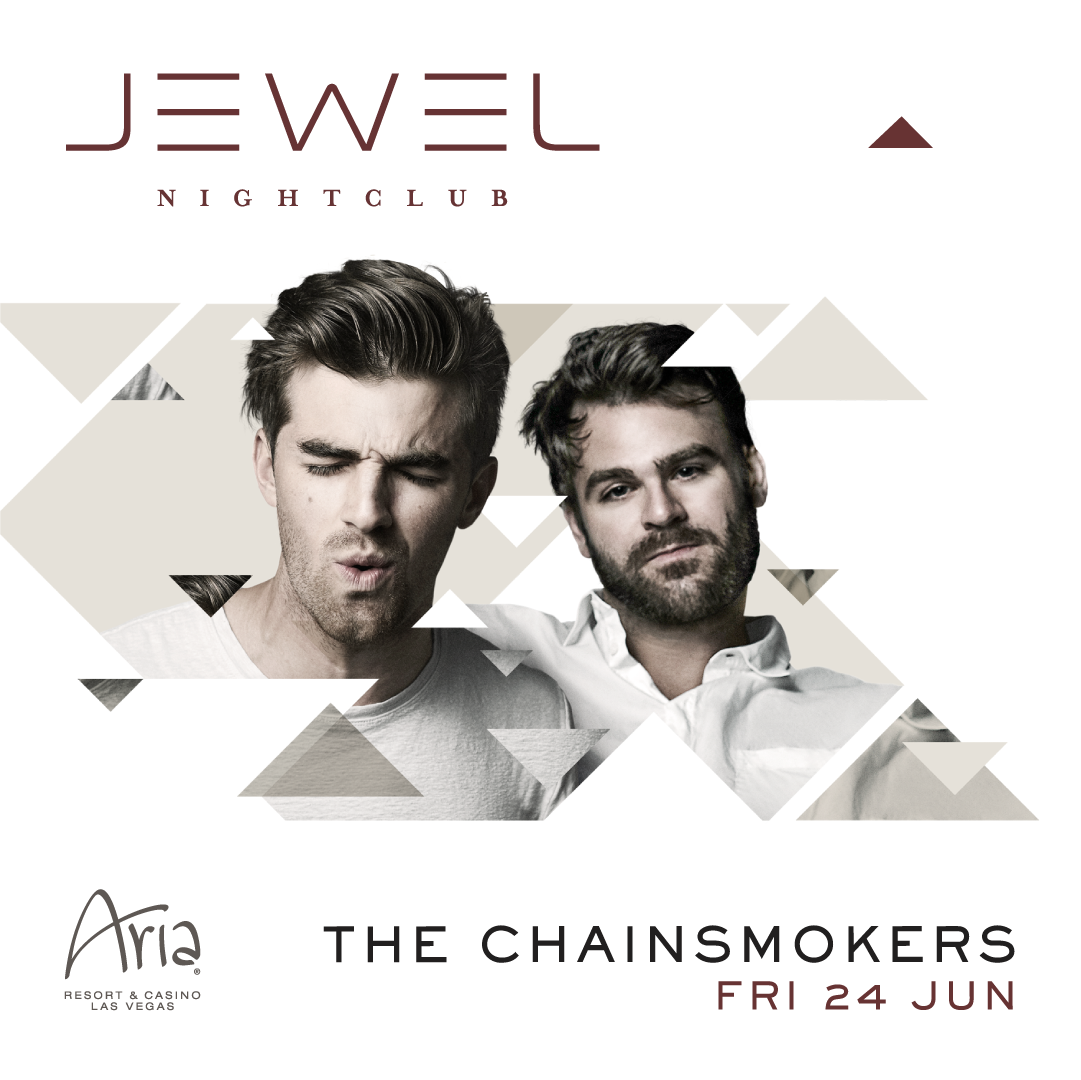 The Chainsmokers at Jewel Nightclub closes Memorial Day Week in Las Vegas on Monday, May 30, 2016
What a whirlwind of a year it has been for The Chainsmokers—and Alex and Drew show no signs of slowing down anytime soon. Providing a headlining showcase at the newly opened and intimate Jewel Nightclub, located at ARIA Resort & Casino.
Go-to festival performers, heavy radio rotation, and hit single after hit single has transformed The Chainsmokers into one of the most sought after duos in electronic dance music (EDM). Chances are you've already heard The Chainsmokers—that's if you're not living under a rock.
From radio versions, to dance-floor-ready renditions, and festival-worthy variations, some of The Chainsmokers most familiar releases include: "Roses' feat. Rozes; "Let You Gp" feat. Great Good Fine Ok; "Until You Were Gone" with Tritonal feat. Emily Warren; "New York City" feat. Victoria Zaro; "Split (Only U)" with Tiësto; "Waterbed" feat. Waterbed; "Kanye" feat. SirenXX; and their massive mockery-smash, "#SELFIE."
The Chainsmokers Impress Viewers From 2016 Ultra Worldwide Stage
This year, The Chainsmokers released popular singles "Don't Let Me Down" feat. Daya and "Inside Out" feat. Charlee. Drew and Alex were featured as the musical guests on NBC's The Tonight Show Starring Jimmy Fallon in February 2016 where the duo performed their hit single "Roses" live with Rozes.
Later this year, The Chainsmokers will headline the eighth annual Electric Zoo: Wild Island on Randall's Island, New York.
Watch The Chainsmokers "Don't Let Me Down" feat. Daya official music video:
The Chainsmokers Premiere "Don't Let Me Down" Official Music Video
Tickets for The Chainsmokers at Jewel Nightclub at Aria Las Vegas on Monday, May 30, 2016, are available HERE.
For more about Jewel Nightclub and to view upcoming events, visit http://jewelnightclub.com/.
For more information on The Chainsmokers, visit thechainsmokers.com.