The Chainsmokers Impress Viewers From 2016 Ultra Worldwide Stage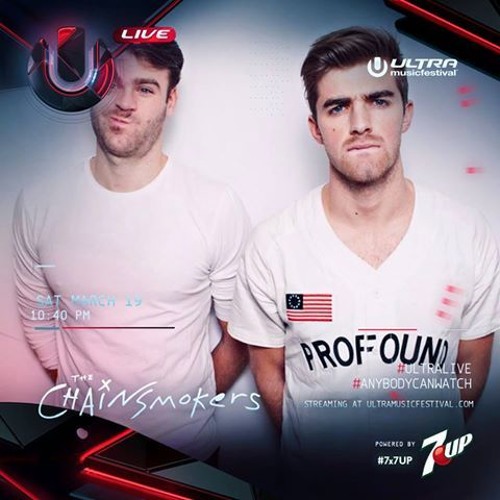 The Chainsmokers, the duo that's delivered hit after hit, shows no signs of slowing down after leaving it all on display for a select 2016 Ultra Live performance.
In what starts off with a pitch black stage and a tranquil piano melody to the hit single "Roses" feat. Rozes, you're quickly deceived and thrown straight into the mix with a greeting by Alex Pall. He screams out "Miami Ultra what the F*** is up?!" and the roaring drop to Lookas x Crankdat's "Over" follows. Quite the surprising entrance from the supposed "mainstream" act of The Chainsmokers.
Straight from the get go Taggart and Pall are all over the place, both literally with their physical movement bouncing around the stage, and with their rampant song selection. It's clear the two were enjoying themselves, leading by example and giving the crowd one of the most energetic performances possible. In a moment of modesty, The Chainsmokers mock themselves with the Botnek VIP remix to one of their original hits "Selfie." They tell the crowd, "If you fucking hate this song middle finger up," which fans clearly took advantage of.
An interesting approach by The Chainsmokers was the heavy use of other artists' remixes to their original material. Many artist like to stick to playing their original productions, for better or for worse, regardless of the great remixes done by others in the industry. The above mentioned Botnek VIP rendition to "Selfie," the grimey Ookay version of "Kanye," and the T-Mass edit to "Don't Let Me Down" all followed the same trend of explosive remixes for their Ultra set. A great read on The Chainsmokers part as they were set on playing tunes that would stir up the Ultra crowd.
They put on a fun filled set with combinations of Chainsmokers originals and the added bass heavy punch throughout the night. However, some tracks are best left untouched, as they played an acappella version of the romantic "New York City." And yes they did include the fabled ID reportedly titled "I Can't Change Who You Are" with either an updated manic twist or possible remix since it's original play at Ultra 2014.
Have a look at The Chainsmokers in their element with the Ultra Live performance: