SBCR (Sir Bob Corneluis Rifo aka The Bloody Beetroots) Debuts "SBCR & Adversaries, Vol. 2"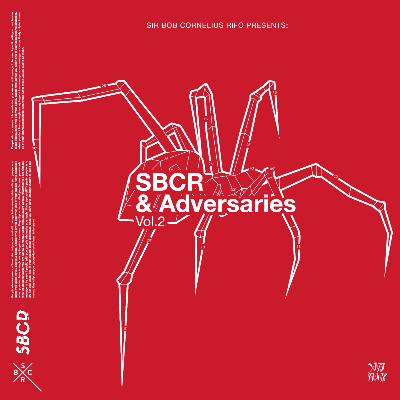 Five months after legendary producer/DJ Sir Bob Cornelius Rifo of The Bloody Beetroots debuted his solo DJ moniker SBCR with  SBCR & Friends, Vol. 1 EP, he's returned with its follow up.
SBCR & Adversaries, Vol. 2 which is out now on Dim Mak Records, offers listeners a six-track selection consisting of an array of dance floor-driven creations.
Unique in his fusing elements of electronic dance music (EDM) with an eclectic mix of rock-influenced sounds, Rifo deeply divulges into his kaleidoscopic solo sound.

"SPIDER" kicks off the EP with a bang as its tantalizing chord progressions and synth will send chills down your spine. The second track "Black New York Tee" is a melodic masterpiece, showcasing Rifo's inimitable ability to navigate the gamut of genre throughout the ambient record.
"Deadly Dynamics" features LA-based Jayceeoh and Joe Zay, incorporating both a titillating dance-friendly beat and cool tech mechanisms. In "Frankenstein," Sir Bob teams up with Jayceeoh once again for a multi-genre track that utilizes trap basslines, big electro builds and bass-heavy breakdowns. "Krack" shows SBCR tapping into his darker side with an assist from "Death Electro" founder and Swedish native Owl Vision.
"Pizza House Party" featuring Italian producer Razihel makes 90's house cool again. On "Rise & Fall," Rifo slows things down with low-key vocals and a chill, percussion-led melody before he gets moody again with Owl Vision for "Shelter." Last but certainly not least is "Waves," an energetic combustion of instrumentation that builds and releases as easy as the ocean's tide
SBCR & Adversaries, Vol. 2 Tracklist:
SPIDER
Black New York Tee
Frankenstein (feat. Jayceeoh)
Krack (feat. Owl Vision)
Pizza House Party (feat. Razihel)
Rise & Fall
SBCR & Adversaries, Vol. 2 is available through Dim Mak Records to stream via Spotify and Apple Music. Purchase SBCR & Adversaries, Vol. 2 on Beatport.