The Nocturnal Times Exclusive Interview: Cash Cash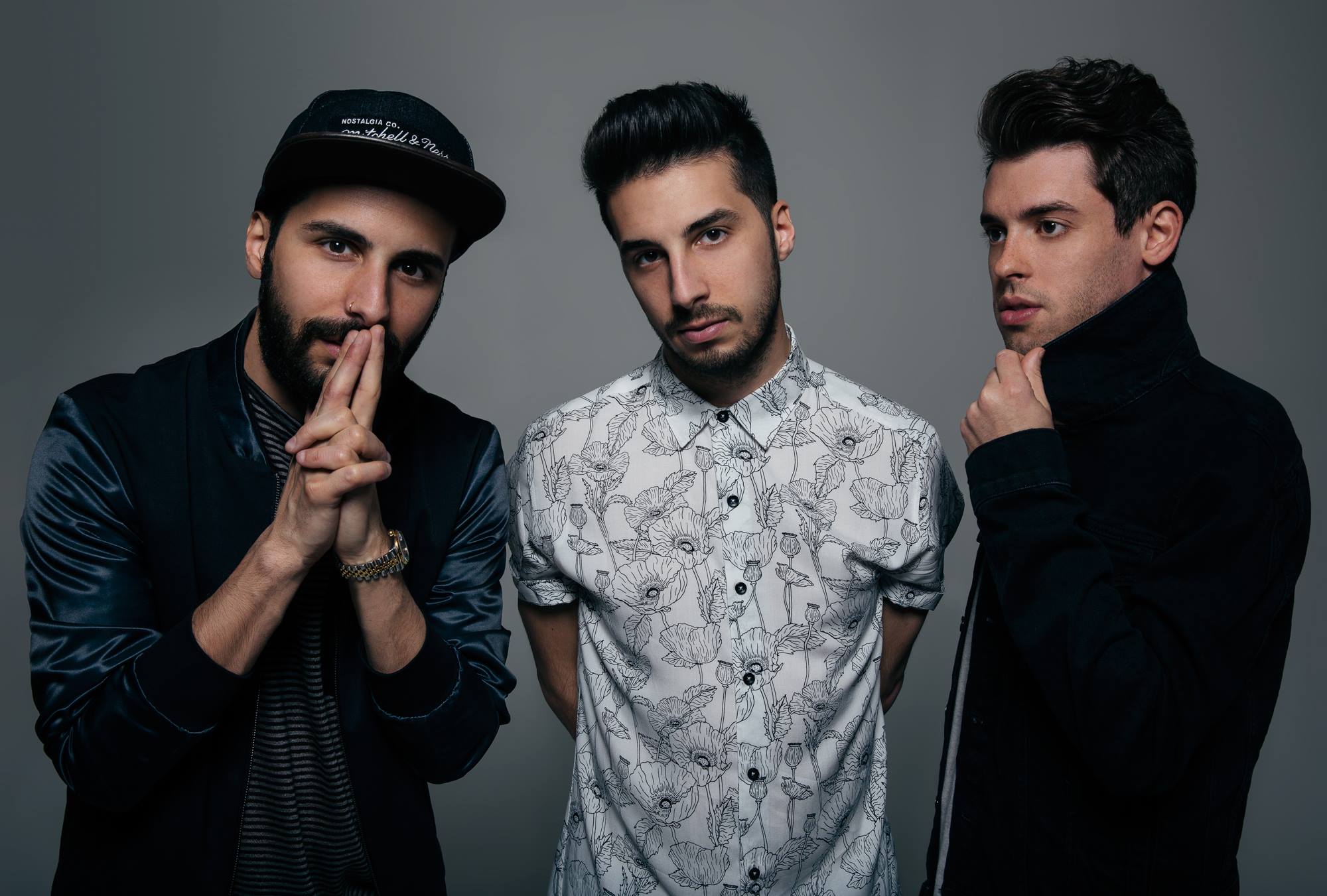 It was a very big year for Cash Cash who released their debut LP, Blood Sweat & 3 Years through Big Beat Records
Hailing from New York, electronic trio Cash Cash recently sat down with The Nocturnal Times to review their wildly successful 2016. This year, Jean Paul Makhlouf, Alex Makhlouf, and Samuel Frisch, best known as Cash Cash, not only released their highly-anticipated debut studio album, but also began their Must Be The Money Tour and released a handful of crossover singles. The debut LP, Blood, Sweat & 3 Years, comprised of 16-tracks, includes the popular singles "How To Love" feat. Sofia Reyes; "Broken Drum" feat. Fitz of Fitz and the Tantrums; "Lightning" with Goo Goo Dolls front-man John Rzeznik; and  "Millionaire" feat. Nelly. Their smash singles "Surrender" and "Take Me Home" feat. Bebe Rexha, which made waves on radio stations across the country, are also inclusions on Blood, Sweat & 3 Years, which debuted at #1 iTunes Dance Chart. Cash Cash dominated the airwaves with the RIAA GOLD certified "Take Me Home," which has rendered more than 100 million combined streams, 625K individual downloads, and over 615M in audience Top 40 radio.
Find out what the Tri-State area natives have to say about their newly launched tour, the success of their debut album through Big Beat Records, how they operate as a trio, remixing for Britney Spears and G-Eazy, and working alongside Nelly, in this Nocturnal Times exclusive interview.
The Nocturnal Times: How and when did the three of you meet? When did you first begin exploring dance music?
Cash Cash: We started playing instruments at an early age so we all come from very musical backgrounds. Alex and I are brothers so we've been at it since the beginning. I met Sam when I was in third grade. We both liked the same music and would trade albums. Then one day Sam's dad got us jamming together with a guitar and bass. We played in different bands growing up and the part that brought it all together was that we were always recording, producing, mixing & mastering all our music. We started messing around with recording in high school with our old PC computers and eventually things started to sound professional from years of trial and error. That being said, our hands on approach with production and recording since the beginning of your career gave us a massive leg up creating electronic dance music. We also began doing remixes for other artists around 2008 which made us dive deeper into electronic production…eventually our remixes started to slowly influence our original music which lead us to where we are today.
The Nocturnal Times: From New Jersey, in what ways did NYC nightlife and its culture influence your decision to pursue electronic music professionally?
Cash Cash: The Tri-State area definitely had a huge impact on dance music…Especially in the 90's when all the freestyle stuff was happening…we were just kids absorbing the sounds and rhythms. Hanging out in different NYC clubs was also a great place to find and discover new music and influenced the way we made our own. It's also been cool to see styles merge over the years with different countries. The European sound started to find it's way over here and made for some great sub genres. Now it's even crazier to see it merge with modern pop music and singers from all different genres (rap, rock, indie, folk etc). The scene is still growing very strong with roots all over the world.
The Nocturnal Times: Being a trio, what roles typically get designated to which members of the ensemble?
Cash Cash: We're lucky we're a trio. Production wise we all shine in different areas and fill voids in each others skills. I shine on vocals, editing, songwriting..Alex's strong points are chords, keyboard related things, sound design etc. Sam's great with drums, beats, and just overall track production. We all work together on the mixing & mastering which makes a great dynamic in the group. As for touring…we realized having all 3 of us on the road DJing constantly was doing more harm then good..Not enough original music or remixes were getting done and it was taking longer for us to write when we were only home for short periods of time. We do a lot of different stuff when we play live like a capella sampling, one shots and triggers on the fly that are definitely easier as a trio, but not impossible with just two of us… So we decided it's just more productive to have 2 of us on the road and 1 in the studio at all times working on the production side of things. We change it up here and there but most the time it's me and Sam on the road and Alex in the studio.
The Nocturnal Times: "Blood Sweat and 3 Years" was released this year. What was the inspiration behind the album title? What can you share with The Nocturnal Times readers about the album making process?
Cash Cash: We spent a lot of time on this one because we felt more connected to these songs than anything we've ever put out. It's truly our blood sweat & 3 years. We're a group of 2 brothers and a best friends so you can be sure that we fight and have our moments. Overall this album represents that it doesn't always have to be blood, sweat & tears…sometimes "time" is what can help you reach your goal. We put a lot of heart and soul into this record but it was hands down the hardest thing we've ever had to do as group. We've never been as attached to an album as we are to this one because of it. These 16 songs define the craziest years of our lives and we hope they can help define yours as well. Albums are supposed to help people define time frames in their lives. A good record will make you remember old friends, past relationships, or memories you forgot about…Years can be relived in just an hour…It's amazing. Albums just have that special power.  This album defines this chapter for us which has been hands down the best 3 years of our lives. We hope that "Blood, Sweat & 3 Years," can help define this era of your life the same way it does ours.
The Nocturnal Times: What can you share with us about your Must Be The Money Tour. Do you have any surprises in store for the future shows?
Cash Cash: The "Must Be The Money" tour has been nuts. It's crazy to see so many people singing along to new songs off our album "Blood, Sweat & 3 Years." Those moments keep us going night after night and give us the inspiration we need to make new music when we get back in the studio. We've been keeping the tour fresh by playing a lot of new edits and mashups as well as some unreleased stuff. We also come out and meet ours fans afterwards so it's a great chance for us to hear from our listeners. So far we've had a couple of guest surprises as well…Sofia Reyes came out and sang How To Love with us in LA and we also had Bebe Rexha come out for show. We're all about bringing our friends out or people we've collaborated with.
The Nocturnal Times: Looking back on your time as traveling DJs, what is one of the wildest or craziest tour experiences share with us?
Cash Cash: We've truly made some amazing memories over the years. Hearing 30k people sing back our lyrics in South Korea felt insane. Doing a sold out US tour in 2015 was another experience we'll never forget along with getting to meet all our fans and listeners.
The Nocturnal Times: This year, you released an official remix of Britney Spears feat. G-Eazy, "Make Me…" How did this remix first come to fruition? Was this treated any differently than other remixes because it was targeting a more mainstream audience and for a massive pop star?
Cash Cash: When Britney's team hit us up to do the remix we knew we had to give it the Cash Cash TLC. We felt privileged that she wanted us to remix it. We tried to stay true to the original pop version in some ways but also took it in a fresh new direction to make it hit hard like any of our other remixes.
The Nocturnal Times: You've just released your latest single, "Millionaire" with Nelly, which is already taking over the airwaves. How was it working with Nelly? What was the studio experience like for you guys working with a hip-hop artist of his stature?
Cash Cash: Working with Nelly was wild because we literally raged in the studio till like 5am drinking and smoking. We kinda got a little stiff in the studio the last couple years and our workflow started to feel a little job like…Nelly busted through the doors with 5 of his best friends, catering, enough booze to kill an elephant and enough weed to set off the alarm off.. It literally was a wild party that helped us remember why we first starting making music and to not get too stressed out when trying to be creative. It was overall just a very rejuvenating experience working with him.
The Nocturnal Times: Your crossover success came with the release of "Take Me Home" with Bebe Rexha. When making the track, did you expect it to become as big of a hit as it did? How did that first come together?
Cash Cash: We never knew how big "Take Me Home" would get but we knew we made something special with Bebe as we were recording it. It just was one of those hooks that gave us all goosebumps and the emotion in her voice just took it to the next level. That along with the uplifting energy of the track made for a very special collaboration. I remember the first time I heard it on the radio…I was parked in my driveway and was looking into the basement studio window that we recorded it in…I remember saying to myself, "How the fuck did we get this song from our basement to this radio…" We are forever grateful that it reacted so well and touched so many people around the world.
The Nocturnal Times: Where do you see yourselves five years from now?
Cash Cash: In 5 Years I see us still making music together and touring the world. I think we'll be trying a lot of new things to keep the music fresh and inspiring like collaborating with more artists outside of dance music. We'll be trying new instruments, sounds and feels to take things in new directions…Not everyone is cut out for the road/touring with all the flying, traveling and up and go lifestyle…but we were made for it. It's in our blood and there's nothing else in the world we could see ourselves doing. Like Aoki's says, we'll sleep when we're dead.
Keep up with Cash Cash by following the guys on Facebook, Twitter, and Instagram, or visiting cashcashmusic.com.