The Nocturnal Times Top 16 Electronic/Dance Mixes of 2016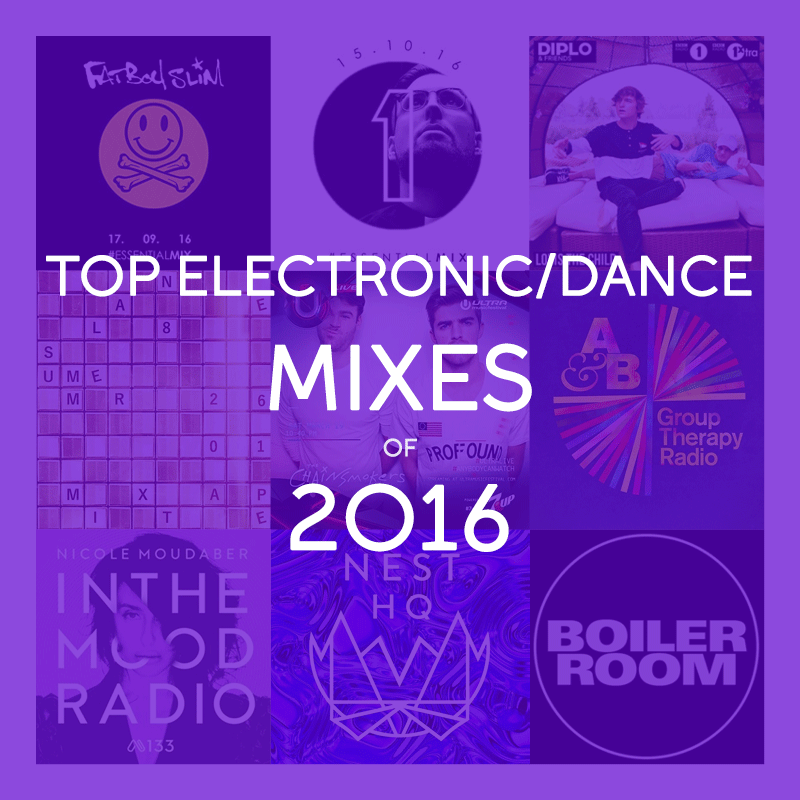 At the end of the year The Nocturnal Times team has put together another collective of the year's top mixes of 2016 from the dance music community
The team here at The Nocturnal Times has picked the top 16 mixes from 2016 and put them all in once place. We went through hundreds of live sets, radio shows, and exclusive mixes and honed it down to these final ones. It's a broad spectrum showcasing a little bit of everything in the electronic dance music scene. We've included performances from the Ultra Miami kick-off event of the year, dug into the Essential Mix vault, and also made sure to scour the SoundCloud streaming waves for anything left in between.
Given the quantity of mixes uploaded daily, we focused on bringing you a good balance of well-known artists at grandiose events, and also wanted to include some of the hottest up-and-comers in the scene looking to set themselves apart in 2016. Just as our artist and occasion for mixes varies, you'll notice the set times was left open as well. Mini-mixes and 120 minute stories were included, so if you're in a rush or in it for the long haul we have the perfect remedy for you. Take a listen below as we reveal The Nocturnal Times staff Top 16 Electronic/Dance Mixes of 2016.
NestHQ MiniMix – Autograf
For those lucky enough to track Autograf's rise to fame, this NestHQ Mini-Mix resembles something of their earlier days. The Autograf mini-mix for NestHQ may possibly be the greatest chill/ambient mix of the year. Although the year has been massive for them with the release of the debut EP Future Soup and a North American Tour, it's nice to see them trying new things on their own time as well. The NestHQ mini-mix includes an astonishingly mesmerizing edit to the DNZ track "Wanderlust," setting the tone for one of 2016's most relaxing mixes of the year. Flexibility in any artist is something to be impressed with, and Autograf gives a cool refresher of a gift with this one. Sometimes the right moment calls for an amazingly soothing mix for inspiration, be sure to put the Nest HQ Mini-Mix by Autograf in that playlist [KK].
Diplo & Friends Mix- Jai Wolf
Diplo said it in the intro, Jai Wolf has had a massive year and the next task was to slay a Diplo and Friends Mix, and he did just that. The only complaint with this one is that it couldn't have been longer. Jai Wolf starts off the mix on a lighter note and keeps it relatively mild throughout the mix. A little past the halfway mark of the mix Jai Wolf pairs up his latest track "The World Is Ours" into one of the sweetest transitions and mood shifts I can remember. He slides into the drop of Goldchain's "No Sleeping Now" combined with female edited "Antidote" vocals to give you the ultimate feels. Jai Wolf is currently at the top of the world with his latest EP released November 18, and an accompanying headline tour. He's looking to finish off 2016 strong and will surely have many more surprises in store next year [KK].
Summer 2016 Mixtape – Lane 8

Starting back in 2013 Lane 8 brought us his first seasonal mixtape, and since then it's grown to be a must-listen for any progressive fan. And the best part is, like clockwork, it's been coming to us four times a year right when we expect it. This Summer Mixtape gave us the tightly held ID "In My Arms" along with a handful of more This Never Happened tunes. The dual-collab "Diving/Crush" was featured on the Summer Mixtape and ties in together the best seasonal mixtape of 2016 via Lane 8. He mixes and selects songs to match the season and this year's Summer edition is the perfect afterhours summer party set, that exits with the smooth and dreamy "Birds That Fly" by Kidnap Kid [KK].
EDC Las Vegas 2016 – NGHTMRE
After a successful post-2015 EDC LV, NGHTMRE was once again invited to partake in the festival stronghold. Rather than his opening set at the Cosmic Meadows in 2015, he took a prime 11:30 slot at the Bass Pod. To a packed crowd NGHTMRE played hit originals like "Street," "Burn Out," and "Aftershock." NGHTMRE dropped his newest collabs, "Need You" with Dillon Francis, "Click Clack" with LOUDPVCK, and "Feel Your Love," for which he brought Flux Pavilion on stage to premiere. At midnight, Tyler's own father came out to celebrate Father's Day alongside an awestriking fireworks display. Before his set was over, NGHTMRE made sure to bring up his good pals of Slander to drop a few of their collabs like "Gud Vibrations," his remix of "Dum Dee Dum," and his brand new remix of "Dead". For any EDM trap fan it's hard not to consider NGHTMRE one of the best in the game right now [CM].
Ultra Miami 2016 – The Chainsmokers
The Chainsmokers had arguably one of the biggest years in the entire music scene, never mind the electronic dance music genre. Their Billboard record says it all, as the hit song "Closer" remained on top of the Billboard Hot 100 for months on end. At the time of this year's Ultra performance in mid March, the Chainsmokers were on the Worldwide Stage playing up-to-date singles "Don't Let Me Down," "Roses," and "New York City." Being live recorded on the Ultra Live stream, they brought one of the most energetic performances to millions of viewers around the globe. The set was filled with tracks from Bass-junkies like Bro Safari, Drezo, and Ookay, not something you'd expect from the "Selfie" adorning kids from the Northeast. Seeing the duo live, jumping all over the stage and the onslaught of banger after banger live at the Ultra mecca is why this one stood out in March and kept a slot for top Mix/Set of the year [KK].
HARD Summer 2016 – Dillon Francis
If you enjoy your music crazy and filled with bass or maybe you just don't give a fuck or shit, Dillon Francis fulfilled your needs with his Hard Summer Festival set back in July! Whether he's posting his shenanigans on social media or just throwing down new productions, Dillon's sense of humor shines through in everything he does. For instance, mid-set Dillon introduced his pet piñata, Gerald, who made a guest appearance (fresh out of rehab) just to crowd surf for Dillon's new track "Candy." This was the 7th year at Hard Summer for Dillon Francis and many fans will agree it was arguably his wildest performance yet. If you weren't able to attend, we insist you check out this eccentric seventy five minutes of insanity ASAP [MS]!
In The MOOD Episode 133 Live From Awakenings ADE – Nicole Moudaber
Known for her deep dark pounding beats, and her radio show In the Mood, Nicole Moudaber has put forth a steady stream of recordings from many of her shows this year. One of the stand out sets from Nicole this year was her set from the Awakenings Drumcode area at Gashouder Amsterdam Dance Event in October of this year. Drumcode recordings, which is run by techno giant Adam Beyer, had its own stage at Awakenings Festival, which is fittingly a popular techno festival. During the set Nicole debuted a new mixer, Play Differently, and she says at the beginning of her set that she was nervous about using it, but it turns out she "made that mixer her b*tch." To get a sense of what she means, be sure to check out the set recording, as the pace of this set is unparalleled and just from listening you can feel your heart race pick up with the energy she brought to the legendary Amsterdam Dance Event [ES].
Transmission "The Lost Oracle" 2016 Prague – John O'Callaghan
https://soundcloud.com/united-music/john-ocallaghan-live-transmission-2016-the-lot-oracle-291016-prague
John O'Callaghan's Transmission set was one of the highlights of this years' festival which took place in October in Prague. He debuted a ton of ID's, which made the entire performance unpredictable and exciting when he mixed in never heard tracks, "The Forging of Steel" by John O'Callaghan, along with recent crowd favorites such as "Chasing After You" by Will Atkinson ft. Deirdre McGlaughlin and his own remix of "Save Me" by Gareth Emery ft. Christina Novelli. He opened the set with a bang with a track that has not been ID'd yet, but we hope it will be soon since it's an absolute monster of a track. The end of the set softened with the closing track "I'll Listen (John O'Callaghan Dark Mix)" by Armin van Buuren ft. Ana Criado. Overall this set sampled the top tracks of John O'Callaghan's sets and trance sets in general of this year, while adding in never heard before tracks that give clues for what's to come in 2017 [ES].
Essential Mix – Tchami
Tchami, the pioneer of the future house genre, which matches up techno house beats with dubstep elements, was granted a long overdue opportunity to his own Essential Mix for the prestigious BBC Radio 1 this past October. Tchami is still original in his content, however, and his Essential Mix is a perfect representation of how he is ahead of the cutting edge in dance music. This mix is a complete, high energy journey where you can't guess just what's coming next, with highlights including his own new release "Siaw", the track by Duke Dumont. Jax Jones, "I Got U" (Jonas Rathsman Remix), "Yoohoo" by Dusky, and many more. The generous 2-hour mix features mostly tracks from underground artists you may not have heard of, which is an excellent way to showcase and develop talent from across the globe, along with wildly successful bangers released by Tchami this year, "The Prophecy" by Tchami and up and comer (and Tchami's prodigy) Malaa, and "After Life" (AlesiaEdit) by Tchami ft. Stacy Barthe [ES].
Diplo & Friends Mix – Louis The Child
Louis The Child has secured a permanent spot in the realm of future bass since they first began releasing their feel-good music a couple years back. The duo has had an extremely smooth come up, from working hand in hand with Skrillex, to playing at highly esteemed music festivals such as Coachella and Ultra Music Festival. One of the premiere moments of the year for Louis The Child was the release of their Diplo and Friends 2016 Mix. The mix is a perfect example of their own original music, featuring the unreleased remix to the Major Lazer tune "Be Together" and the delightful remix to Miike Snow's "Genghis Khan," strung together with other feel-good future bass hits. The hour long mix features other big name tracks like Big Gigantic's "Miss Primetime" and the newest Foreign Family Collective release via Chet Porter "Stay." This mix is sure to be the one of the most jam-worthy recorded music representations of 2016 [KP].
HARD Summer 2016 – Porter Robinson
Porter Robinson is surely one of the most talented producers in the electronic music industry, possessing the pure artistic talent to change his sound over the past few years while maintaining the utmost individuality in his music. Not only is he talented in the production aspect, but also his live performances are unlike any other of his peers. One of these sensational live performances was at Hard Summer 2016, where he played arguably the best live set ever, but most definitely the best live set of this year. Every song played was a true Porter original, except for the Nero track "The Thrill" which obviously had the Porter Robinson live twist on it. Goosebumps instantly surface upon seeing the symbolic facial motif of Porter appear on the big screen as he intros with "Sad Machine." If you haven't heard a live set of Porter's yet, this might be the best thing apart from actually being there [KP].
Boiler Room Shanghai DJ Set – Disclosure
From the very start of their 90-minute Boiler Room Shanghai DJ set, Disclosure heated things up on the intimate dance floor with "When A Fire Starts To Burn." The Lawerence brothers, best known as Disclosure, provided a seamless and groovy showcase consisting of more than 20 tracks. Also included in the mix is Boys Noize feat. Rem Banks "Euphoria," Artwork "Let Go Of My Acid," Eats Everything feat. Tiga & Audion "Dancing (Again!)," Chris Lake & Chris Lorenzo "Piano Hand," and more. The guys, who are familiar to many for their acclaimed full-length studio works, "Settle" and "Caracal," also included their own tracks in their Shanghai DJ set. Their Boiler Room showcase included the Disclosure tunes "Moog For Love" with Eats Everything, "Holding On" feat. Gregory Porter, and "Magnets (VIP Mix)" feat. Lorde [MM].
Essential Mix Live at Bestival – Fatboy Slim
One of electronic music's most prominent names, Fatboy Slim, threw down one of most vibrant sets of the year. The Fatboy Slim Essential Mix, which aired on BBC Radio 1 in September, was broadcasted from Bestival. Full of energy from start-to-finish, Fatboy Slim's Essential Mix from Bestival begins with the Calvin Harris remix of "Eat Sleep Rave Repeat" with Riva Starr, Sander van Doorn & Chocolate Puma "Raise Your Hands Up," and Disclosure "Bang That." Artists featured in this jam-packed Essential Mix by dance music veteran Fatboy Slim include Groove Armada, Skrillex, Hi-Lo, Justice, Audion, Alter Ego, Prok & Fitch, and Mark Knight, among many others. Fatboy Slim closes out his groovy mix with a mash-up of his own "Right Here, Right Now" with Prince "Purple Rain;" the David Morales remix of "Little" Louie Vega "You Are My Everything;" and "Praise You" [MM].
Tomorrowland Belgium – Dimitri Vegas & Like Mike
Dynamic duo Dimitri Vegas & Like Mike took over the Main Stage at Tomorrowland in Belgium, closing the entire festival. In 2016 the pair celebrated the release of their viral hit "Hey Baby" with industry leader Diplo, reaching #1 on Spotify Belgium and gaining over five million Spotify streams in two weeks. Leaving virtually no time to breathe, the Belgian brothers put on a monumental show for people all across the globe. Their set perfectly represented Tomorrowland's message, as they united the people of Belgium, India, Germany, South Africa, Israel, Mexico, Colombia, and Japan through an epic sit-down during "Tremor." Busting out favorites like "The Hum," "Mammoth," "Higher Place," and hit single, "Stay A While," fans were caught in the infectious energy and worldly sounds of Dimitri Vegas & Like Mike. They diversified their set by throwing shout outs through tracks by The Chainsmokers, Kid Cudi, and Alan Walker. This performance caught our eyes as it thrust peace and freedom upon the People of Tomorrow, leaving them craving more [CO].
Ultra Miami 2016 – Armin van Buuren (Main Stage)
2016 was yet another fabulous year for trance pioneer Armin van Buuren. His success this year has included hitting the top five spot in DJ Mag's Top 100 list for the fifteenth year in a row, releasing the thirteenth compilation of A State of Trance via Armada Music, and embarking on his Armin Only "Embrace" World Tour. With one euphoric track after the next, Armin captivated Ultra's audience as well as the millions of fans at home watching the Ultra Live stream. Opening with "Dominator," he followed with tracks like "Heading Up High" featuring Kensington, "Strong Ones" featuring Cimo Fränkel, and "Another You" featuring Mr. Probz. This set was overflowing with high energy, mesmerizing lights, and relentless beats. Armin stood out with this performance and incorporated tracks from fellow trance DJ/producers like Markus Schulz, Super8 & Tab, and Arisen Flame. His general uplifting presence and positive vibes shone through at Ultra, making this one of dance music's top experiences of the year [CO].
ABGT 200 – Above & Beyond
Above & Beyond serenaded the Ziggo Dome in Amsterdam on Sept. 24, 2016 with a two-hour showcase for the 200th episode of their famed Group Therapy radio show. The Anjunabeats titans, Jono, Paavo, and Tony, provided a live HD video stream of their performance and each of the supporting acts. Included in their monumental set, which began with a new ABGT200 Intro, were tracks from each of their previously released full-length albums, "Tri-State," "Group Therapy," and "We Are All We Need." From OceanLab inclusions "Another Chance (Above & Beyond Club Mix)," "Beautiful Together (ABGT 200 Update)," and "On A Good Day (Ilan Bluestone Remix), to their very own instrumentals "A.I.," "Balearic Balls," and a button-pushing session to "Hello," A&B's ABGT 200 set was undoubtedly one for the books. ABGT 200 was chock-full of new Anjuna releases from Genix ("Orca"), Jason Ross ("Valor"), Oliver Smith ("Endorphin"), Sunny Lax ft. Aneym ("Everything's A Lie"), and Seven Lions and Jason Ross feat. Paul Meany ("Higher Love"). Factor a special closing with "On My Way To Heaven" into the equation, which is likely how many listeners felt after the two-hour Group Therapy session had come to an end [MM].
We hope you enjoy The Nocturnal Times Top 16 Electronic/Dance Mixes of 2016, be on the lookout for more end of the year gifts via The Nocturnal Times and if you haven't checked out The Nocturnal Times Top Albums of 2016 you can access it HERE.
Staff contributors: Kris Kallenbach, Mason Siegel, Emily Smith, Caroline O'Keefe, Charlie McMillian, Kylie Parham, and Mark Mancino