Midnight Kids Get "Serious" with Matthew Koma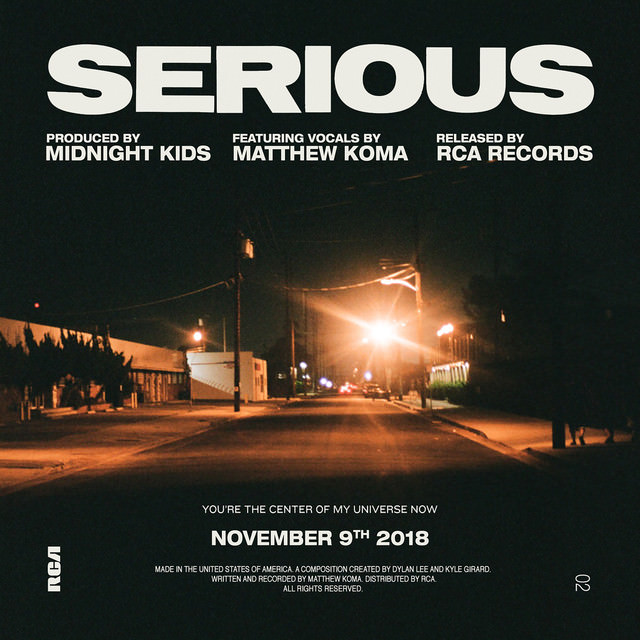 Midnight Kids have joined forces with the incomparable Matthew Koma for the release of their latest single "Serious," which is out now through RCA Records. "You're the center of my universe now," proclaims Koma on the new "Serious", which is an eloquent, retro love-story, crafted with an uplifting melody, harmonious chords, and and symphonic progressions.
Midnight Kids have spent the year releasing new original music, "Find Our Way" feat. klei, and remixes of Parson James "Only You" and "No One Has To Know" by GoldFish. Midnight Kids have previously remixed acts like The Chainsmokers ("Young"), Matthew Koma ("Hard To Love"), Shaun Frank ("Addicted"), and Lost Kings feat. Tinashe ("Quit You").
Matthew Koma is quite serious about his A-list discography — and now he can successfully add another top-quality original to his repertoire. Following features and songwriting credit with some of the biggest names in music, including Zedd ("Find You"), Tiësto ("Wasted"), Hardwell ("Dare You"), Afrojack ("Keep Our Love Alive"), Alesso ("Years"), Ghastly ("We Might Fall"), and many more. Koma has been focusing on his Winnetka Bowling League project via RCA and just gave birth to a daughter Banks Violet, with actress/singer-songwriter, Hilary Duff.
Listen to Midnight Kids feat. Matthew Koma – Serious [RCA Records]: