The Nocturnal Times Exclusive Interview: Goldfish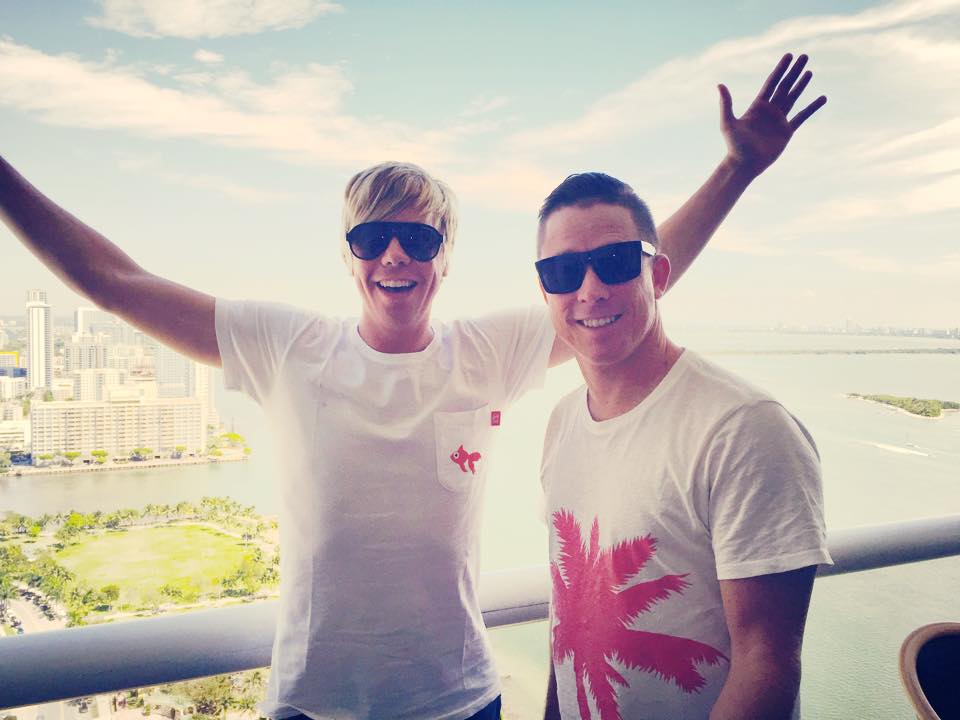 Just moments after Goldfish finished their performance at the Ultra Music Festival Live Stage on Sunday, March 29, the South African based duo sat down with The Nocturnal Times to discuss past, future, and present.
Dominic Peters and David Poole are extremely passionate musicians who do what they love to do for the thrill. Incorporating elements of dance, jazz, and African music, the two perform using live instruments, which adds a diversely refreshing component to their live performances.
In addition to their releases and live shows, Goldfish are also known for having their production "Fort Knox" used in a commercial for the Kia Soul, and Nike used "Washing Over Me" featuring Morning Parade in their Nike+ App advertisement.
In 2014, Goldfish won the MTV Africa Music Award for Best Pop Act as well as setting a new South African Music Awards record for most nominations in 2009 in categories such as Album of the Year, Best Dance Album, and Best Duo or Group. With a number of full-length studio albums and under their belt since their "Caught In The Loop" debut in 2006, David and Dominic plan to proceed by releasing EPs to remain innovative and diversified as artists.
Having just recently released "Goldfish Presents Organic House 2," the eclectic pair has proven their musical range yet again. Showcasing their diversity artistically, Dominic and David chose songs that felt significant to them at the moment. Read more about what's to come from Goldfish this year and where they hope to be five years from now in this Nocturnal Times exclusive interview.
The Nocturnal Times: What was the first inspirational driving force that caused the formation of Goldfish?
Goldfish: We actually found each other when we were at University and playing together in a jazz band. From that point on we figured out that we shared a love for certain artists like Moby and Fatboy Slim and from there we realized that we had an interest in something aside from jazz. Being young kids at the time, we decided to do something about this. We got together and made a few songs and then the obvious thing for us to do after that was to go and play live. Not thinking about it too much, we just went out and did it. Suddenly we had this massive reaction and people looked at it as a "new thing" when we were just doing our own thing and something that felt natural to us. We we're always live musicians playing in a live band so once we switched over to producing it was the obvious thing for us because we actually knew what to do live. We came up with a lot of our repertoire at shows because things just flowed so well during live shows. We would literally just mess around and see what worked because there's literally no more honest place than a dance floor. You'll immediately see what works and what doesn't by the crowd energy and reaction. The vibe from the crowd can spark a riff or even a whole song.
NocTimes: Seeing that you have such a different take on musical than a typical DJ, describe what a typical studio session is like for Goldfish.
Goldfish: We're actually in the process of re-designing our studio at the moment and were just discussing some ideas. We would love a studio setup that incorporates more of our live setup. Because when you're in the studio you're not necessarily in the performance head space we were talking about something that can be raised or lowered and caters to our creative needs. We actually want to have our gear there for us and be enclosed in our own type of cockpit. Our best ideas happen when we're jamming together; the real honest ones are the ones that happen spontaneously. Stuff is just flowing out of you through the music and all that has come to you in that week or day comes back to you.
NocTimes: As no stranger to Ultra Worldwide, what can you reveal about your live stage experience at Ultra Miami this year?
Goldfish: This is our third Ultra of the year actually. We played Ultra South Africa and Ultra Buenos Aires. We played the main stage at Ultra Johannesburg with thousands of people in the crowd, which was nuts. There's a certain kick to people getting off to David playing flute or double bass on the main stage because it feels like we're breaking those "EDM" rules.
NocTimes: Goldfish just released "Goldfish presents Organic House 2." How do you go about selecting the tracks to be featured on your compilations?
Goldfish: This is the second one we've released. The first one came about because we saw the scene organically developing. This sound was percolating with guys that were releasing these massive "pop-like" hits. We had been in that vibe for so long so we felt it was a good opportunity to do a state of the nation. Where are we all at? What is the sound? And putting it together on one disc represents what we were feeling at that moment. We've internationally made it available as a Spotify playlist and YouTube playlist so we can spread the idea. It's about putting forward a vibe because this is the sound we dig. This is a thing. Because "EDM" is a thing, we want to make this a thing.
NocTimes: Are there any plans for new material releases from Goldfish either singles or albums?
Goldfish: We've got a collaboration coming out in May on Spinnin' Deep with a young French producer named Dimmi called "The Storm." We played it today at the Ultra Miami Live Stage. Later on in the year we'll release a collaboration we've done with Bakermat. We're also working on some more of our own tracks so hopefully the second half of the year we'll be able to put out some new original Goldfish stuff. We're always working on new remixes but we've kind of moved away from the album front for now. We've already done four albums and while we love doing them, they're time consuming and like having children. They can definitely cut into your time touring and at the moment we think it's more important for us to be out there touring. In some ways, being able to release singles leaves less pressure than to put out a whole album. If you spend a whole year doing an album, by the time the album is finished, you've almost already evolved past that material musically.
NocTimes: You just wrapped up your latest tour. What can you share with us about some of the tour highlights?
Goldfish: We came straight to Ultra from Boston last night. Last night in Boston was definitely a highlight because it was an almost sold out show at a classic venue. Paradise Rock Club in Boston is where U2 did their first show and it was our best turn out yet in Boston. Even today, the guys who play there are just phenomenal so it was a great experience for us. San Francisco, Denver, Aspen, Chicago and Highline Ballroom in New York were also phenomenal shows. It's truly been a phenomenal tour we have to say, it's been a highlight tour.
NocTimes: Where do you see goldfish five years from now?
Goldfish: Just doing the same thing. Maybe one of our songs will do some work for us so we won't have to work as hard. We're very happy doing what we're doing so I think if fans allow us, we'll still be doing what we're doing. Check out our SoundCloud or YouTube and get to know us. See what we're all about!
For more information on Goldfish visit http://www.goldfishlive.com. Follow on Facebook, Twitter, and Instagram.