House Of Rob Celebration Benefit Hits NYC on Sept. 16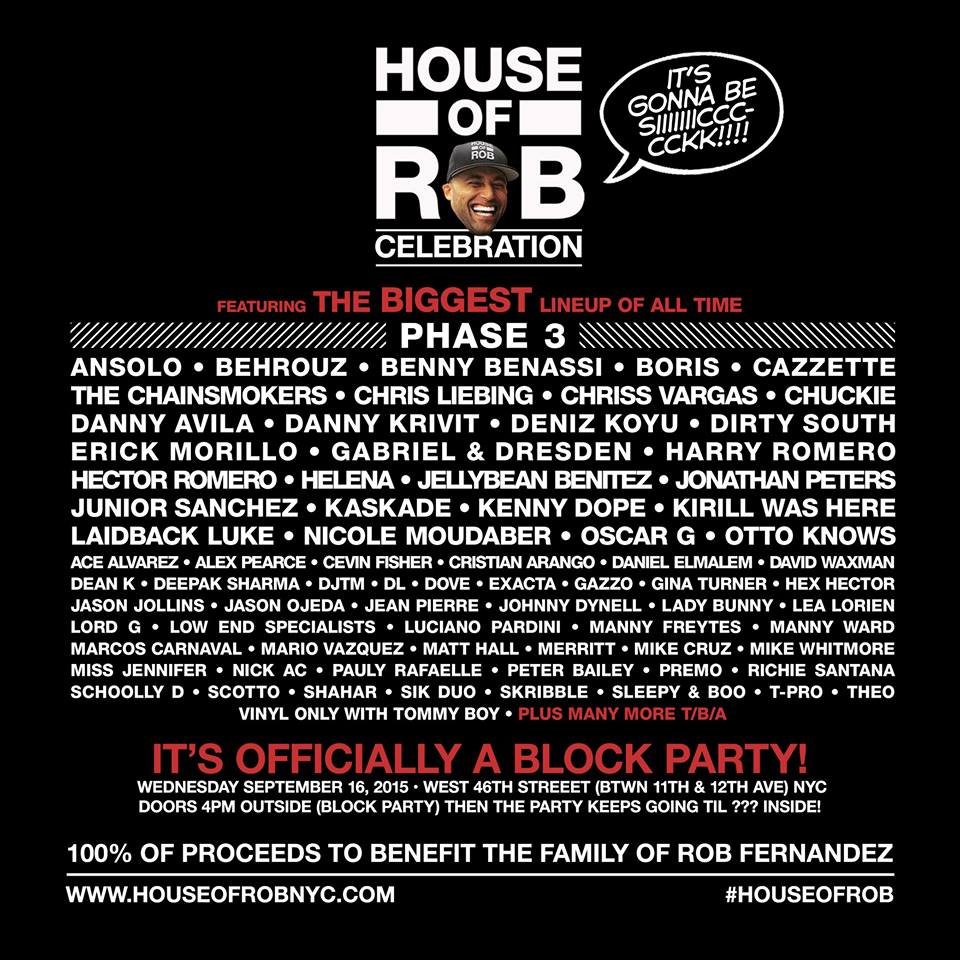 The music community will come together on Wednesday, September 16 to celebrate the life and legacy of NYC nightlife icon Rob Fernandez. Taking place at the House of Rob—Pacha NYC—the final lineup for the West 46th Street extravaganza boasts "the biggest lineup of all time."
This once-in-a-lifetime event invites the community to come together and dance for a cause. 100% of the proceeds will benefit the family of the legendary Rob Fernandez.
It was announced today (September 15), that the event will begin at 4 p.m., rather than 7 p.m. as originally stated—and now, it's officially a block party!
An eclectic mixture of various dance genres will provide the event soundtrack, which includes local talent and international superstar performers all to celebrate the life of Fernandez. The House of Rob spectacular brings Kaskade, Gabriel & Dresden, Dirty South, Benny Benassi, The Chainsmokers, Chuckie, Ansolo, Nicole Moudaber, Laidback Luke, Otto Knows, Jonathan Peters, Junior Sanchez, Cevin Fisher, Jason Jollins,  Sleepy & Boo, and many many more.
Familiar to many for his involvement in RPM Presents and Pacha New York, Fernandez is remembered by all as a visionary pioneer and is a staple in New York City nightlife. The globally respected event promoter and innovative force in New York nightlife passed away on July 10, 2015 following more than 25 years of involvement in the nightlife capital of the world.
During Rob's tenure as a mega-promoter, he was generous to a fault and looked after everybody in his adopted nightlife "family." To honor his legacy, many of the participating entities are donating their services to benefit Rob's immediate family–everybody from the Pacha NYC club staff, Flavorus, Plexi PR, and the non-profit organization Lifebeat, to all the talent that will be performing for Rob, one last time.
Tickets for the House of Rob celebration are available HERE.
An education fund has been created for Rob's son Rian Fernandez. Those who wish to donate can still do so HERE.