Griz will Ride Waves to Red Rocks This Summer 2019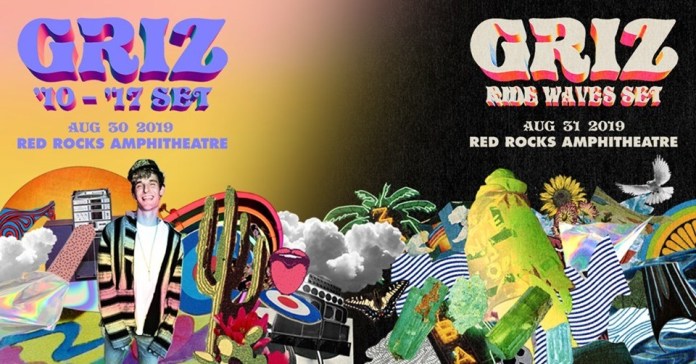 Griz is surfing through the USA and Europe with his Ride Waves tour this summer. As if that wasn't everything we've been asking for, the Colorado native just announced a back-to-back show at the otherworldly Red Rocks Amphitheatre in late August. Performing a special '10-'17 set on Friday, August 30th and a Ride Waves set on Saturday, August 31st, 2019, get yourselves ready for a streak of a Griz fueled summer.
Returning for a fifth time to the internationally renowned venue Red Rocks, Griz will take attendees on a two-night journey through his decade-long collection of original productions from 2010 through 2017. This double Red Rocks takeover will span classic hits and early foundational favorites from his early year catalogs on Friday, and Saturday – fans are in for a surprise. In addition to his recently-released fifth studio album, Ride Waves, some unreleased materials will resonate through the breath-taking open-air amphitheater built into a rock structure.
Griz is no stranger to Red Rocks; almost a second-home to the sax genius, Red Rocks located in Morrison, Colorado is in for a treat. Located just 10 miles from Denver, the vast amphitheater will welcome the Griz following will open arms. Colorado can expect fans traveling from all over the nation to see him play unmatched doubleheaders and never-before-heard music. One of the countries most beautiful and beloved outdoor seated venues will be sure to catch the interest of many.
Pre-sale tickets, including GA and VIP, are available as of 10am Tuesday, May 7th until Thursday, May 9th with password "ridewaves". General sale will begin Friday, May 10th, at 10AM PM. All tickets will be available here.