Bad Royale Talks 2017 Collaborations, Caribbean Bass Music, Studio Sessions [Interview]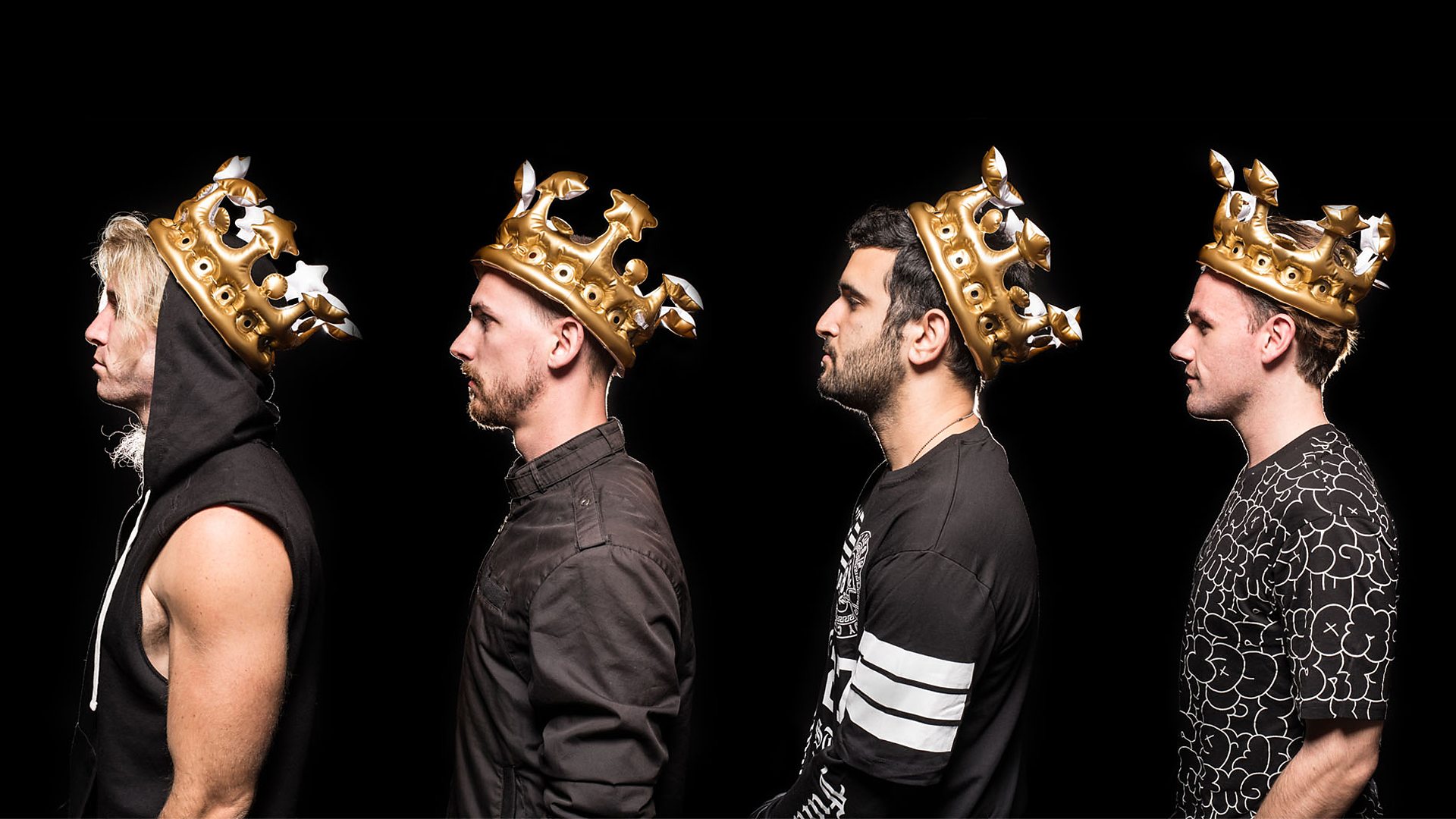 The dynamic foursome that forms Bad Royale has taken to new heights in 2017 with intriguing new releases, diverse collaborations, and worldly sounds. Maor Levi, Kevin Wild, Bruce Karlsson, and Elias Ghosn came together a few years ago after moving in together in California. With a few solo careers already in place, the four began to produce as somewhat of a joke. Turns out they're extremely talented and now in 2017, have created a ton of buzz with their remixes, releases, collaborations, and touring.
After recently signing with British label Polydor Records, the gang released "All I Can Do" featuring Caribbean singer Silver. Setting themselves apart from the crowd, Bad Royale continues to put out unique compositions and mixes, drawing heavy inspiration and incorporating sounds from Caribbean dance music and culture. The "All I Can Do" music video boasts a comedic interpretation of a young man trying to win his girlfriend back after she ditches him for the VIP lifestyle. He battles security and makes his way through the club, getting into a final wrestling match before finally leaving with his girlfriend, all filmed in a video game-like style.
Watch the official music video for "All I Can Do" featuring Silver:
In past years Bad Royale has put out numerous releases under Diplo's Mad Decent label. This includes EPs We're All We Need, Immutable Timeline, and Move Like, as well as their 2016 hit collaboration with Major Lazer "My Number." Also establishing their own 'Rude Mood' record label, this ambitious group has set themselves up for their best year yet. After working with the likes of Steve Aoki, Diplo, Skrillex, Major Lazer, DJ Snake, and Borgore among many others, Bad Royale has permeated the dance music scene, sparking a real name for themselves in the community.
In the next coming months during festival season Bad Royale will be performing live at Tomorrowland in Belgium and Electric Zoo in New York City, as well as hitting various tour stops across North America. We're keeping our eyes & ears peeled for more to come in 2017 from this powerhouse crew!
Read our Nocturnal Times exclusive interview with Bad Royale, where we discuss Caribbean bass music and culture, album collaborations with Steve Aoki, studio sessions with Trinidad's sensational Bunji Garlin, exciting upcoming releases, & more.
The Nocturnal Times Interview Q&A: Bad Royale
Nocturnal Times: As individuals, you all come from various locations around the world (California, Israel, Norway.) How was it that you came together as Bad Royale?
Bad Royale: Well, the short story is we all met through our solo careers in music – we were all internet friends. It's a long convoluted story, but that is the short version. It wasn't until we met in person, made some bad decisions, and moved in together, that Bad Royale spontaneously became what it is today.
Nocturnal Times: Bad Royale's genre classification has been best categorized as Caribbean bass. Can you speak a bit about this type of music, and some influences that lead to your production style?
Bad Royale: It is a genre that falls under the purview of both EDM and CDM, Caribbean dance music. It is right at the crossroads of where electronic music is fusing with Caribbean music. The influences that drove the style have been around for a while. Major Lazer has been a big influence in it, as well as many of the Future Dancehall artists and producers. For us, our biggest influence that drove us into the genre was a mixture of Major Lazer and our work with Bunji Garlin. Bunji was probably our biggest influence because of the experience we had down at his studio in Trinidad. We got to experience firsthand the culture and the music right from one of the most influential people in the Caribbean music sphere.
Nocturnal Times: You guys had the chance to collaborate with Steve Aoki on his upcoming LP Kolony, out July 21. Tell us a little about what it was like to team up on "4,000,000" (ft. Ma$e & Big Gigantic) and "No Time" (feat. Jimmy October.)
Bad Royale: Initially we never thought this was how the records were going to turn out. We ended up linking up with Steve at his studio in Vegas just on a whim and "No Time" was made there. Our buddy Jimmy October, from Trinidad, is the vocalist, and had originally laid down an idea on another track that we ended up pulling apart with Steve to make "No Time". With Ma$e, Steve had been trying to get him on a track for a while. Steve had an idea from him that he had sent to us a long time ago and we found in the depths of our emails and had messed around with just for kicks. We never meant for it to be a track. It was just a set edit, a typical banger that we added the vocal to just so we could fill the breakdown space. We decided to show Steve when he was in LA and one thing led to another, we are back in the studio together, ripping apart another track and before you know it Steve is on the phone with Big Gigantic asking if they want to throw down some sax for us because we thought it would fit well in the drop and be a fresh approach.
Nocturnal Times: You recently released "All I Can Do" ft. Silver, referring to it as the song of summer 2017. Can we expect any other upcoming Bad Royale releases in the near future?
Bad Royale: Yes, you can expect a couple more big singles coming out on Polydor, some bangers for the club on Mad Decent, and a bunch of free stuff we are giving out, basically old ideas that people keep begging us for that we could never find the time to release.
Nocturnal Times: We heard your renditions of Above & Beyond's "We're All We Need," "Fly To New York," and "Blue Sky Action." How did these covers first come to be and what are your feelings towards the end result?
Bad Royale: This was one of our favorite projects to work on. It was our way of paying respect to our past, our good friends, and long time colleagues, Above & Beyond, who brought many of us up through our music careers. We thought flipping their tracks into our current musical endeavor would be an interesting way to combine our past and our present. We started by producing and covering their recent album's lead song, 'We're All We Need'. It was Tony McGuinness, one of the three members of Above & Beyond, who originally told us to do more than just one because he liked it so much. In the end, two labels we never would have seen coming together ended up signing the records in conjunction, and it was an Anjunabeats/Mad Decent release.
Nocturnal Times: Definitely a very fun-loving bunch of jokesters, what are some of your favorite activities to do while on the road or to entertain yourselves during down time?
Bad Royale: As cliche as this may sound, almost all of our down time is filled with making more music. It's fun and entertaining – it doesn't feel like a job.
Nocturnal Times: So far since forming Bad Royale, do you have a studio session that stands out most to you? Which of your works so far are you most proud of?
Bad Royale: Getting to work with Major Lazer, Steve Aoki, Diplo, and Meghan Trainor have all been stand out sessions and we are really happy with our work, but as a whole, the most experiential session we had was with Bunji Garlin and Fay-Ann Lyons in Trinidad. We went on a two week trip to trinidad in 2015 to visit Bunji Garlin and Fay-Ann to work in their studio in Trinidad and experience the culture. Those two weeks were packed with so much experience there is no way to record how much we learned. Through our time there, we got to meet some of the most talented artists, and had the best teachers you could ask for which has pretty much brought us to where we are today.
Nocturnal Times: What are some of your hopes for Bad Royale in the next couple of years? Some dreams, goals or expectations you have for yourselves?
Bad Royale: We hope to make good music. We hope to make our friends, family, and fans proud. We hope to make people dance, sing, and feel through sound.