Ignite: New Year's Day Brings Aoki, GTA, Bad Royale & More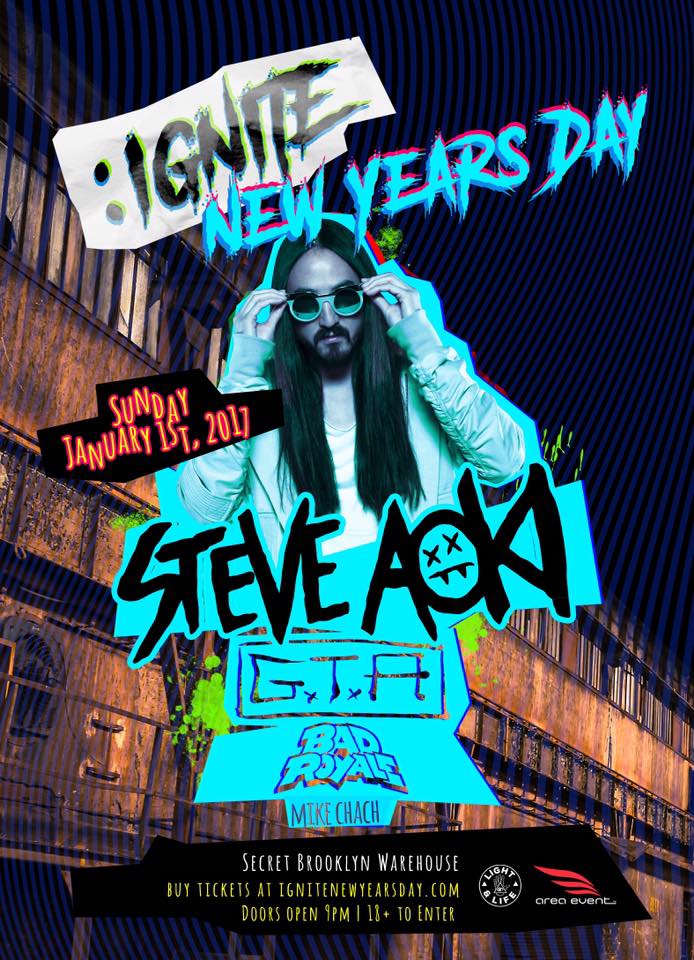 New York is one of the best spots in the world to celebrate the New Years and they keep the party going with Ignite: New Year's Day
Area Events and Light & Life bring you Ignite: New Year's Day featuring performances from Steve Aoki, GTA, Bad Royale, and more to be announced. They are offering you a full-fledged New Years experience with multiple options for the New Year's party-goers. The Ignite: New Year's Day event has over ten different options available for the brave-hearted planning on lasting the entire weekend of New Year's Eve. Packages include anything from General Admission (open bar optional) to the Steve Aoki front row guarantee, and yes that does include at least some sort of cake throwing action coming right at you.
Coming into the New Year you will have some of the industry's finest to open up 2017 in the most proper way. Steve Aoki has had a hell of a 2016 releasing everything from documentaries to original tracks. Most recently the Dim Mak Record Label head put a twist on the rock classic from My Chemical Romance's "Welcome To The Black Parade" for its 10th anniversary celebration. GTA is coming off their critically acclaimed debut album release Good Times Ahead, which was named a top 16 album of the year via The Nocturnal Times. And to wrap up the headline acts of Ignite: New Year's Day, Bad Royale will be showcasing their collective talent, surely to include their latest remix to Vice's "Steady 1234" featuring Jasmine Thompson & Skizzy Mars.
Grab your tickets to Ignite: New Year's Day featuring Steve Aoki, GTA, and Bad Royale HERE.