Adventure Club Takes Electronic Music By Storm: The Nocturnal Times Exclusive Interview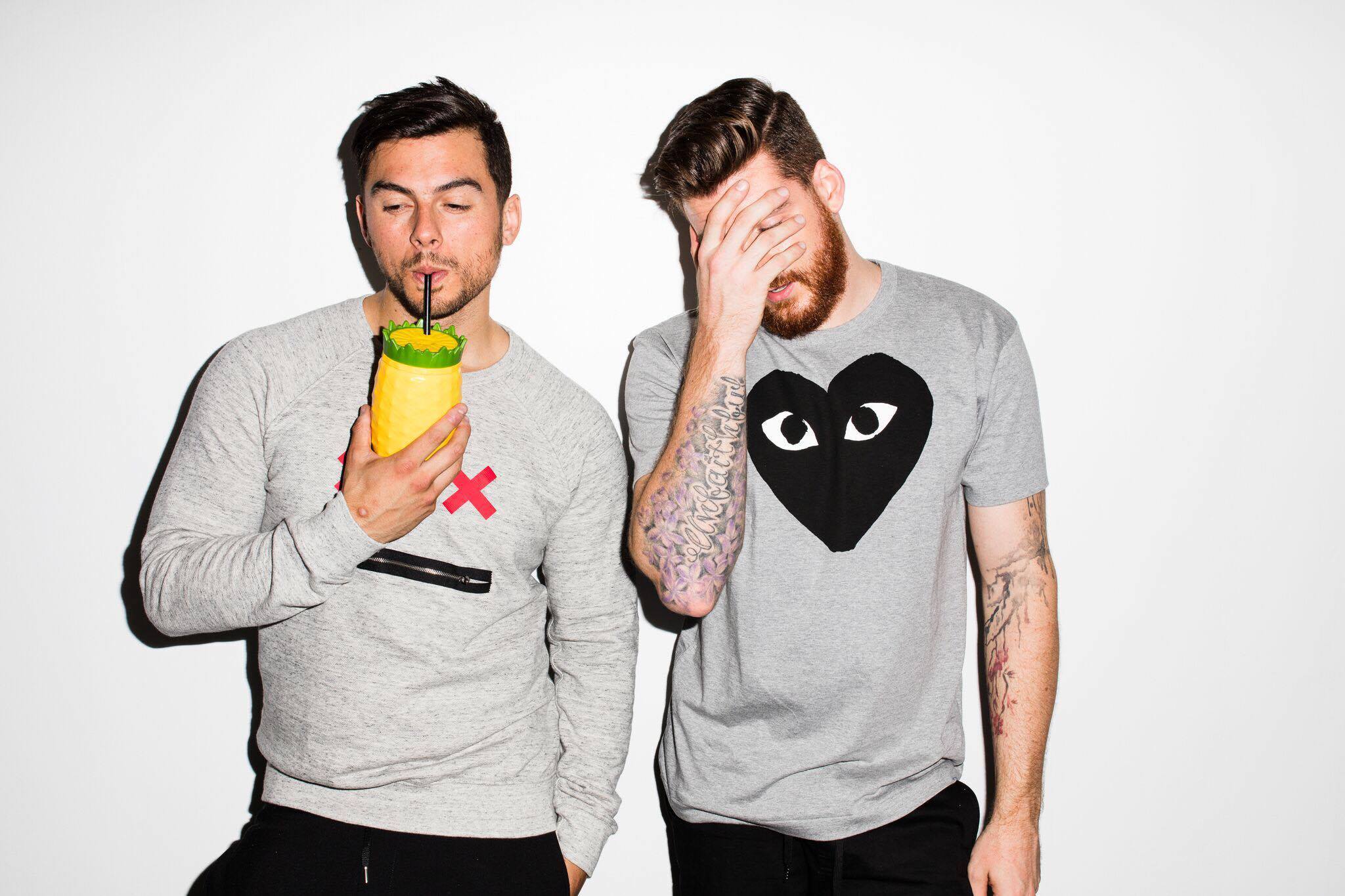 After releasing their debut album, Red // Blue, Adventure Club plans to soon incorporate live elements into their performances
Garnering many years of musical experience before forming Adventure Club, Leighton James and Christian Srigley, have always put the music first. One of the first acts to bring this type of electronic music to the forefront, Adventure Club has continued their evolutionary tale over the course of their five-year-plus existence. Rather than taking a play-it-safe approach, they took a risk from the beginning by crafting a distinguished sound.
From when they were sophomores in high school, playing in bands, to main stage festival performances at acclaimed events like Coachella, Lollapalooza, and Ultra Music Festival, the guys always had similar interests. They always "got along really well on an intellectual and emotional level," recalls Leighton, "we've been best friends ever since [first meeting in grade 10]."
If you're wondering why they decided on the name Adventure Club, at the time of their inception, Leighton recalls that all of the acts they were really into had filthy or grungy names. So they intended on moving in a more playful direction. Feeling as though a stage name like Adventure Club would be mildly ironic, once the guys sat down to brainstorm and agreed they wanted to make heavy dance music—the decision nearly made itself.
When it comes to their all-time biggest creations, Leighton reveals that Adventure Club tends to always include a consistent few in their sets. The must-plays include their notorious remix of Yuna "Lullabies" and "Gold," which also features Yuna. It's safe to say that when they collaborate with the angelic vocalist Yuna, listeners in particular can't seem to get enough.
The debut album from Adventure Club, Red // Blue, is tasteful and vocal heavy, showcasing deeply intertwined lyrics on album tracks such as "Limitless" feat. Delaney Jane; "Breathe" ft. SONDAR; and "Fade" feat. Zak Waters. Among the album's most memorable is "Reaction" feat. Leah Culver as well as "Save Me" with Terravita feat. Adara, another Red // Blue highlight.
In an attempt to announce the album and make fans aware of the upcoming release, Leighton and Christian unveiled "Dreams" feat. ELEA to fans across their social media platforms ahead of the LP release. "Crash 2.0" with DallasK, donned the official anthem of EDC Las Vegas 2015, was also heard prior to the album release.
If they're not traveling the world as touring DJs, it's likely you'll catch them "Club Hop" around the globe. As seen on AC's social media accounts, Leighton and Christian have been sharing scenic photos of them kneeling with hands in prayer (Christian) and a mid-air jump overhead (Leighton) (pictured below).
Read our full interview with Leighton of Adventure Club:
The Nocturnal Times: How and when did you first begin exploring dance music? Were you sure of the direction you wanted to go from the very start?
Adventure Club: Christian and I were making music for at least six years before we started Adventure Club in indie bands and stuff like that. Then I think I got a part time job working at Turbo Recordings, and they house acts like Boyz Noize, Chromeo, Proxy; it's Tiga's label based out of Montreal [which is where they're from]. That kind of opened my eyes to that [side of the industry]. The electro scene was really booming back then with acts like Justice and MSTRKRFT—these were banging guys who were touring heavy and that was what everyone went to. At the same time, Christian got his hands on the "Bring Me The Rising" remix album, which had acts like Skrillex and Tek-One, and he got into the heavier dubstep there. After that he made one dubstep track, and when I listened to it I told him, 'dude I've been listening to this kind of stuff too.' And from that moment on, we came up with the name, we put it online and just started attacking blogs like crazy.
The Nocturnal Times:  Did you know each other prior to joining forces?
AC: Yeah, we knew each other before we started Adventure Club, but there was a one or two month span where I was busy at school and [Christian] was busy at school and we weren't communicating as much. We were always in and out of different bands and there would also be periods where we were doing our own thing.
The Nocturnal Times:  When and how did you guys [Leighton and Christian] first meet?
AC: I remember I was in grade 10 and I was playing guitar and wanted to start a band. I put out a flyer in all the high schools in the area and Christian answered it. He came over, we started jamming out, and from that point we realized we had similar interests. We got along really well on an intellectual and emotional level; we've been best friends ever since.
The Nocturnal Times:  What is the significance behind the name Adventure Club?
AC: Back then, all of the artists that we were listening to had super [I'm not really sure of the exact word I'm looking for] 'filthy' or 'dirty' names; names that would make you think of grimy stuff. We wanted a name that was more playful. When we sat down together we had the idea to make really heavy music, heavy dubstep. So a name like Adventure Club with heavy music seemed like a really playful idea.
The Nocturnal Times:  After nearly seven active years as Adventure Club, you finally released your highly-anticipated debut album, Red // Blue. Which of the album tracks (if any) are you looking forward to fans hearing the most and why?
AC: As you mentioned, all of the songs are really dear to us. As far as the ones that we're really looking forward to hearing live, probably "Without You," which is one of the heavier songs on the album. We're most excited to play the more emotional tracks like "Breathe" and "Firestorm," which we're hoping gets a very anthemic response with the whole crowd singing along.
The Nocturnal Times: Since forming Adventure Club in 2012, are any of the album tracks something you guys have been working on for a while?
AC: Yes, actually, "Forever" was a song that Christian and I had written back our band days, which was about seven or eight years ago. The lyrical content [on "Forever"] and guitar was semi-written. If you hear the original, there is a bit of a change and you can definitely tell it was written back then so we kind of 2017'd it a bit.
The Nocturnal Times: At what point in your career as Adventure Club did you guys decide that you wanted to put together an album? How long were you working on Red // Blue from start-to-finish?
AC: An album was something that we always wanted to do. Christian and I can only write at home, in front of a computer. We have a very hard time writing when we're on the road. In recent years we've been touring heavily, upwards of 250 shows a year. Back when we were drinking, the recovery time was pretty substantial. So, late last year we both became completely sober. We built a studio in [Christian's] house and the work efficiency and frequency skyrocketed. We strapped down and started writing, brought in the singers we wanted to bring in, the producers we wanted to bring in. Everything was written in Christian's basement or studio with a guitar or piano before we even touched a computer for any synths or electronic elements. So, I wanna say the project was started late last year [2015] and took up until about two months ago [October] to complete it.
The Nocturnal Times: After mentioning that Adventure Club performs upwards of 250 shows a year, what can you reveal about life as a famed DJ/producer duo and staying sober? Have you guys remained sober since?
AC: Yes, we've both actually remained sober and we don't have any plans right now to change that. Both of us were straight edge before touring and I think the touring life kind of chipped away at us. It started out with the first show we'll have a drink, a year later we're having two drinks, until eventually it just got out of control. We had to sit down and face ourselves to ask 'what are we doing?' The career, the music, the business—that all comes first. All the partying shouldn't even be a question; it was a fairly easy decision for us to make.
The Nocturnal Times: With all the time spent on the road, have you grown accustomed to any routines or rituals?
AC: Christian and I differ a little bit even though we have a lot of the same rituals. Especially when I'm at home, I'm fairly military-structured. When I was young I was very much into daily routine books and self-help stuff. We both wake up fairly early. I wake up around 5:30 a.m., have a morning ritual, and I'm at the gym by like 6-7 a.m. Depending on what the day has in store for us, the day kind of flip-flops, but it always has a pretty structured ritual like that. That obviously changes for us when we're on the road. We go to bed around 4 a.m. and waking up at noon, so we have to be a bit looser with ourselves when we're on the road. We still try to maintain a few minutes of meditation and very clean eating habits.
The Nocturnal Times: That must be a challenge for you guys then since you're touring most of the year?
AC: Yeah, it's almost like our lives are turned upside down when we're on the road. Instead of going to bed at midnight and waking up and 5 a.m., we're doing almost the opposite. But when we're on the road we're a bit more lenient with ourselves. In 2016 we slowed down a bit so we had the time to just sit down and write the album. Next year on the other hand is looking crazy.
The Nocturnal Times: What inspired the releasing and creation of "Dreams" and at what point during the creation process did you know you wanted to release it?
AC: We were candidly teasing songs forever, like an 'album coming soon.' Actually, if you go onto our Facebook page it's almost become like a bit of an ongoing joke—almost a meme. So, once we finished "Dreams," we both felt that it was really true to the old school Adventure Club sound. We decided to just put it out there without telling anybody—the label didn't even know. It got to the point where we really wanted to get a song out there for our fans, so we put "Dreams" out there. It wasn't the official single, the official single was "Firestorm" [feat. Sara Diamond].
The Nocturnal Times: Are there any leads on which of the album tracks are being considered as upcoming singles?
AC: We've spoken about it. We actually have an original release plan, but now that we're able to see the reaction from fans and gauge the songs getting steamed more than others, we're almost questioning our decisions, almost.Sometimes it's surprising how one of the songs you thought wouldn't perform as well is suddenly doing the best.
The Nocturnal Times: You've built an extensive discography over the course of your career. Are there still any of your own tracks or remixes that you tend to include in your live sets?
AC: There are the consistent four or five almost Adventure Club-scale 'iconic' tracks that we always like to include: "Lullabies," "Crave You," "Youth," and after that it kind of switches. Depending on the crowd, we know we'll usually have a dedicated fan base at one show that have been with us for a long time so we'll play a super old song that we usually wouldn't play.
The Nocturnal Times: Where do you hope to be in five years? What legacy do you hope to leave behind with Adventure Club?
AC: Other ventures aside; we both have our own aspirations. As far as Adventure Club, we definitely want to start revisiting the major music festivals that we've played in the past [Coachella for example], this time do it again as a live band. A lot of the material on the album blends itself into having live elements. There's a lot of guitar, piano, and drums. Slowly but surely, we're going to start integrating all of that into our live sets. So I'd love to see Adventure Club move into that direction
The Nocturnal Times: That sounds great. Have you guys already started to plan on incorporating these live elements into your sets or is this something you intend on introducing in the future?
AC: There actually already are plans. It might even start out with something as bringing a guitar or keys on stage as we DJ; playing on top of our tracks. We definitely want to wet our feet with that.
Visit adventureclub.com for more info. Keep up with Adventure Club by following them on Facebook, Twitter, and Instagram.
Photos courtesy of Adventure Club's official Facebook