Joel Corry Illuminated Miami With Debut Ultra Music Festival Performance [Interview]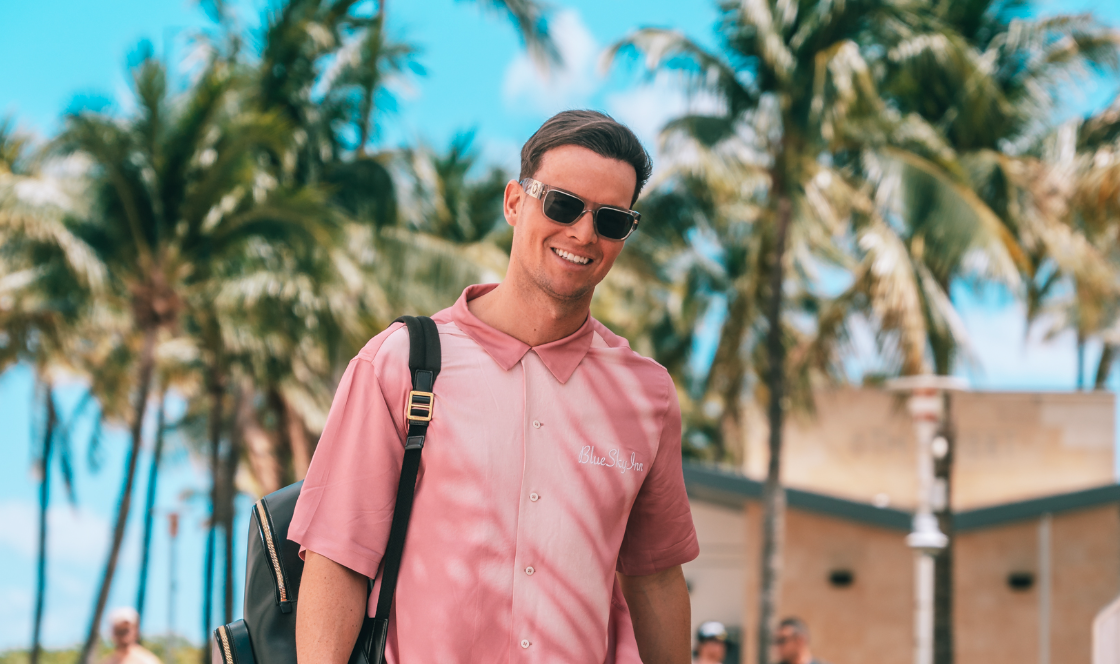 If there's one artist who's impacted the dance music sphere in such a short time, it's renowned DJ/producer Joel Corry. The London-based prodigy first emerged into the limelight back in 2019 with the release of his hit single "Sorry," followed by Billboard chart-toppers "Lonely" and "Head & Heart." Since then, the rest has been history.
Fast forward four years and fans can now count on Joel Corry to continuously sell out tour stops across the globe and perform alongside some of the finest names in electronic dance music. As of late, he's captured the hearts of dance music aficionados through his most recent releases "Lionheart," "Nikes," and "Molly" with Cedric Gervais, and has outshined what it means to be a DJ during his extravagant performances at some of the world's most pristine clubs, venues, and music festivals.
Following his highly-appraised live sets at pretentious festivals like Creamfields, Tomorrowland, EDC, and more, the esteemed musician finally made his debut appearance at the one and only Ultra Music Festival in Miami last weekend. After shocking fans with his relentless beats throughout various Miami Music Week parties all week long, Joel Corry absolutely stole the show over at the UMF Radio Stage on day one of the internationally acclaimed music festival.
That day, Hardwell's Revealed Recordings imprint took over the UMF Radio Stage, which was stacked with back-to-back performances by like-minded artists such as Jeffrey Sutorius from Dash Berlin, Dada Life, and Maddix to name a few. Slated to take over the decks right before Hardwell's surprise guest appearance, the British sensation kept the crowd on their toes and yearning for more throughout the entirety of his mind-blowing performance in true Joel Corry fashion. It's safe to say that this glorified UMF performance was definitely worth putting a quick halt on his ongoing UK tour for.
A few hours before his astonishing debut UMF performance, we got the opportunity to chat with the rapidly flourishing musician about his 2023 Miami Music week experience, artistic journey, upcoming summer ventures, music career aspirations, and more. Read on to get the inside scoop on all things Joel Corry in our exclusive UMF interview with the Brit Award nominee below.
The Nocturnal Times: Thanks so much for having us Joel, how has Miami Music Week been treating you so far this year?
Joel Corry: Oh my gosh it's been so good! Miami just may be my favorite place in the world. I love the vibe down here. There's some sort of flavor in the air and a certain feeling that being down here gives me that I just can't explain. Dance music is so popular down here as well so when you come here as a DJ, and you're playing to a crowd that's so receptive and ready to listen to your music, there's just nothing quite like it.
The Nocturnal Times: What have been your favorite MMW sets that you've played throughout this week so far? What have you been looking forward to the most this week?
Joel Corry: I've played a couple of spontaneous pop-up sets throughout the week and on Wednesday night I played at LIV with my boy Cedric Gervais which was incredible. Today is my debut Ultra appearance and I am absolutely stoked! That alone is such a big milestone for me, especially the fact that I'm playing at Hardwell's Revealed Recordings stage.
The Nocturnal Times: What should we expect from your upcoming performance here at Ultra over at the UMF Radio stage?

Joel Corry: I've been working on my Ultra set to adapt a bit to the Revealed Recordings sound and what that crowd will go crazy after. I'm ready to bring a different sound that many attendees and fans might not expect from me. I have one hour to make a lasting impression and I'm going in hard and fast for this. You can definitely expect me to drop a lot of fresh and never released tracks as well!
The Nocturnal Times: You're currently on your UK tour and ventured all the way across the Atlantic to Miami to perform here at UMF. Do you feel different forms of inspiration when you perform in your home country versus when you perform abroad?
Joel Corry: There's no feeling like performing back in the UK because that's where it all started for me. But I feel inspired no matter where in the world I'm performing. This is something I'm passionate about, so inspiration will always follow.
The Nocturnal Times: What is your favorite part about performing for your fans? What excites you the most when you're up on stage?
Joel Corry: That feeling of electricity burning throughout my body is what keeps me going. I've been DJing since I was 14 years old, so I've been doing this for a long time and I still get that same burning sensation and buzz from it to this day. When I'm up on stage, it's sort of like an escape for me and it's truly my happy place.
The Nocturnal Times: Do you prefer the energy of a massive crowd at festivals or a more intimate crowd at nightclubs and other venues?
Joel Corry: I find that festivals add an elevated sense of pressure since you only have one hour on the dot to put on your best performance during such a massive production. Don't get me wrong, I still love to perform at festivals in front of that many people and see the crowd's reaction. But at clubs, I feel a bit more relaxed during my sets since there are no time constraints or limits to what I can experiment with. I definitely love both for different reasons.
The Nocturnal Times: What have been your favorite and most memorable venues that you've performed at so far?
Joel Corry: Printworks in my home country of England is definitely on top. That was an iconic night for me because it was my sold-out headline tour stop and it was right after the pandemic so that made it even extra special. If I had to pick a second, it would definitely be The Great Hall at Avant Gardner in New York. That was another incredible and unforgettable experience for me.
The Nocturnal Times: Are there any upcoming tour plans in other parts of the world that you'd like to share with our viewers?
Joel Corry: I've got a few performances that I can't unveil just yet, but I've got my upcoming residency in Ibiza later this summer over at Ibiza Rocks for 18 weeks which I'm so ready for. I'm stoked to return to the island, it's such a magical and wild place to be all summer!
The Nocturnal Times: Your previous releases have been pivotal to the dance music space. Where do you plan to take the Joel Corry project moving forward? Are there any surprise unreleased projects you'd like to unveil?
Joel Corry: That's a good question actually. I've got some exciting new music coming up. My newest track with my sort of "new wave" of music is shortly going to be released next month. I have been refreshing up my sound you know, trying to spice things up and adapt to the industry further. It's one of my goals for 2023. I think people are going to be like "oh this doesn't feel like Joel" when they listen to my next few releases, but I'll take that criticism as a positive thing.
The Nocturnal Times: Do you believe artist progression is important? Or do you believe that sticking to one signature sound throughout your career is essential for long-term success?
Joel Corry: As an artist, you have to continue to adapt and keep it fresh. Dance music lovers will always be fond of your old, classic tunes, but it's important to shake things up along the way. I'm excited for what's to come and to see what emerges from this new era of my Joel Corry project.