Morgan Page at Rumor Philadelphia on Friday, March 18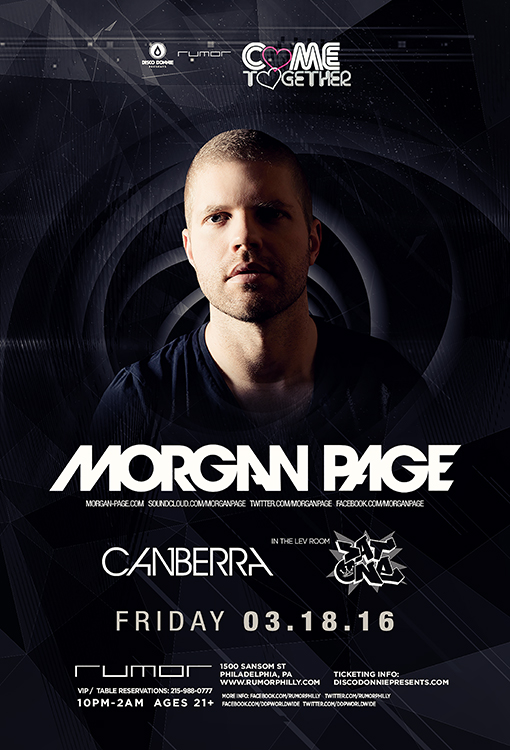 Rumor has it Morgan Page is making his way over to Philadelphia for the first time in three years. The American progressive and electro house DJ and music producer from Vermont will grace club goers on March 18, 2016 with his sweet sounding beats. Playing his set at the fairly new and popular nightclub, Rumor, guests will have an intimate night with familiar sounds, an exceptional sound system great people, and a good time.
Morgan Page has accomplished several Grammy award nominations and crowd favorite remixes working with a variety of talented artists such as Deadmau5, Tegan and Sara, Nadia Ali, Carnage and many others. With hits that can get any one grooving, Page will be sure to have Philadelphia's "Hands in the Air." With forever loved hits from his early days such as "The Longest Road" from back in 2008, "Fight For You" from 2010, attendees will be sure the night is full of their favorite songs as well as jams from his DC to Light album released just last year.
Between the club's ambiance and Morgan Page's soothing rhythms the night is sure to be a success. Philadelphia came together back in 2012 and has been waiting to do it all over again for too long. The event offers regular general admission tickets as well as open bar general admission tickets until midnight at great prices. Don't miss the chance for a night filled with upbeat energy and only the best vibes at Rumor Nightclub in Philadelphia. Doors open at 10pm and tickets can be purchased here.