Camp Bisco 2016 Lineup Announcement Leaves Festival-goers In Awe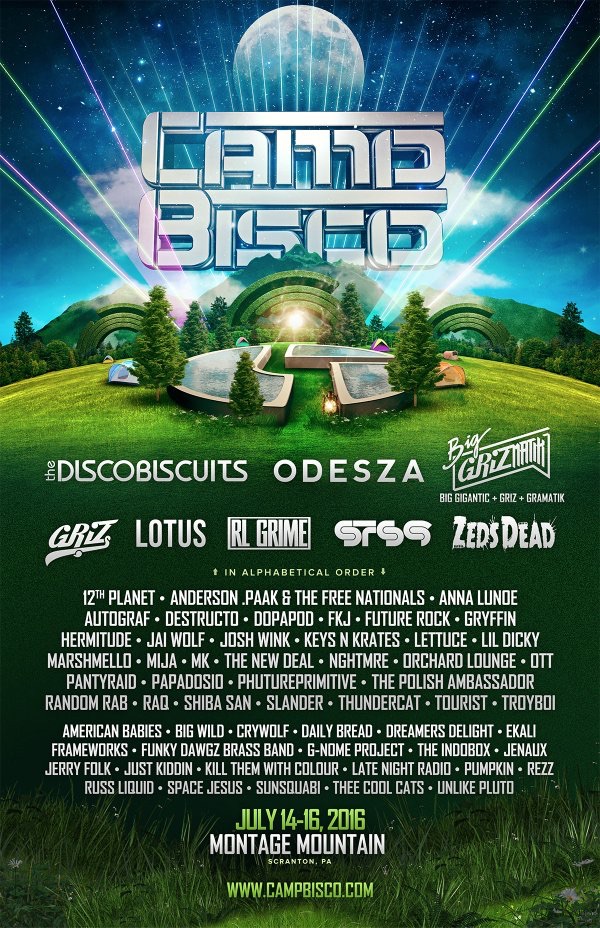 The lineup for the 2016 Camp Bisco festival has just been released and it's one of the most surprising lists of the season thus far.
In the second installment of Camp Bisco to take place in Scranton, PA, the resurrection of Bisco is alive and well. Many of you still probably remember the original grounds of Indian Lookout Country Club in Pattersonville, NY, and the brief hiatus Bisco took in 2014. They came back last year with a new venue and highly successful festival. It looks like 2016 will be even bigger and better than ever, riding off the momentum brought in the 2015 rebirth. Montage Mountain will be seeing a festival like never before, set to take place on the weekend of July 14-16.
Standards were high for the beloved Northeastern festival, but with this year's artist announcement they have surpassed many follower's expectations. The exclusive dynamic trio of Big Gigantic, Griz, and Gramatik have been booked for a special Big Grizmatik set; a feature seen less than a handful amount of times in the past and has been talked about ever since. With good surprises such as a Big Grizmatik performance, you also have the must see performers, the group who started it all, The Disco Biscuits ready to soothe the soul.
Possibly the most exciting part of the lineup announcement has to be the overall quality of the undercard acts booked for Camp Bisco 2016. A hot topic in our current society has has been the struggle for women's equality, and Camp Bisco takes this issue on full force. You can catch Mau5trap star Rezz, Hyperhouse party starter Anna Lunoe, or the OWLSA prodigy Mija spinning throughout the weekend. Three acts you will not want to miss, and the powerful women leading the charge in the dance music industry.
House heads can take a breath of relief with the unveiling of veteran producers Shiba San, Destructo, and MK. If you prefer the face melting, bass infused type of performance, Bisco also caters to your needs bringing you RL Grime, Zed's Dead, and the anonymous Marshmello. A few selections the Nocturnal Times team suggests would be Autograf, Troyboi, and Big Wild. Three acts who are set to have an explosive year in 2016, and Bisco gives you the opportunity to see them all in one weekend.
Camp Bisco will be providing attendees four different options for festival passes. The GA passes' first tier has already sold out, and the second tier pricing is already on low alert for only $195.50 for the weekend. If you prefer the finer things in life, Bisco is giving you three different levels of VIP service. Regular VIP starts at $450.50 with features such as pre-weekend access and late-night after festival parties. Super VIP is starting at $799.50 and gives you the accommodations of a private side-stage viewing area and a meet and greet with the Disco Biscuits. If viewing choice is important to your festival experience, Camp Bisco is also offering VIP Box Seat passes for all acts on the mainstage, a package starting at $450.50 a piece.
Camping passes will be needed to be purchased separately for this event. GA early bird passes are still on sale for a measly $35 a spot. VIP ticket holders will get access to exclusive VIP areas placed closer to the box office. Onsite RV parking is also available for the wheeled warriors headed to Montage Mountain.
Camp Bisco has prepared itself to steal the show in the Northeast for the 2016 festival season. A varied lineup, with big names and hot up-and-comers alike, the music alone is enough reason to get your festival pass. With the multiple options given for your very own festival experience, just about every fan can find their niche at Camp Bisco.
Watch the announcement video below:
More information on Camp Bisco can be found HERE.