Jai Wolf and Jerry Folk Announce Kindred Spirits Tour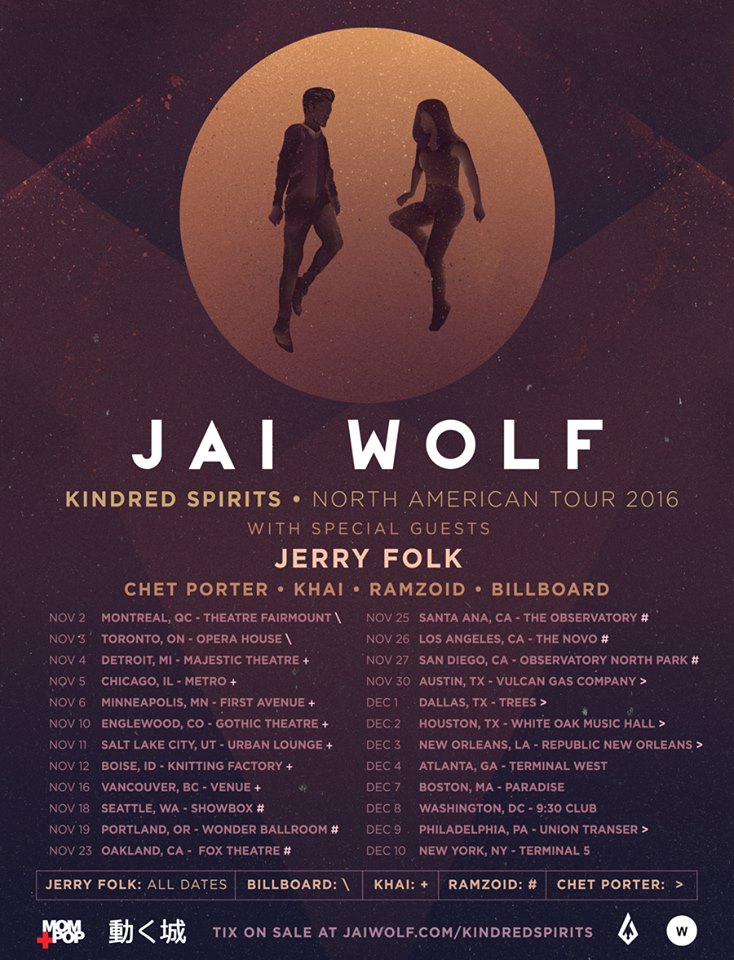 Jai Wolf and Jerry Folk are hitting the road together in the Kindred Spirits Tour spread across North America this fall
A headline tour brought to you by Jai Wolf with the added support of Jerry Folk and special guests will be taking over the closing months of 2016. Jai Wolf and Jerry Folk will busing it around the greater North American area for 26 stops at various venues from coast to coast. Throughout the 38 day Kindred Spirits Tour featured artist to make guest appearances include Chet Porter, Khai, Ramzoid, and Billboard. A mix of Foreign Family Collective veterans and some of the next up-and-comers, the Kindred Spirits will be a showcase of the best talent of 2016.
Jai Wolf has been around for some time and has earned his stripes with hit singles "Indian Summer" and "Drive," and a lethal pack of remixes. The track heard around the world via Skrillex at Glastonbury, the Jai Wolf remix to "Ease My Mind," was what first took Jai Wolf to the spotlight. Since then he's proven to to be able to craft an undeniably smooth but bass filled style with both various remixes and mesmerizing mix sets. The silky tunes of Jerry Folk offer the perfect compliment to Jai Wolf on the Kindred Spirits Tour. He's had a slew of unique original tracks that can't quite be compared to any other sound around. In wake of a future EP from Jerry Folk, revealed through his Nocturnal Times Interview, don't miss out on the chance to hear some fresh material live before it's even released. Notable stops on the Kindred Spirits tour include Terminal 5 in NYC, the Opera House in Toronto, and The Observatory in Santa Ana, CA.
Check out the recent Diplo and Friends Mix by Jai Wolf below in preparation of the Kindred Spirits Tour this late fall of 2016:
Grab your pair of tickets for the Kindred Spirits Tour featuring Jai Wolf and Jerry Folk HERE.
For more information on Jai Wolf follow him on Twitter, Facebook, and Instagram.
For more information on Jerry Folk follow him on Twitter, Facebook, and Instagram.