Above & Beyond Presents ABGT 200 at Ziggo Dome in Amsterdam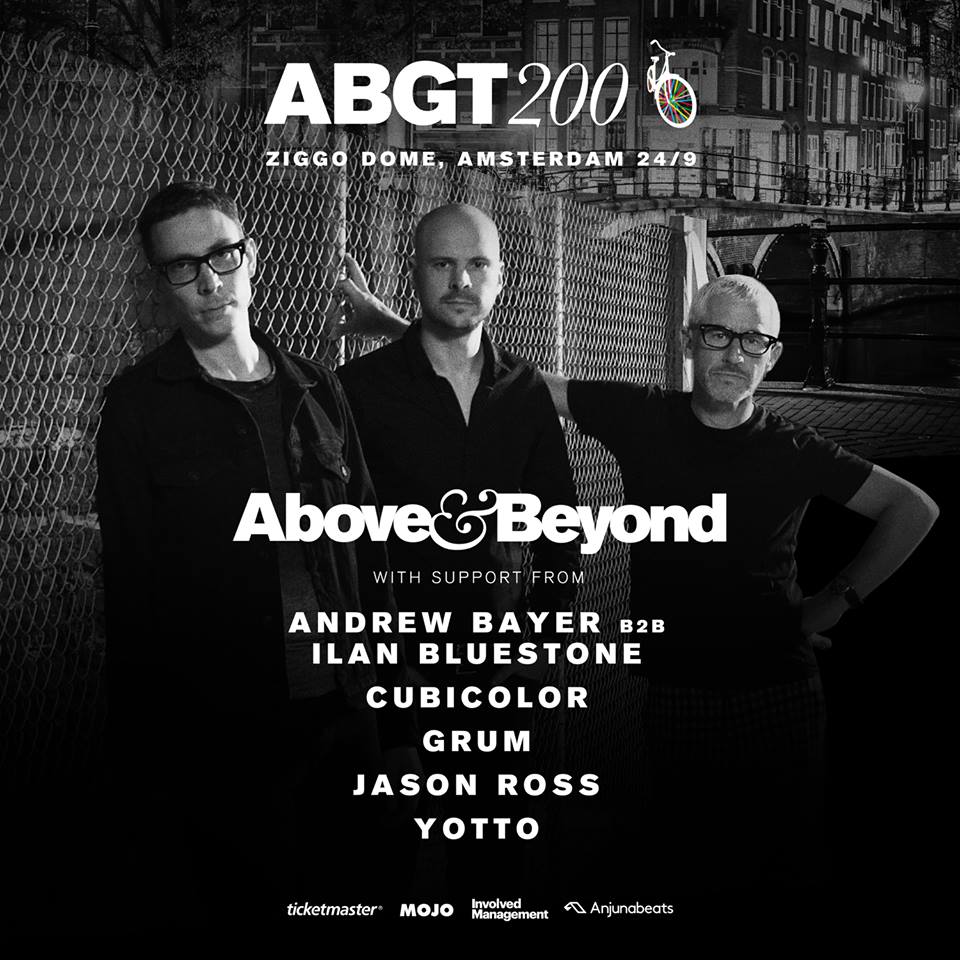 ABGT 200 lands in Amsterdam with all-star Anjuna supporting lineup
It's that time of the year again, Above & Beyond's Group Therapy worldwide celebration has just been announced to take place in Amsterdam this Fall.
What all started with the 50th edition of ABGT in the famed Alexandra Palace in London, England, Above & Beyond will be making it's return to Europe for this year's edition of the celebratory Group Therapy show. This time they will be taking to the mainland and performing at the Ziggo Dome of Amsterdam, Netherlands. The indoor arena has a 17,000-person capacity and will also be playing host to an Armin Only show in the upcoming months. ABGT 200 will be Above & Beyond's biggest event ever held on the mainland of Europe.
The supporting acts announced today (Fri., July 29) include Anjuna heavy-hitters Andrew Bayer B2B ilan Bluestone, Cubicolor, Grum, Jason Ross, and Yotto.
Above & Beyond Transforms RC Cola Plant Into Euphoric Miami Playground
Last year's success in Sydeny, Australia brought memorable moments with the stacked Anjunabeats lineup of Grum, Lane 8, and Ilan Bluestone. Group Therapy fans have been speculating as to where the next event would be, and it's only fitting the trio brings their talents to back to their home territory of Europe. It'll be the first event to be held on the mainland, and taking place in one of the world's leading exports of talented dance music producers. In true Dutch fashion, this party will not stop until the early morning hours, expecting to close out around 5:00 am.
The 200th edition of Group Therapy is set to take place on September 24, so buy your lodging and travel tickets now while you still can. The pre-sale will surely sell out in record time, and will be live at 12pm Central European time on Tuesday April 19. An access code will be needed and you can sign up for further information HERE.
Today's set times are as follows:
Ahead of the milestone event in Amsterdam, Jono, Tony, and Paavo will embark on their Acoustic Tour, which will support the release of their new Acoustic II album. The trio will stop at legendary venues in Los Angeles, New York, Chicago, London, Toronto, Boston, and more. More information about Above & Beyond Acoustic can be found below:
Above & Beyond Announces Acoustic II Album, World Tour in 2016