Insomniac Announces EDC Week 2016 Schedule of Events For June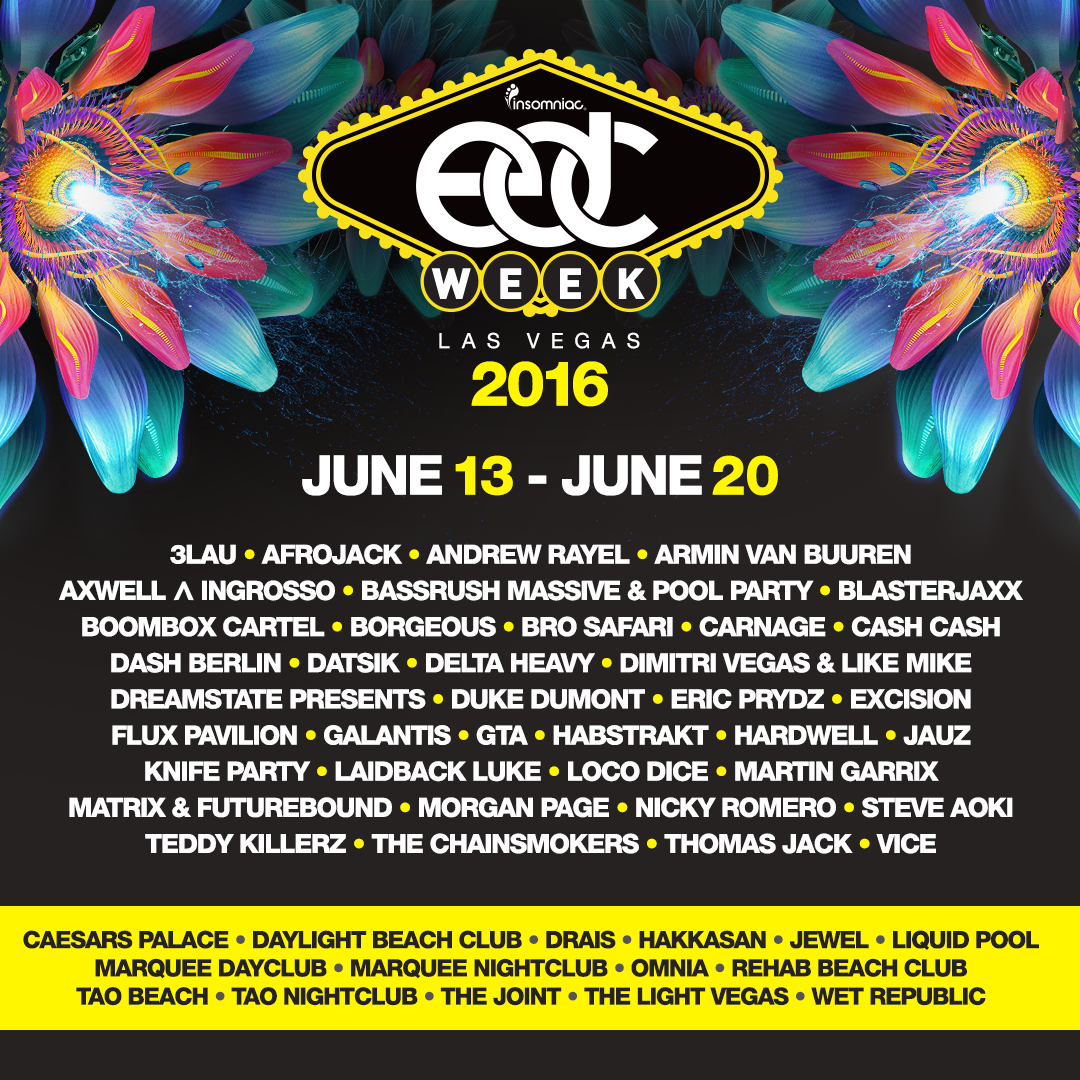 EDC Week is returning to Las Vegas, including the 5th annual EDMbiz Conference & Expo ahead of EDC Las Vegas
Electric Daisy Carnival (EDC) is celebrating "20 Years Under the Electric Sky" this year with its highly anticipated annual return to the Las Vegas Motor Speedway on June 17, 18 & 19, 2016. Coinciding with EDC Las Vegas is its annual EDC Week, which consists of EDMbiz Conference & Expo and countless events across many of the city's finest venues.
From the non-stop pool parties, nightclub events, EDMbiz, and the annual carnival, EDC Week is is must attend for any dance music lover. With Insomniac constantly raising the bar and setting the industry standard, there's no denying that this year's EDC and its accompanying events will undoubtedly supply another unprecedented year.
Join fellow partygoers for fun in the sun at Marquee Day Club, Encore Beach Club, TAO Beach, Wet Republic, Daylight Beach Club, Drais Beach Club, Rehab Beach Club, and Liquid Pool. Las Vegas is home to some of the most intricately designed and eclectic nightclubs in the country, including: Omnia, Marquee, Hakkasan, XS, The Light Vegas, Drais, Jewel, and more.
Headliners will celebrate the spirit of EDC with a huge roster of pool parties and club nights at the best venues on the Las Vegas Strip, while the entire dance music industry will come together during the 5th annual EDMbiz Conference & Expo at Caesars Palace. EDMbiz will be expanding in 2016, relocating to Caesars Palace from its original location at The Cosmopolitan of Las Vegas.
EDMBiz 2016 Expands to Caesars Palace Las Vegas For 5th Annual Installment
Each and every year since its induction, Insomniac delivers a week-long string of unforgettable, high-energy, action-packed events to the already enrapturing Las Vegas Strip. Celebrate 20 Years Under the Electric Sky with thousands of other like-minded night owls. Limited tickets for EDC Las Vegas 2016 are available at LasVegas.ElectricDaisyCarnival.com.
EDC Las Vegas Announces 20th Anniversary Festival Dates & EDC 20 Teaser Video, Tickets On Sale Now
A full list of EDC Week 2016 events and ticket information can be found at Insomniac.com/EDCWeek.