ASOT 750 at Ultra Miami Brought Armin van Buuren, Deadmau5, Eric Prydz to Megastructure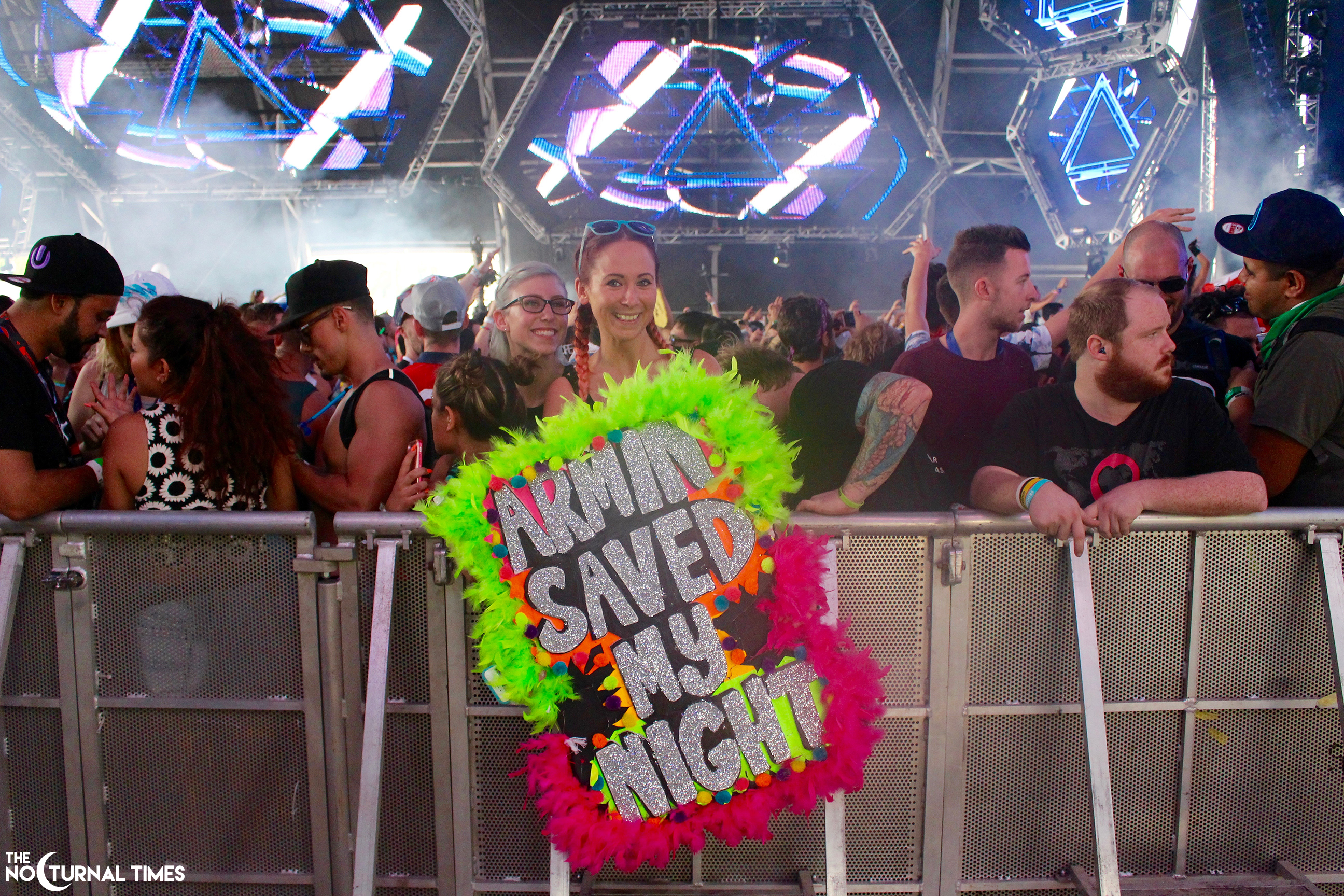 ASOT 750 made its return to Ultra's Megastructure on Sunday, March 20 for its 750th episode with Armin van Buuren and special guests
After months of sleepless anticipation, music lovers from across the world united in Miami for what promised to be the biggest and best Ultra Music Festival (UMF) to date. In conjunction with UMF, the colossal Megastructure stage is dedicated to A State of Trance for the last full day of the festival—it's home to Carl Cox & Friends in the two days prior. This time around, ASOT 750 brought one of it's most legendary lineups ever assembled.
March 20, 2016 marked the sixth consecutive year of A State of Trance in Miami. Armin van Buuren and his team have built a legacy that has evolved into what is now considered an Ultra Music Festival staple on Sunday. ASOT Miami is a festival within a festival and is more massive now than ever before.
This year's ASOT 750 installment brought some of the most talented and revered DJs and producers in dance music. Sunday's live performances in order of appearance included: KhoMha, Ben Gold, MaRLo, Markus Schulz, Andrew Rayel, Aly & Fila, Deadmau5, Eric Prydz and a festival closing set from the host, Armin van Buuren himself. True artists and masters of their craft, these nine made for an eclectic eleven-hour soundtrack, recorded and audio streamed on astateoftrance.com for millions of listeners to embrace worldwide.
Opening up the festival precisely at 12 p.m., KhoMha had the opportunity of grabbing the attention of attendees as they entered Bayfront Park. Along with early arrivers, his fans had a front row seat for KhoMha's productions "Mind Gamer," "Dejavu," his remix of Orjan Nilsen's "Endymion" and a handful of new tunes. Up next, at 1 p.m., was an hour slot for Ben Gold who also played to fans walking in off the lines. As the crowd filled the trance arena, Ben Gold turned up the tempo with his personal remix of "Cherry Blossom," a new Standerwick collab, "Vindicta," and his Christina Novelli vocal track "All Or Nothing." Let's not forget, Ben was bestowed with the honor of having his track "I'm In A State Of Trance" chosen as the official ASOT 750 anthem, which has been dynamite on the dance floor.
With a consistent influx of fans storming into the Megastructure, MaRLo kept the energy at a premium until it was completely filled. ASOT favorite and rising star, MaRLo has been on a tear as of late, bringing back trance classics in his live sets. Shedding a new light on some good tunes, the Dutch born DJ gave fans a taste of his remix of "Between The Rays," Ferry Corsten's "Beautiful," amongst a load of new music. High octane trance tunes are what MaRLo does best, whether it be "Visions," "Ignite' or his Atlantis anthem "Titans" the beats never stopped coming. Sing-along moments came from his own tracks, "Hold It Together" ft. Christina Novelli and a finale of "The Dreamers" ft. Jano on vocals.
Beginning his set with a seamless intro, Andrew Rayel has easily become the man to watch in the trance scene. The classically trained musician started promptly at 3 p.m., kicking off the Ultra live-stream with a global viewing party. As his set progressed, knowledgeable ears heard some unreleased music mixed well with some popular new hits. Andrew Rayel's remix of "Embrace" was a huge highlight of the set as Armin van Buuren joined Rayel in the booth and enticed mayhem on the dance floor. Rayel's remixes are world renowned and none more so than the Faithless classic, "Insomnia" as well as the Andrew Rayel remix of the smash hit "Hello" by Adele. Towards the latter part of Rayel's stunning ensemble, vocals such as Kristina Antuna's "Once In A Lifetime Love," Jonny Rose's "Daylight" and Christian Burns' "Miracles" had the Megastructure singing in tune. Read The Nocturnal Times exclusive interview with Andrew Rayel from Miami Music Week 2016, HERE.
Literally speeding through the next hour, pure trance enthusiasts became lost in the melodies of Aly & Fila. Taking the BPM and the euphoria up a notch, Fadi pushed the uplifting pace with his brand new track "A Million Voices" ft. Audrey Gallagher as well as his Ferry Tayle collaboration, "Napoleon." Set for a big year with new music, fans were treated to just a bit of it, while enjoying the ASOT Tune of the Year 2011 "We Control The Sunlight" feat. Jwaydan. Read The Nocturnal Times exclusive interview with Aly & Fila at ASOT Miami, HERE.
At 5 p.m., the style switched to a more progressive trance feel. Miami resident and infamous unicorn slayer, Markus Schulz took the decks with his Ultra intro mix of "A Better You" and proceeded to play Coldharbour hits like "Destiny" ft. Delacy, "The Spiritual Gateway" and New World Punx "Torque." Interacting with his Schulz Army, Markus stuck to his signature sound and closed with his Club Mix of "Facedown" to the TranceFamily's delight.
One of Ultra's biggest surprises this year was the return of Deadmau5. Far from an ordinary return, Joel Zimmerman, better known as Deadmau5 or dead mow cinco (as he's referred to himself as of late), was announced on the ASOT 750 lineup. Trance fans may have had some mixed feelings, but welcomed the musical genius with arms wide open—as did Armin. Not to be confused with his surprise set on the Live Stage the night prior, Deadmau5 fans and Ultra faithful were well aware and prepped for a dance music first. It seemed as though all of Ultra flooded the Megastructure at this very moment.
Vehemently setting up, Joel took the microphone and commenced his performance as scheduled. To his own enjoyment and to the enjoyment of those who are familiar with Deadmau5, Joel started off by playing a Heavy Metal track titled "Lacertine Forest" by Psycroptic for the first three minutes of his set while quite literally rockin' out in the booth. After, he stated that it was "out of his system," fans regained their composure and were treated to some banging tech tracks. "Cthulhu Sleeps," "Sometimes Things Get, Whatever" and "Faxing Berlin" were Deadmau5 tracks mixed in with proper techno throughout the set. In the final minutes of his set, Joel brought out the melodic progressive house, complete with "Imaginary Friends," "Eborts" vs "Strobe" and our personal favorite, "I Remember" lyrics over a different track. Before closing, Deadmau5 went back on the mic and thanked the crowd, thanked Armin and ASOT for having him, stating "we cool." In style and tribute to the late Lemmy Kilmister, Deadmau5 wrapped up with Motorhead's "Ace Of Spades" and was ultra gracious to all in attendance.
At Ultra 2015, the legend, Eric Prydz gave his first ASOT 700 performance and fans have been raving about it ever since. Making his return to the Megastructure for Sunday, Prydz is never one to disappoint and has so much music that he could never play the same set twice. Like Deadmau5, Eric Prydz is not known for playing trance but is still a gifted pioneer of quality dance music. Reaching his musically mature audience, Prydz dropped lots of his own tech and progressive in his ninety minute set. In typical Cirez D fashion, the first track played was a massive unreleased Intro ID to set the tone. Continuing with the deeper and darker vibes Pryda tracks included "Layers," "Loving You" and "Rebel XX" to name a few. Respected in his own right, Eric Prydz is a producer who has been at the top of his game for a long time and is one of those DJs along with Armin who can do no wrong. Before closing at 9 p.m. sharp, Prydz saluted the crowd and gave a memorable "Opus" finale driving Ultranauts wild.
At last, the moment we'd all been waiting for had arrived. The man who has made it all possible, Armin van Buuren was primed to put on a powerful showing for this fifteen year celebration of A State of Trance. This year fans were granted two hours of AvB, shutting down Ultra Music Festival with the Grammy nominated artist was the only place the masses wanted to be. Embracing Miami as he always has, Armin opened with a new remix of his album titled track "Embrace" ft. Eric Vloeimans on trumpet. Throughout the next 120 minutes, a plethora of new tunes and unreleased music would be premiered for Miami. Some of our highlights of the night were an AvB mashup of "Sound Of The Drums" ft vocalist Laura Jansen over a new melody, "Exploration Of Space" (Cosmic Gate Third Contact Remix) and a new Bobina bomb titled "Choose Life."
WATCH: Relive Armin van Buuren's Ultra Miami 2016 Main Stage set
Dwindling down to the end of a monumental weekend, trance fans left all their energy on the Megastructure dance floor. Jumping and dancing in the booth, Armin obliged the crowd every chance he could. As he smirked, the ASOT 750 anthem began resonating around the hanger. "I'm In A State Of Trance," produced by Ben Gold, was selected as the best representation of this year's epic festivities. With nearly thirty songs showcased, Armin shut down the grandest of festivals with his mashup of Vini Vici "The Tribe" with the Arctic Moon remix of Sia's rendition of "California Dreamin'."
Turning the world into one giant dance floor is no small task, but we all know who to count on. It's safe to say Armin isn't slowing down anytime soon, so we feel strongly that we'll see you before you know it for ASOT 800 at Ultra Music Festival 2017!
For more information about A State of Trance, visit astateoftrance.com.
Featured photo credit: Mark Mancino