Hakkasan Las Vegas Unveils Talent Roster For May, June, EDC Week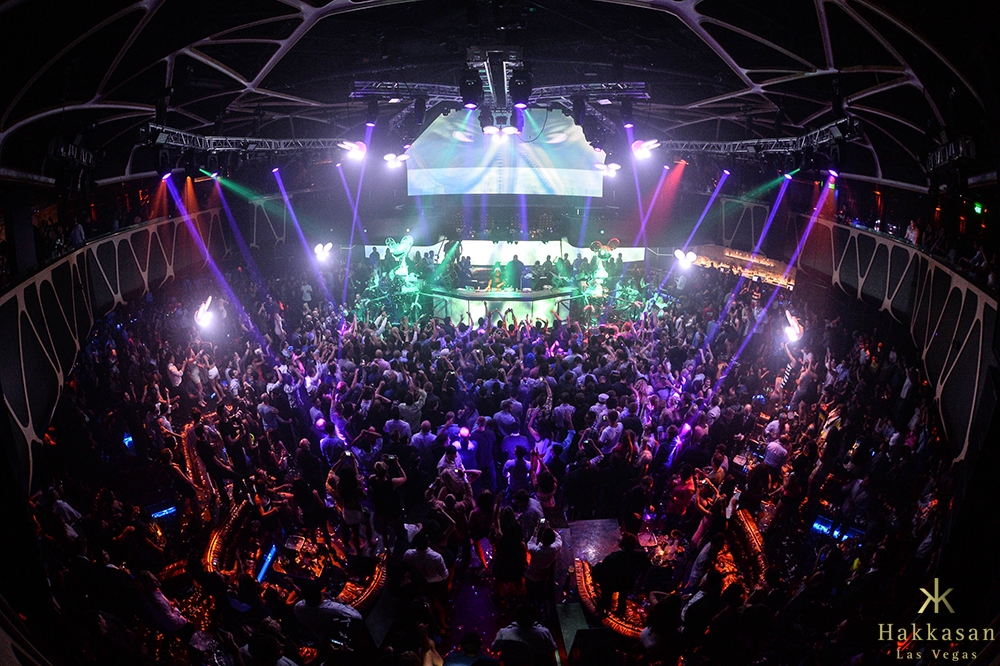 One Las Vegas' most prominent nightclubs, Hakkasan, have announced a two-month roster that includes both Memorial Day Week and Electric Daisy Carnival week. On the cusp of spring with festival season just around the corner, the Sin City nightclub located at the MGM Grand Hotel & Casino will deliver an extensive DJ roster during the months of May and June.
The biggest names in dance music are slated to make appearances behind the turntables for live sets in the months leading to summer. DJ talent across May and June at Hakkasan Las Vegas includes Tiesto, Calvin Harris, Above & Beyond, Hardwell, and more.
During the highly anticipated Mayweather vs. Pacquiao event, Hakkasan will deliver a slew of Fight Weekend events beginning with a special guest DJ on Thursday, April 30 in the main room. On Friday, May 1, a special guest DJ will dominate the main floor with Ruckus at the Ling Ling Club followed by a back-to-back from Calvin Harris in the main room on Saturday, 5/2 and Sunday 5/3. Join some of dance music's biggest acts with other exclusive artists to celebrate the spectacle event, which takes place at the MGM Grand Garden Arena.
Memorial Day Weekend this year boasts a stellar lineup at Hakkasan and includes: Steve Aoki (5/21), Hardwell (5/22), Calvin Harris (5/23), and Tiesto (5/24).
The eagerly anticipated EDC Week will showcase live sets from Above & Beyond (6/21), Hardwell (6/18), Calvin Harris (6/20), Dimitri Vegas & Like Mike (6/17), and Tiesto (6/19).
Tickets are now on sale and available for purchase at hakkasanlv.com. The nightclub is open Thursday through Sunday from 10:30 p.m. until late. Guests must be 21 years of age or older. Cover charges and table reservations will vary.
May DJ Lineup: 
Thursday, April 30 | Fight Weekend
Main Room: Special Guest
Friday, May 1 | Fight Weekend
Main Room: Special Guest
Ling Ling Club: Ruckus
Saturday, May 2 | Fight Weekend
Main Room: Calvin Harris
Ling Ling Club: DJ Irie
Sunday, May 3 | Fight Weekend
Main Room: Calvin Harris
Ling Ling Club: Gusto
Thursday, May 7
Main Room: Bingo Players
Friday, May 8
Main Room: Special Guest
Ling Ling Club: Special Guest
Saturday, May 9
Main Room: Above & Beyond
Ling Ling Club: Gusto
Sunday, May 10
Main Room: Eva Shaw
Thursday, May 14
Main Room: Tiësto with Dzeko & Torres
Ling Ling Club: DJ Shift
Friday, May 15
Main Room: Calvin Harris
Ling Ling Club: Justin Credible
Saturday, May 16
Main Room: Tiësto with Dzeko & Torres
Ling Ling Club: Special Guest
Sunday, May 17
Main Room: W&W
Ling Ling Club: Gusto
Thursday, May 21 | Memorial Day Weekend
Main Room: Steve Aoki
Ling Ling Club: DJ Crooked
Friday, May 22 | Memorial Day Weekend
Main Room: Hardwell
Ling Ling Club: DJ Irie
Saturday, May 23 | Memorial Day Weekend
Main Room: Calvin Harris
Ling Ling Club: Jesse Marco
Sunday, May 24 | Memorial Day Weekend
Main Room: Tiësto
Ling Ling Club: Ruckus
Thursday, May 28
Main Room: Tiësto
Ling Ling Club: DJ Crooked
Friday, May 29
Main Room: NERVO
Ling Ling Club: DJ Five
Saturday, May 30
Main Room: Tiësto
Ling Ling Club: Ruckus
Sunday, May 31
Main Room: The Chainsmokers
June DJ Lineup:
Thursday, June 4
Main Room: DVBBS
Friday, June 5
Main Room: Calvin Harris
Ling Ling Club: DJ Crooked
Saturday, June 6
Main Room: Tiësto
Ling Ling Club: Special Guest
Sunday, June 7
Main Room: Sunnery James & Ryan Marciano
Ling Ling Club: Gusto
Thursday, June 11
Main Room: Special Guest
Friday, June 12
Main Room: Special Guest
Ling Ling Club: Jesse Marco
Saturday, June 13
Main Room: Special Guest
Ling Ling Club: DJ Irie
Sunday, June 14
Main Room: Bingo Players
Ling Ling Club: Gusto
Wednesday, June 17
Main Room: Dimitri Vegas & Like Mike | EDC Weekend
Thursday, June 18
Main Room: Hardwell | EDC Weekend
Ling Ling Club: Gusto
Friday, June 19 | EDC Weekend
Main Room: Tiësto
Ling Ling Club: Justin Credible
Saturday, June 20 | EDC Weekend
Main Room: Calvin Harris
Ling Ling Club: DJ Crooked
Sunday, June 21 | EDC Weekend
Main Room: Above & Beyond
Thursday, June 25
Main Room: Tiësto
Ling Ling Club: Gusto
Friday, June 26
Main Room: Tiësto
Ling Ling Club: D-Nice
Saturday, June 27
Main Room: Showtek
Ling Ling Club: DJ Irie
Sunday, June 28
Main Room: Special Guest
*Photo: Hakkasan Las Vegas