Nocturnal Times Exclusive Interview: Cosmic Gate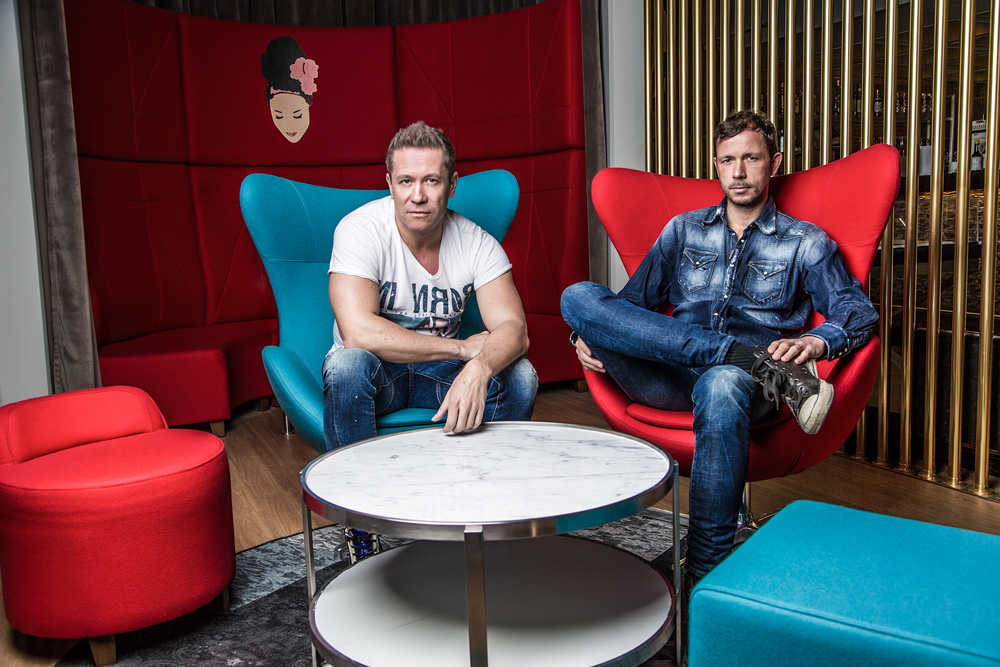 It's no surprise that powerhouse DJ and production duo Cosmic Gate is back at the top once again, but this time, they're mixing it up. The pair releases their highly anticipated "Wake Your Mind Sessions 001" on March 19, 2015 through their label, Wake Your Mind Records, a division of Armada Music.
Cosmic Gate has been a crucial part of the dance music community for decades with a multitude of albums, remixes, compilations, productions, live sets, and collaborations. Dance music enthusiasts often refer to their classic hits "Exploration Of Space," "Be Your Sound," "Fire Wire," "Back To Earth," "Body Of Conflict," among many others. The duo also released their sixth studio album last year, "Start To Feel."
The Nocturnal Times sat down with Nic and Bossi to talk about listeners can expect from Wake Your Mind Sessions 001. The duo also reveals the scoop about their latest single "Yai (Here We Go Again)" with JES and how it felt to work with the talented vocalist once again. Find out all the details about "Wake Your Mind Sessions 001" in this Nocturnal Times exclusive interview with Cosmic Gate.
The Nocturnal Times: Wake Your Mind Sessions 001 makes its widely anticipated release, March 19, 2015 on Wake Your Mind Records/Armada Music. With such a vast array of talent and a huge number of tracks, what was the thought process behind the mix compilation and what made you decide to start a new mix series?
Cosmic Gate: With the start of the label and the radio show, we simply thought to complete the branding with a Mix compilation as well. Our mix album Back 2 Back was a concept that we started nearly 15 years ago, and we thought it was time to update a bit. WYM Sessions for us brings our branding and current DJing to that point. It shows the variety of styles we are standing for, delivering a proper deep and progressive build up on CD 1, and basically ending on CD Two with a 75 min mainstage set.
TNT: How did you go about choosing the tracks included on Wake Your Mind Sessions 001?
Cosmic Gate: This is actually pretty easy to answer. It's the same than when it comes to our productions, our singles or albums – we just follow our taste. Nothing more and nothing less. So it's really what fits the flow of our set and we think will add something unique to the progression of WYMS001 will end up on the album. It's less about offering just unreleased and brand-new tunes. It's about the quality and style of music we are standing for, and we hope WYMS 001 shows what we mean!
TNT: What can you share about your latest single "Yai (Here We Go Again)," which features vocals from the lovely and talented JES? What can you share with fans about working with JES again?
Cosmic Gate: 'Yai' was one of the instrumental tracks on our album Start to Feel. When we played it out on our DJ sets, it got such a great response that we thought we'd like to release it as a single. We wanted to add something extra to it though, and as JES and us unfortunately did not get together this time with cooperation for Start To Feel, we sent here Yai and asked if she had a Vocal idea for it. What can we say! The rest is now history! JES totally nailed it with her song writing and vocal skills once again. She could not have followed and added the Start To Feel concept any better! 'Here We Go Again' is one of our absolute highlights in our sets now, and of course is featured on WYMS 001 as well.

TNT: "Yai (Here We Go Again)" has seen support from major artists including Armin van Buuren, Above & Beyond, Gareth Emery, Super8 & Tab, and Lange, just to mention a few, are there any DJs or producers you have yet to work with that you hope to one day? Why?
Cosmic Gate: There are so many talented artists around, but collaborations are often is simply hard to plan. Sometimes producers and their sounds might fit in theory, but the collaboration itself is just not working.
Other producers and their sounds you think might not fit at first, but a collaboration song turns out great! So lets see what happens for us in the future. We do not want to come up with names and in the end it won't happen. We can promise though new collabs will happen, some with obvious names, some with colleagues not many would expect maybe, but that's how we like it!

TNT: The celebration for Wake Your Mind Radio's 50th episode lands perfectly during Miami Music Week. What surprises can fans expect aboard the Cosmic Gate & Friends – Sunset Cruise on Saturday, March 28?
Cosmic Gate: Whoever was on the Cruise with us in Miami, knows that it is one of the most intimate and maybe best shows of the year. At least this is what so many people tell us! The vibe is always fantastic. it feels like there is a whole family coming together, but unlike a lot of real family meetings, everyone comes for the one aim: simply having fun, hanging out with people that have the same spirit, and listening to that kind of music we are standing for. If you have not joined us yet, this year we have a even bigger and more gorgeous boat, the cruise will happen around sunset for the first time. We are also offering an open bar on top and just writing that gets us excited ourselves again 🙂
TNT: Cosmic Gate travels the world as internationally acclaimed DJ superstars. What do you recall a few of your most memorable nightclub experiences over the course of your career? What city have you not played in yet that you hope to one day?
Cosmic Gate: Green Valley in the middle of the jungle in Brazil we hear its just awesome! So it's good that after all these years there is still new things to explore and new goals to reach. This keeps us going and excites us for the future.

TNT: What more can fans expect from Wake Your Mind Records and WYM Radio in the near future?
Cosmic Gate: We do have some new signings that will be released on WYM Records, Nic just released his new solo single in cooperation with Jonathan Mendelson which is called "This Time". Plus we have own and new talent releases signed and ready for the release as well. ON WYM Radio we will continue introducing new favorite music that is getting released and will showcase to the people music that we do not necessarily play during our DJ shows.
TNT: You guys recently rocked the A State Of Trance 700 Festival main stage in Utrecht. What is it like to be a part of this monumental event year after year?
Cosmic Gate: Armin van Buuren and his team have simply achieved so much with what they do. It's really phenomenal. ASOT started in one club! Now it's by far and away the biggest Trance brand in the world, showing that genre is anything but dead and proving how wide and diverse the music actually is. We are proud and happy to be part of these!

TNT: Where do you see Cosmic Gate five years from now?
Cosmic Gate: This is a good question, five years is a long time, but we sure want to push our music and ourselves to new limits. We always do try to improve – write albums that are better than the one before, so the plan is to be still out there and be every bit as relevant in the scene.
For more on Cosmic Gate visit http://www.cosmic-gate.de or on Facebook and Twitter.