Flosstradamus Brings His A-Game During Sold-Out Show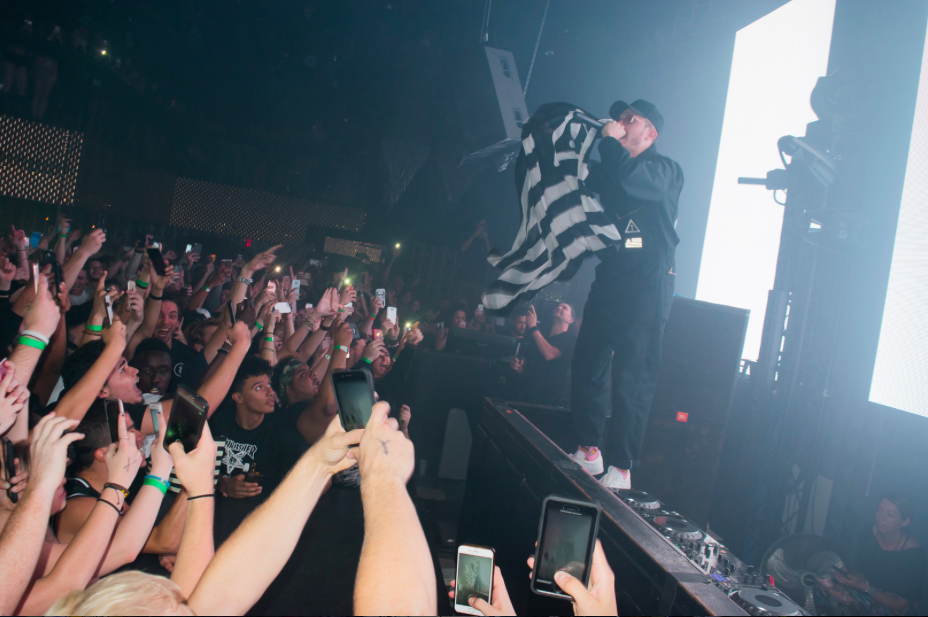 Flosstradamus is known for making crowds go crazy with his non-stop energy and epic setlists. With the last stop of the first leg of his 'In Hi-Def' tour at Gilt Nightclub in Orlando, the crowd was nothing less than absolute madness.
From California, to Nevada, to Chicago, Brooklyn, Florida – this club tour specifically meant so much to Floss as it was an intimate opportunity to connect with his fan base- a rewardingly different feel than the huge festivals he is used to playing. Gilt Nightclub reached yet another winning level of scoring top-notch artists to host for the weekend. While entertaining fan bases that span all sorts of genres, the experience of dance music in this luxurious atmosphere is one that will literally leave you shaking, just waiting for the next time to return (which will probably next week, let's be honest.)
For anyone who missed the rowdiness, picture this. Upon entering the sold out show, you're standing beside hundreds of other hyped up friends primarily dressed in all black and HDY gear (officially repping their Floss dedication as part of Hdynation) just waiting to slam their heads down to the bassline. Gilt continues on with their electric Saturday acts, living up to their esteemed reputation and well-established Encore Saturdays.
Opener ATM could not have done a sicker job of getting the crowd moving with wall to wall bangers. With just five days left until the annual EDC Orlando festival, you could feel the pre-EDC hype in the air, making everyone that much more amped up. Just when fans thought ATM was about to steal all the energy out of their bodies, Floss entered stage absolutely ready to rock the house down. Everyone in the crowd was lifted off the ground jumping to Floss' trap-infused journey. Hdynation was raging in full swing, putting their warning signs up during every crowd surf, mosh pit, and out of control drop.
As the remaining member of Floss, Curt Camerucci came to Orlando ready to throw down, and his set was quite possibly the epitome of a basshead's perfect show. From uptempo tracks like "Better Off Alone" to weed-smokers classics like "The Next Episode" and "Three Little Birds" to a filthy handful of hip-hop and bass heavy bangers including "We Will Rock You," "Mosh Pit," "Goosebumps," "Fuck that Shit," and "Ja Rasta," he definitely shook the floor. He even slid in a trap remix of "We Like To Party" by the Vengaboys, leaving fans on the dance floor in utter shock. Throughout all the nonstop wildness and body-slamming occurring across the floor, possibly the most memorable moment was Camerucci slowing it down with an inspiring speech. As he shouted out to the crowd he stated that this is what he loves about music: every person in that club being together and uniting under their mutual love for music. And what better way to send out these vibes than with Bob Marley's "One Love," where green lasers and peace signs filled up the booming venue.
When the clock struck 2am it was really only beginning, considering daylight savings pushed that time back to 1am and every single person left was ready to give every ounce of energy they had remaining for an extra hour of mayhem. Floss ended with a huge display of fan love, spending extra time afterwards signing countless autographs, snapping selfies, shaking hands, and thanking everyone there for making this a night to truly never forget.