EDC Las Vegas Celebrates 20th Anniversary Under the Electric Sky With Colossal Three-Day Extravaganza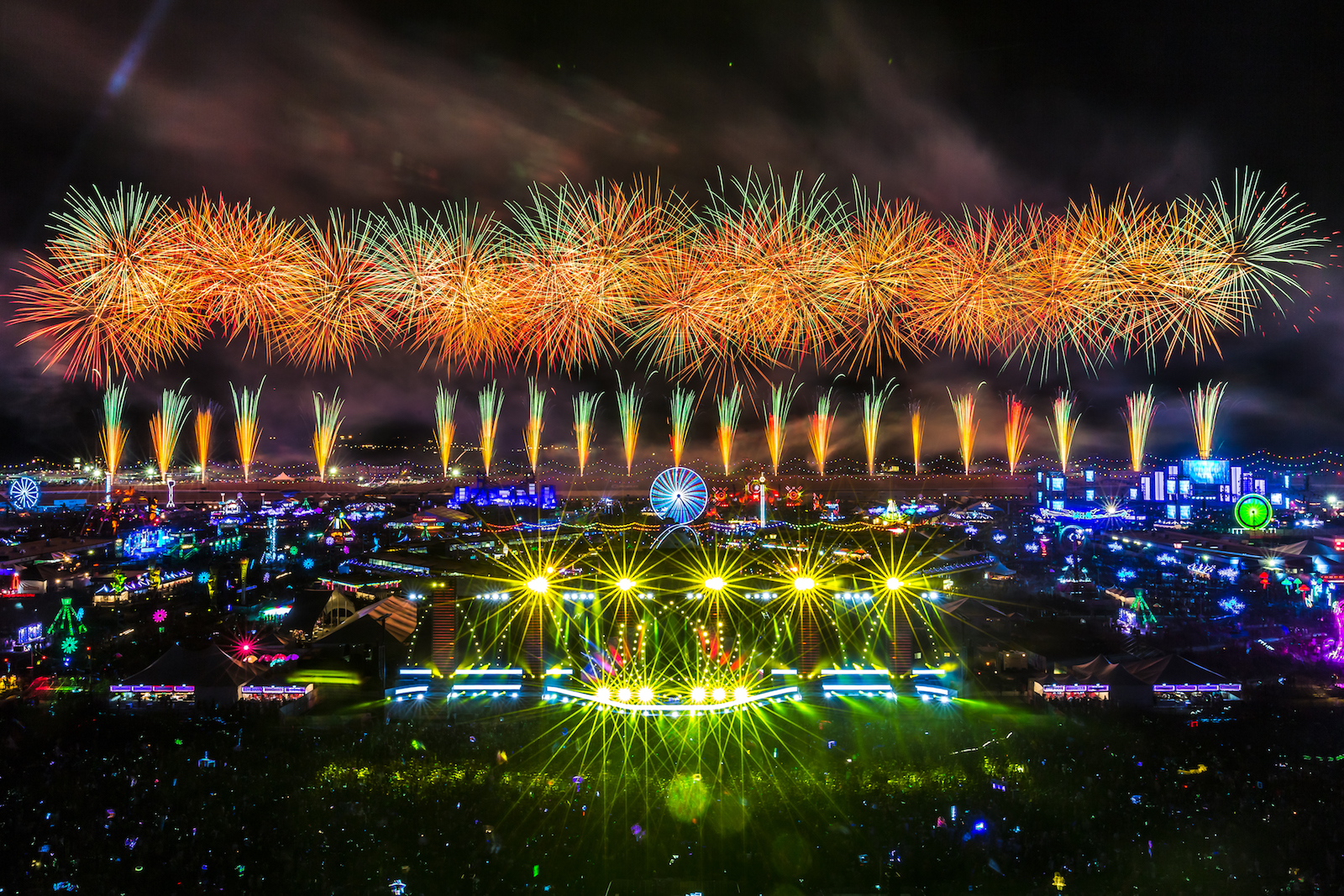 Insomniac Events delivered the most colossal installment of EDC Las Vegas yet as they commemorated 20 years Under the Electric Sky
More than 400,000 headliners gathered Under the Electric Sky along with the biggest names in dance music for the annual Electric Daisy Carnival presented by Insomniac Events. For three Dusk Till Dawn days (June 17-19), EDC Las Vegas celebrated its 20th anniversary with EDC 20.
EDC Las Vegas 2016: The 20 Most Memorable Highlights of EDC 20
Boasting eight newly designed stages, if there's one thing that Insomniac's historic carnival isn't lacking, it's production value. With each of the intricately designed states big enough to be its own main stage, the team goes above and beyond in terms of wowing their audience. Only growing more immensely each year, this year's installment of EDC occupied more of the Las Vegas Motor Speedway than in any of the years prior. From end to end, corner to corner, EDC Las Vegas celebrated 20 years the only way they know how—BIG!
Insomniac has abided by the go big or go home mentality for many years now; especially since moving their famed Electric Daisy Carnival from its home in Los Angeles to its new Sin City location in 2011.
Each of the stages at EDC Las Vegas this year packed enough of a punch to be considered a main stage. The innovative and unique stage designs from kineticFIELD to circuitGROUNDS, wasteLAND to bassPOD, cosmicMEADOW to neonGARDEN, and more, proves that Electric Daisy Carnival is not backing down in terms of their progressive production. Meticulously scattered across the Speedway, the eight immense stages this year
circuitGROUNDS
On Friday, heavy-hitters such as Eric Prydz and Kaskade drew thousands of EDC-goers to circuitGROUNDS where they were immersed in a full sensory experience. Surrounded by LED-screen fire-spewing columns, the newly transformed circuitGROUNDS hosted Above & Beyond, Armin van Buuren, Martin Garrix, and Afrojack on Saturday.
Dreamstate, which made its East Coast debut at Citi Field during EDC New York in May, took to the new circuitGROUNDS in Las Vegas for the very first time on Sunday. Powerhouse trance players such as Armin van Buuren presents Gaia, the return of Paul van Dyk, Gareth Emery, Ferry Corsten presents Gouryella, Aly & Fila, Markus Schulz, and more took over the newly expanded space on the third day of the festival from sunset to sunrise.
Surpassing All Expectations
If there's one thing that EDC Las Vegas isn't lacking, it's production value. For the 20th anniversary, Pasquale Rotella and the Insomniac Events team overwhelmingly surpassed all expectations. From the newly designed stages across the festival grounds to the wide array of interactive entertainers, captivating art installations, tons of carnival rides (from ferris wheels to log flumes), a stellar DJ soundtrack, fireworks that rival the olympics and put the Macy's 4th of July Fireworks Spectacular to shame, and YOU—the headliners.
Headliners play an extremely vital role in each of the editions of Electric Daisy Carnival, which began its run in 1996 in Los Angeles. Insomniac Events—wide awake since 1993—is also responsible for massive dance music events such as Nocturnal Wonderland, Dreamstate, Beyond Wonderland, Escape Halloween: Psycho Circus, White Wonderland, Basscon, and many more.
Attempting to put EDC 20 into words is no easy task. What is unspeakably easy is the influence EDC has made and continues to make on rave culture and the dance music community. A cultural movement, a phenomenon that's changing the way dance is perceived by others and leaving its mark right before our very eyes.
As Armin van Buuren recently mentioned in an episode of Viceland's "Noisey" TV series that focused on the domination of EDM (electronic dance music) in Las Vegas. It's quite possible that dance music has become bigger than Woodstock, bigger than we're actually able to grasp in the current moment. We may not even realize just how big; it's something we'll likely look back on years from now, retrospectively, to fully conceptualize the cultural impact of the dance music movement.
The Viceland episode also goes on to imply that just as Frank Sinatra and Elvis Presley left their mark on Sin City, dance music has taken over the city; becoming the next big thing to revive the town. Dance music and the nightlife scene has revived Las Vegas, and Electric Daisy Carnival is a testament to that.
Check this space for details regarding EDC Las Vegas 2017 as soon as they're announced.
For more information about EDC Las Vegas, visit lasvegas.electricdaisycarnival.com. Learn more about Insomniac Events at insomniac.com.