EDC Las Vegas 2016: The 20 Most Memorable Highlights of EDC 20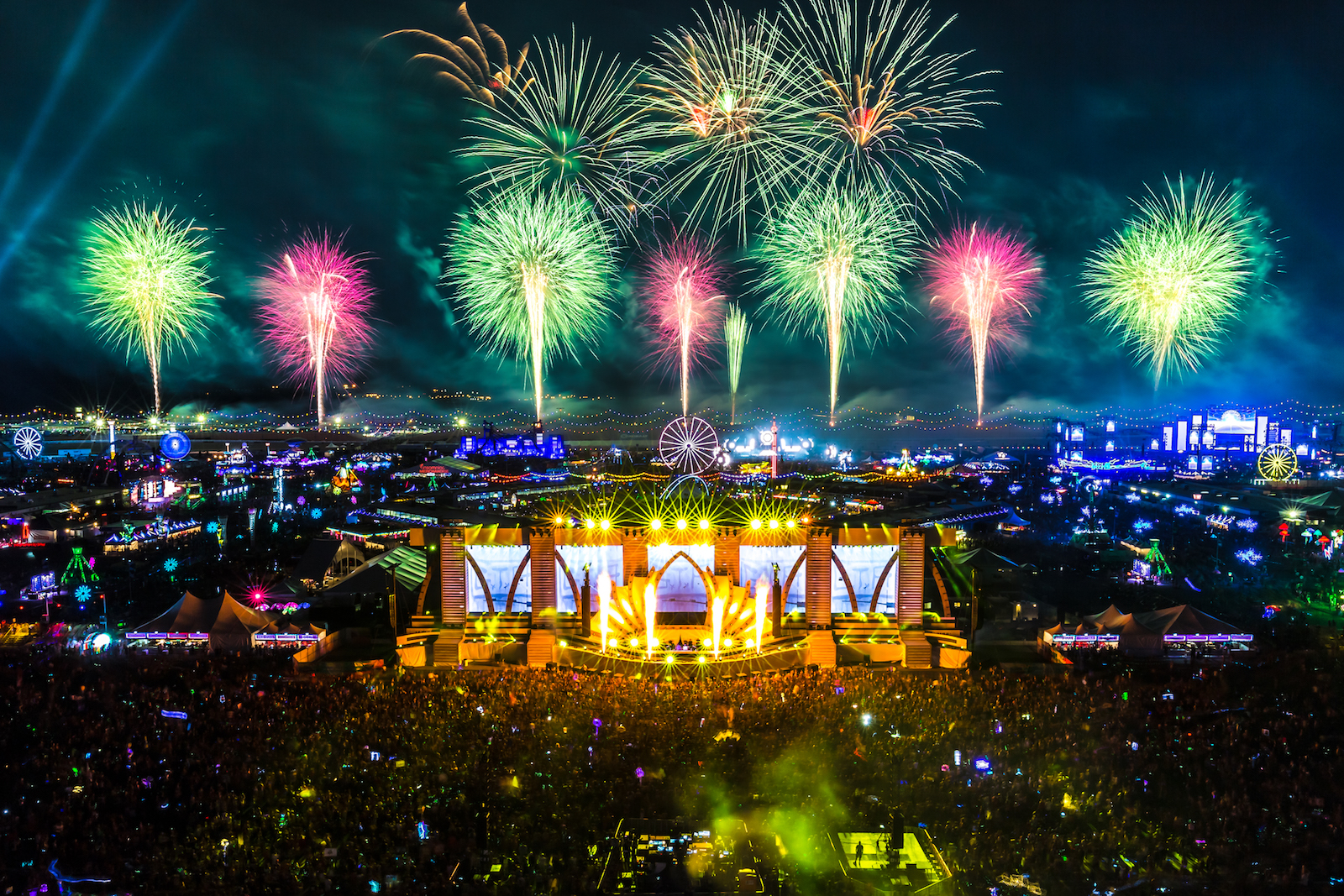 The Nocturnal Times recalls 20 of the biggest and most memorable highlights from EDC Las Vegas 2016 at Las Vegas Motor Speedway
When the time came for Electric Daisy Carnival (EDC) to pick up and move to Las Vegas from its original home in Los Angeles, there were certainly doubts about what the future held for the music festival. Six years later, now EDC Las Vegas is the biggest dance music festival in North America.
Insomniac Events, the producers of the acclaimed larger-than-life carnival, have been "Wide Awake Since 1993" and throw events such as EDC, Nocturnal Wonderland, Dreamstate, Beyond Wonderland, Escape: Psycho Circus, White Wonderland, and more.
From New York to Brasil, Orlando to UK, all roads lead to the annual return home to EDC Las Vegas. Here are 20 highlights from this year's twentieth anniversary edition of Electric Daisy Carnival, EDC 20:
1. The Truly Electric Sky and Fireworks Displays
Did you have the opportunity to experience the fireworks at EDC 20 firsthand? Even if you were't fortunate enough to be part of the magic on the Speedway in person; there's plenty of photos and videos of the grounds illuminated by the breathtaking firework displays. Unmissable and jaw-dropping fireworks displays illuminated the Electric Sky; rivaling the olympics and putting the Macy's 4th of July Fireworks Spectacular to shame. From the Opening Ceremony at the kineticFIELD each night to the two-minute awe-inspiring fireworks spectacular across the Speedway, EDC lit up the Electric Sky even more so during its 20th anniversary than ever before.
2. EDC Memory Lane
Ahead of this year's commemorative edition of EDC, Insomniac revealed a historic video, 'The Road to EDC 20.' At this year's event, EDC's Memory Lane offered festival-goers a glimpse of Electric Daisy Carnival's past. Reliving old installments of the events leading up to EDC 20 with exclusive video footage served as a nostalgic reminder of just how far it's actually come and how much its truly evolved over the course of its history. Did you take a stroll down Memory Lane at EDC Las Vegas 2016?
3. Watching the Sunrise & Sunset Over the Las Vegas Motor Speedway
No matter how old or young you may be, there's nothing quite like experiencing a sunset and sunrise over the Speedway during EDC Las Vegas. The picturesque cotton-candy sky sunsets and alluring sunrises make for an inviting arrival and scenic departure from the festival-grounds each day. When it comes down to it: Who doesn't appreciate a beautiful sunrise and sunset?
[CIRCUIT GROUNDS PHOTO]
4. Newly Designed circuitGROUNDS
A second main stage was this year's circuitGROUNDS at EDC Las Vegas. A mesmerizing monstrosity, this year's upgraded circuitGROUNDS was home to Eric Prydz, Kaskade, Duke Dumont, and Adventure Club on Friday. On Saturday, circuitGROUNDS was home to Armin van Buuren, Above & Beyond, Afrojack, Martin Garrix, Deorro, and more. It was purely uplifting and euphoric on Sunday as the BPMs were high for Dreamstate, which made its EDC Las Vegas debut. Amplified like never before, circuitGROUND illuminated the Speedway as the enormous space connected Headliners from across the globe.
5. Dreamstate's EDC Las Vegas Debut
Following its East Coast debut at Citi Field in May during EDC New York, Dreamstate made its first ever EDC Las Vegas appearance. Dominating the new circuitGROUNDS from start-to-finish on Sunday, carnival-goers were serenaded by Armin van Buuren presents GAIA, Ferry Corsten presents Gouryella, Gareth Emery, Paul Oakenfold, Markus Schulz, Aly & Fila, John Askew, Ben Nicky and more. Dreamstate at EDC LV also marked the significant return of the legendary trance music icon Paul van Dyk following an injury he suffered where he fell off the stage earlier this year.
READ MORE: DREAMSTATE TAKES OVER CIRCUITGROUNDS AT CITI FIELD DURING EDC NEW YORK, MAKES EAST COAST DEBUT AHEAD OF EDC 20
6. Production, Production, Production!
Each stage was a monstrosity; big enough to be considered a main stage. If there's one thing Insomniac's annual carnival isn't lacking, it's production value. Whether frolicking at the kineticFIELD; moving to the sounds of circuitGROUNDS; grooving at the neonGARDEN; bouncing at the bassPOD hosted by Bassrush; or rummaging around wasteLAND presented by Basscon; EDCs stages stole the show this year (aside from the firework shows, production, and daily soundtracks, of course!) From the focus on musical talent, stage design, art installations, firework displayers, laser light shows, pyrotechnics, live entertainers, interactive performers, and much, much more, EDC 20 surpassed all expectations by delivering its biggest installment yet. This one is going to be hard to top!
7. John Legend Joins Tiësto for Surprise Performance
Tiësto brought John Legend to the kineticTEMPLE for a live performance of their newest collaboration, "Summer Nights," which will see its official release via Musical Freedom Records. The two icons previously collaborated on the Grammy Award-winning "All Of Me (Tiësto's Birthday Treatment Mix)."
8. EDC 20 Festival Guide Meets The Insomniac Annual Magazine
Two world's collided this year as Insomniac's annual magazine, The Insomniac, joined forces with the EDC Las Vegas 2016 festival guide. Full of useful information and rich in Electric Daisy Carnival history, The Insomniac meets the EDC 20 Festival Guide is a clever and creative way to keep Headliners in the know with festival happenings as well as informed on the latest news in the world of Insomniac Events. The detailed festival guide includes a list of all rides, art cars and installations, stages and set times by day, and the additional findings at this year's monumental anniversary edition of EDC.
9.  Art Cars & Installations
Among the various art installations and art cars this year at EDC 20 were various surprise sets throughout the weekend. If you were roaming the grounds of Electric Daisy Carnival and were pulled into an art car crowd, chances are it was for a very good reason. Who doesn't want to hear an impromptu 4AM Redux set from Kaskade at 4AM on an art car? Or a surprise psy-trance set from Seven Lions on an art car? The art at EDC Las Vegas is prevalent. From art installations such as EDC Town, Metaheart, Jejunum, Helianthus Enorme, The Daisy Patch, Sky Bridge, Luz, and Bonsi Baum, among others, art is an undeniable piece of EDCs history. This year's art cars included Kalliope, Wide Awake, Boombox, The Beyond Wench, El Pulpo Mecanico, Lady Buggies, and Inky & Clyde.
10. VIP Headliners
With general admission tickets for EDC 20 sold out months before the annual festival, VIP options were available until the big weekend. Consider the perks and amenities that are included with VIP tickets before making an informed decision. With special VIP areas, private bathrooms, your own VIP carnival rides, spacious raised viewing platforms with concessions, and premier parking; there are many reasons to consider going VIP for your next visit to EDC!
11. Two Generations Push the Button During Above & Beyond

Above & Byeond delivered another emotional set at EDC Las Vegas this year where they headlined the circuitGROUNDS on Saturday. Following last year's EDC performance where Bryan Cranston joined the trio on stage to "push the button;" this year's button-pushing moment was yet another one for the books. Two generations were brought on stage to help Above & Beyond push the button during their classic track, "Sun & Moon." What was so special about this year's push the button moment? Imagine pushing the button during Above & Beyond's set at EDC Las Vegas with grandma and grandpa. Check this one out for yourself:
12. Tons of Carnival Rides
There are carnival rides on every corner, spread out throughout the grounds of EDC. Heightening your festival experience, carnival rides available for attendees included multiple Ferris Wheels, Big Splash Log Ride, Zipper, Yo-Yo, Hi Flyer, Super Shot Drop Tower, Hard Rock, Extreme, Rampage, Bumper Cars, Freak Out, Shocker, and many others. Let your inner child roam free at the biggest music festival in North America, Electric Daisy Carnival.
13. kineticTEMPLE
Since first making its debut at EDC Las Vegas in 2011, the kineticFIELD has evolved into  way more than just a simple stage. The design of the stage and its surrounding environment tell a story and create an atmosphere. Transcending each of those in attendance, the kineticFIELD is always full of headliners, unrivaled fireworks,  jaw-dropping pyrotechnics displays, and not to mention, the biggest names in electronic music. The many faces of the kineticFIELD in recent years have boasted unparalleled designs, including: kineticCATHEDRAL (2014); crystalVILLAGE (2015); and this year's kineticTEMPLE (2016). In case you missed it, take a closer look at the kineticTEMPLE. Can you spot the signature Insomniac owl?
14. Skrillex & Marshmello & Tiësto as Marshmello 


Skrillex joined Marshmello on stage during his set at cosmicMEADOW. And let's not forget: Tiësto is actually Marshmello—at least that's what fans were made to believe after he jokingly appeared in all white on stage during Marshmello's set. After all: A little EDC trolling will never hurt anybody.
15. Free Water Refill Stations
Offering more free water refill stations than in years prior, EDC was full of stations where carnival-goers could top off their bottles or CamelBak's. Staying hydrated is one of the key necessities of lasting through the night at EDC. Between the dry desert air, the high temperatures (even at night), the dancing, bouncing around the Speedway, and partying through the night, the importance of staying hydrated at this event (and all events for that matter) cannot be stressed enough! Way to go Insomniac, the added free water refill stations were a big hit!
16. Express Yourself
From the creative outfits to the uniquely designed totems across the grounds all three days, EDC is definitely not lacking expressive attendees. Expressing yourself is one of the greatest parts of the EDC experience, which is why headliners take pride in their gear and attire. Whether PLUR vibes and kandi are your style; or neon colors, tutu's and furry boots; or even just some pasties; EDC welcomes everybody with open arms.
17. Carnival Square
Offering a central location and meeting spot for you and your friends, Carnival Square was a great place to chill out in between sets. Offering screens playing the EDC LIVE stream as well as an illuminated EDC 20 display, among other inclusions, Carnival Square offered food, drinks, rides, games, and plenty of amusement. Ahead of the upcoming November election, attendees were able register to vote in Carnival Square at  the HeadCount booth. Guests could also interact with EDC entertainers, find a general store, free WiFi and charging stations, an info booth, Insomniac merchandise, ATMs, lost & found, lounging and chill areas, and much more. Also located just outside of Carnival Square was the new Vape Village and Vendor Village.
18. Surprise Performances
From John Legend with Tiësto to Soulja Boy by 4B; Skrillex with Marshmello and Kaskade's surprise 4AM Redux set at 4AM on an Art Car; and sets all weekend long on the various Art Cars; EDC was jam packed with surprise performances. But still, some of the best surprise performances of the weekend came from you, the Headliners (such as one of many proposals seen above.) Which ones this weekend were your favorite?
19. Mixmag & Smirnoff Collective's The Lab Smirnoff House Sets
Exclusive sets were delivered in the Smirnoff House, brought to you by Mixmag and Smirnoff. The Lab hosted DJ sets from Martin Solveig (house set), Rusko (jungle set), Ookay, Lane 8, and Billy Kenny B2B Maximono, among others. Watch some sets from The Lab #SmirnoffHouse from EDC Las Vegas 2016, here. https://www.thenocturnaltimes.com/watch-edc-las-vegas-2016-hd-sets-from-edc-live-stream/
20. Love Trumps All
"LOVE AND CARE FOR EACH OTHER," read a massive billboard at one of the entrances of EDC this year. With 140,000 attendees each day, there's no escaping the sense of unity and positive vibes in the air at the Electric Daisy Carnival. If there's one thing that's certain about the carnival-goers, the true headliners, is that love trumps all. Peace, love, unity, and respect are the moral code of EDC, which is why it should come as no surprise that love trumps all. This year, more history was made as the first ever legal same sex marriage at Electric Daisy Carnival was broadcasted live on the EDC LIVE presented by Smirnoff.
For more information on EDC Las Vegas, visit LasVegas.ElectricDaisyCarnival.com.
Details about Insomniac Events can be found at insomniac.com.
Featured image: aLIVE Coverage for Insomniac