Cubicolor Releases Debut Album, 'Brainsugar,' on Anjunadeep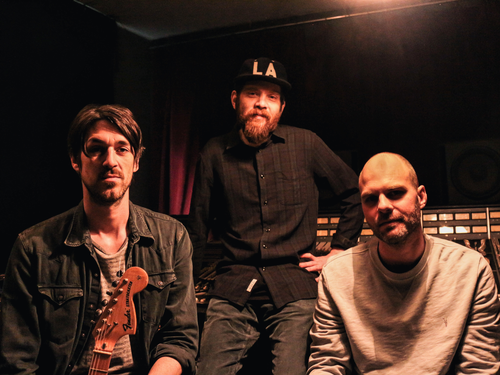 The debut album from Cubicolor, Brainsugar, has been released through Anjunadeep
Electronic music fans are rejoicing today (Fri., Sept. 16) as Cubicolor's highly-anticipated debut album, Brainsugar, has been released through iconic label, Anjunadeep.
What started as a two-person project in 2014 with original members, Dutch producers Ariaan Olieroock and Peter Kriek, Cubicolor now welcomes British vocalist, and former Duologue front-man Tim Digby-Bell into the band as their third member. After releasing two well-received collaborations, "Falling" and "Mirror Play," the guys joined forces to further evolve the Cubicolor.
Deep and inspiring lyrics, unforgettable melodies, and euphoric undertones are what make Brainsugar stand out among the electronic LPs released in 2016. Consisting of eight vocal tracks and four instrumentals, Brainsugar includes the previously released singles "Falling," "Mirror Play," and "Dead End Thrills."
Listen to Cubicolor's new single, "Dead End Thrills," taken from Brainsugar:

Brainsugar track listing:
1.   Intro
2.   Mirror Play
3.   Dead End Thrills
4.   Fictionalise
5.   Brainsugar
6.   Falling
7.   Nights In Bloom
8.   Machine Keys
9.   Black Vines
10. Inscape
11. Diver
12. One False Step
Brainsugar is available on iTunes, HERE.
Cubicolor just wrapped up a North American tour, which stopped in Miami (Treehouse), Chicago (Sound Bar), Austin (Ethics), Philadelphia (Rumor), and Denver (Afterhours Anonymous). They also made festival stops in New York City (Electric Zoo) and San Bernardino, CA (Nocturnal Wonderland).
Stream Brainsugar on Spotify, below:

For more information, visit cubicolormusic.com. Follow Cubicolor on Facebook and Twitter.
Anjunadeep is one of the most sought-after indie labels, which now boasts seven artist album releases. Past LPs that have been released on the Anjunadeep label include Lane 8 and Dusky. The famed imprint is responsible for more than 250 single releases, multiple iTunes #1 albums and compilations, and several worldwide tours.
Stay current with Anjunadeep releases through anjunadeep.com or on Facebook and Twitter.