Above & Beyond Serenaded MGM Grand's Wet Republic With Uplifting EDC Week Performance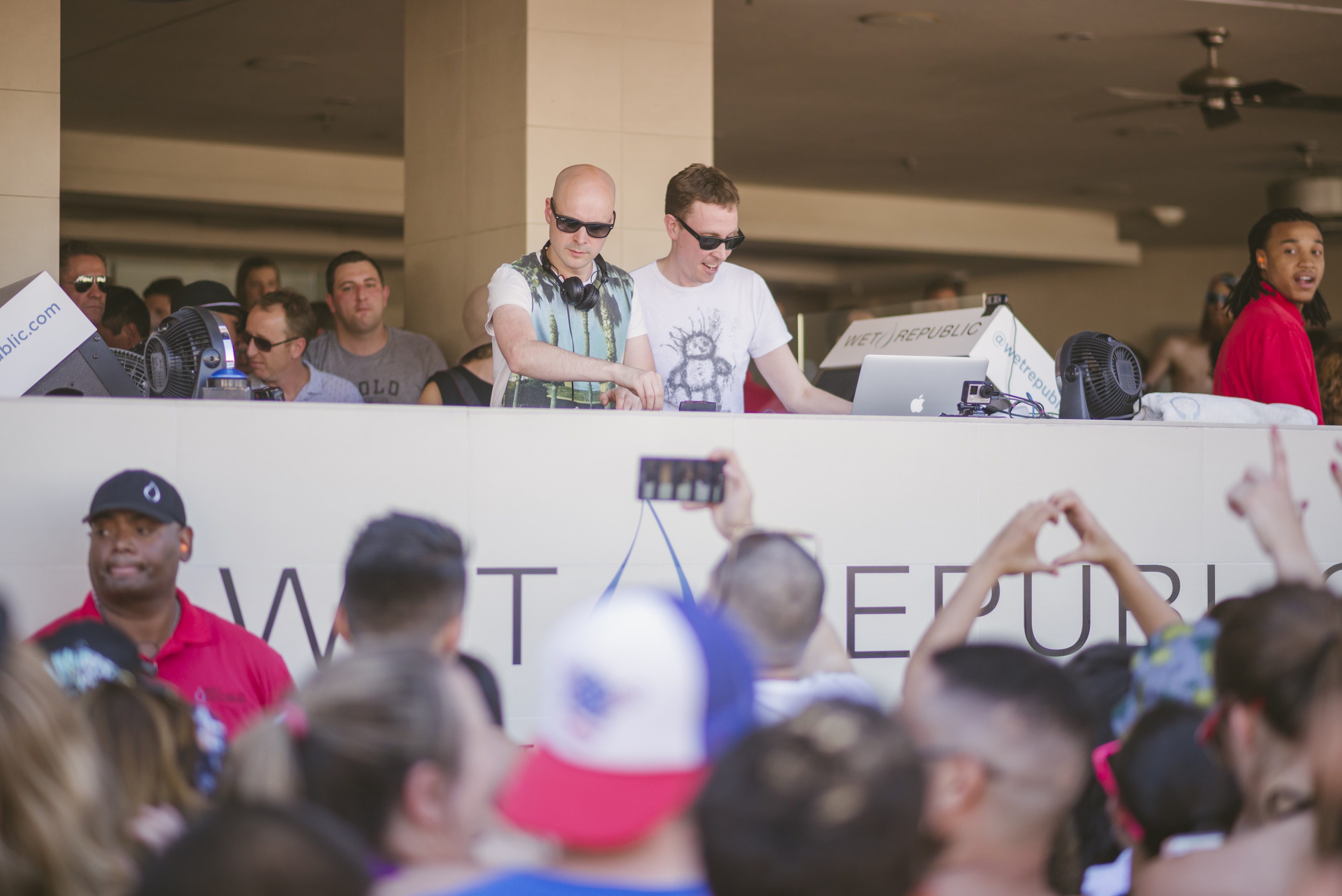 Above & Beyond, a British trio whose name is synonymous with uplifting and euphoric dance music, serenaded the partygoers of MGM Grand Hotel & Casino's Wet Republic this past Thursday, June 18th. The Wet Republic Ultra Pool is an alluring 53,000 sq. foot venue, which houses an array of bungalows, daybeds, hot tubs and a massive pool overlooking the coveted DJ booth. Filled with sunshine, bikinis and dance music fans, Wet Republic provided a picturesque atmosphere for an inspiring daytime Group Therapy session.
Shortly after 3pm, Jono Grant and Paavo Siljamäki took their place in the booth and began to enchant listeners with a set of beats that combined an array of old and new Ajunabeat gems. Hands were in the air and the pool was filled to the brim, as the magical sounds of Above & Beyond began to blare over the pristine sound system. Some memorable moments from the beginning of the set included: "We're All We Need (feat. Zoe Johnston)," the title track of the group's fifth studio album, Eric Prydz's "Generate," a throwback to earlier A&B days with Oceanlab's "Sirens of the Sea," Andrew Bayer's "England," and Above & Beyond's "Sticky Fingers (feat. Alex Vargas)," which ensued a colossal crowd sing along.
Throughout the musical journey Above and Beyond stayed connected with their fans by posting positive and insightful messages on two enormous L.E.D screens. Telling fans to "live for today" and the "past is the past," the guys continued to uplift the spirits of the Ajuna family. They also shared messages of their admiration for fans and encouraged love among one another.
Their set progressed with new album singles "Peace Of Mind (feat. Zoe Johnston)" and "All Over The World (feat. Alex Vargas)." Additionally the group included Andrew Bayer's "Super Human," "Sun and Moon (feat. Richard Bedford)," a mashup of "Walter White" with Mat Zo's "Pyramid Scheme," "Hello," Andrew Bayer's Mash-up of Delerium featuring Sarah McLachlan "Silence" with Tom Starr "Rocket," and the Above and Beyond Club Mix of "Counting Down The Days (feat. Emma Hayes)."
Just when fans thought the show was over, Above & Beyond encored with the Gabriel & Dresden remix of Motorcycle's "As The Rush Comes." A classic and uplifting trance anthem, this was the perfect finale to captivate the Wet Republic attendees.
Aside from their uplifting performance at Wet Republic, the group also took the fans of MGM Grand's Hakkasan Las Vegas Nightclub on a musical journey on Sunday, June 21st. Read our review of Above & Beyond at Hakkasan Nightclub, here.
Above and Beyond also headlined the kineticFIELD main stage of the fifth annual Electric Daisy Carnival in Las Vegas. Their performance became one of the most talked about, as their "favorite Chemistry teacher," Bryan Cranston came on stage to push the button during their homage to his Breaking Bad character, "Walter White." Watch the video here:

It seems as though there is no slowing down for the trio who released their fifth studio album, "We Are All We Need" earlier this year and are set to celebrate the 150th episode of their radio show, "Above and Beyond Group Therapy," with a massive show in Sydney, Australia on September 26, 2015. For more information on future Above and Beyond shows visit, http://www.aboveandbeyond.nu/tour.
Photo Credit: Aaron Garcia