Win 2 Tickets For Gabriel & Dresden Classics Only at Cielo NYC on July 24 From The Nocturnal Times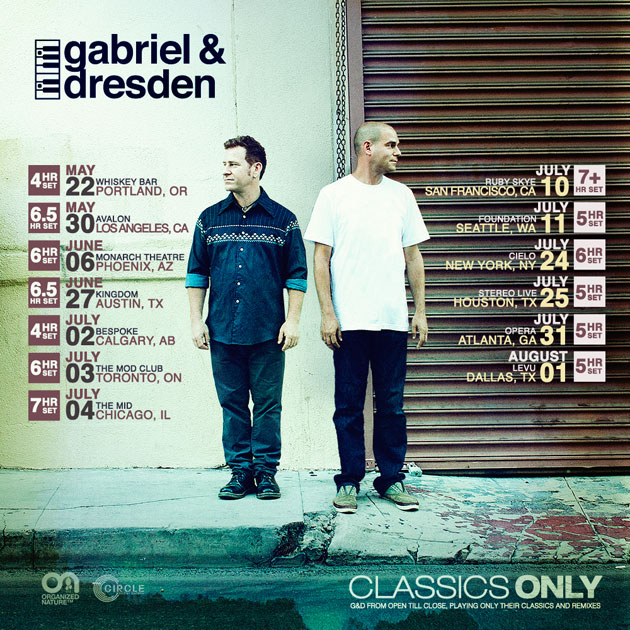 Legendary dance music duo Gabriel & Dresden are embarking on a Classics Only Tour, taking fans back in time for a musical journey strictly encompassing their own discography.
Digging in the crates, Dave Dresden and Josh Gabriel are bringing along 27 gigabytes of music for the 13 tour stops where they will showcase G&D productions and remixes from open to close.
Following the success of their Classics Only showcase during the Anjunabeats Pool Party at The Raleigh Hotel during Miami Music Week in March, the iconic pair decided to give the fans what they want—G&D classics.
The electronic dance music pioneers will concentrate on their hits such as "Tracking Treasure Down"and "Dust In The Wind" feat. Molly Bancroft; their remixes of Andain's "Beautiful Things," "Promises," and "Turn Up The Sound;" Motorcycle productions "As The Rush Comes," "Around You," and Imagination; and classic album productions "Eleven," "Mass Repeat," "Bloom," and "Arcadia," among others.
Dave and Josh have also provided remixes for New Order, Way Out West, Tiësto, Paul Oakenfold, Depeche Mode, Britney Spears, Sarah McLachlan, Deborah Cox, Jewel, Duncan Sheik, Annie Lennox, Above & Beyond, Dido, Faithless, and The Killers, among a slew other others.
The Nocturnal Times has partnered with Gabriel & Dresden to offer 2 free tickets to the Classics Only Tour at Cielo NYC on July 24, 2015. Follow the simple steps below to enter to win a pair of tickets:
*Contest ends on July 22, 2015 at 1 p.m. EST.
GABRIEL & DRESDEN'S CLASSICS TOUR DATES
5/16 – Whiskey Bar – Portland, OR
5/30 – Avalon – Los Angeles, CA
6/06 – Monarch Theatre – Phoenix, AZ
6/27 – Kingdom – Austin, TX
7/2 – Bespoke – Calgary, AB
7/3 – The Mod Club – Toronto, ON
7/4 – The Mid – Chicago, IL
7/10 – Ruby Skye -San Francisco, CA
7/11 – Foundation – Seattle, WA
7/24 – Cielo – New York, NY
7/25 – Stereo Live – Houston, TX
7/31 – Opera – Atlanta, GA
8/1 – LeVu – Dallas, TX