Win Tickets for Myon & Shane 54 at Mur.Mur on Oct. 25 & Overnight Stay at Borgata Atlantic City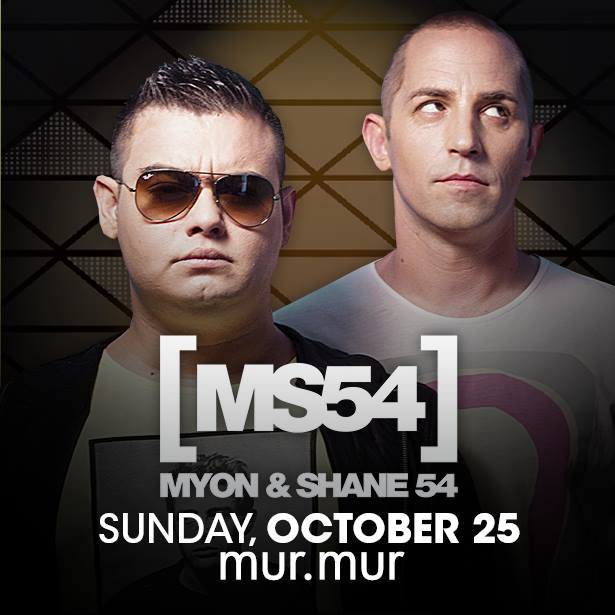 Márió Égető (Myon) and Előd Császár (Shane 54) have been dominating the electronic dance music (EDM) scene since the inauguration of Myon & Shane 54 in 2008.
The duo will provide a memorable DJ set at the chic and intimate Mur.Mur nightclub in Atlantic City on Sunday, October 25, 2015.
Mur.Mur—which has become familiar to many for its notorious Mur.Mur Mondays series—will close its doors later this year as The Borgata makes way for a larger nightclub. Earlier this year, the historic AC hotel and casino unveiled the new outdoor Borgata Festival Park, which has a capacity of nearly 5,000.
With releases on major dance music labels such as Armin van Buuren's Armada Music, Above & Beyond's Anjunabeats, and Black Hole Recordings, among others, Myon & Shane 54 have become familiar to many for their signature sound and extensive discography.
Additionally, Myon & Shane are mash-up masters, having released a plethora of mash-ups for some of the biggest names in music, including the wildly popular fusion of OceanLab's "On A Good Day" with Gareth Emery's "Metropolis" for the birth of "On A Metropolis Day."
From Myon & Shane's Summer of Love remixes to their Monster mixes, the versatile pair is preparing to celebrate the 300th episode of their famed International Departures podcast.
For more information about Myon & Shane 54 visit MS54.com.
Enter to Win Tickets for Myon & Shane 54 at Mur.Mur on Oct. 25 With an Overnight Stay at The Borgata from The Nocturnal Times:

*Contest ends Friday, October 23 at 2 pm EST.
Tickets for Myon & Shane 54 at Mur.Mur are available HERE.
Information about The Borgata Hotel Casino & Spa, including a listing of upcoming events at Mur.Mur, can be found at theborgata.com.