Win a Copy of "Trance Nation Mixed by Simon Patterson," Out Now on Ministry Of Sound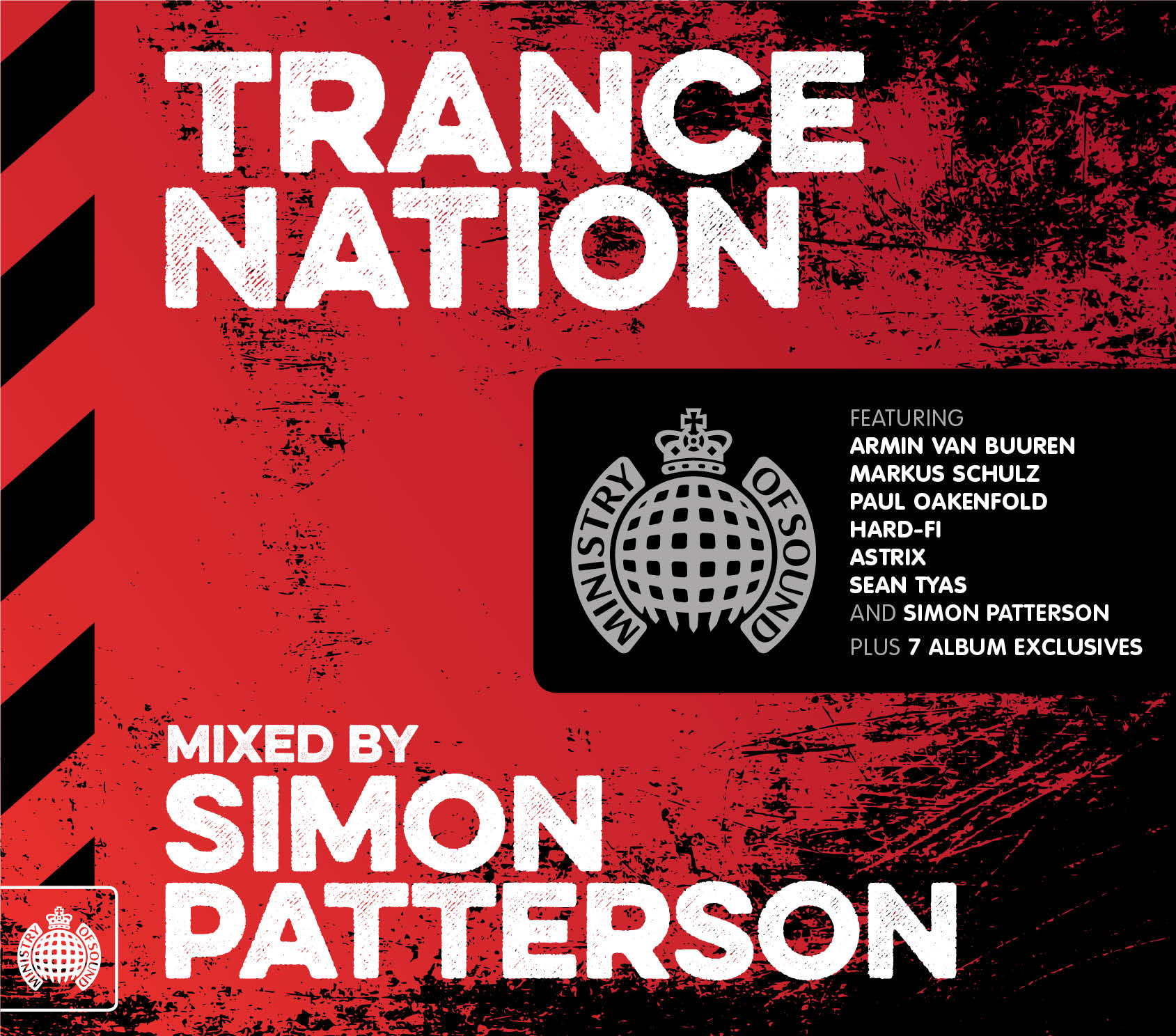 Trance lovers unite as "Trance Nation" has just been released on Ministry of Sound. On April 5, 2015, the highly anticipated latest installment of "Trance Nation" was released incorporating some of the latest and greatest productions of the year.
This year, Ministry is proud to present the iconic trance master Simon Patterson to serve as tastemaker of the renowned compilation series. Past years have featured Above & Beyond, Lange & Andy Moor, Ferry Corsten, Cosmic Gate & Rank 1, and last year with Future Sound of Egypt bosses Aly & Fila.
"Trance Nation Mixed By Simon Patterson" features 36 euphorically uplifting tracks personally chosen and seamlessly mixed by Patterson. Included in the three dozen productions are 7 global exclusives. Simon also includes a number of new productions and remixes of his own.
The double-disc includes releases from labels including: New School Recordings, Enhanced, Outburst Records, Perfecto Fluoro, Vandit Records, Armada Music, Lange Recordings, Black Hole Recordings, Universal, and more.
"What I'd like people to experience from this album is the kind of journey you would get when I play an extended six or seven hour set at my 'Open Up' tour nights", says Patterson. "As it begins, you get a little bit of tone through, which then expands and expands into a mass of sound, when the lid is finally cracked wide. This album is an insight into my broad electronic musical tastes and is a progressive build in the traditional (and very real) sense of the word."
Support of the tracks featured on "Trance Nation" this year has already begun and with festival season in full swing, fans can prepare to brace themselves for a trance-filled summer.
Purchase via iTunes here.
CD1
01: Tyler Michaud – Life In The Breakdown Lane [New School Recordings]
02: Kyfu – Future Past [Enhanced]
03: James Harcourt – Nutation [Twisted Frequency Recordings]
04: Alistair Albrecht ft Matt Heanes – Once More (Vocal Mix) [Muskox Records]
05: Pete K – Beyond [Intricate Records]
06: Arjonas – Symbols [Uplifting Music]
07: Jamie Walker – Rojo [Outburst Records]
08: Hard Fi – Fire In The House (Simon Patterson Remix) [Warners]
09: Alex Di Stefano – I've Got The Power [Outburst Records]
10:Future Disciple – The Mayans Are Coming Back [Perfecto Fluoro]
11: Harper & Green – Lost [Perfecto Records]
12: Extravagance SL – Tama [Vandit Records]
13: Paul Oakenfold ft. Tiff Lacey – Hypnotized (Markus Schulz Remix) (Perfecto)
14: Simon Patterson ft. Sarah Howells – Dissolve [Armada Music)
15: Tempo Giusto – Benzin [Lange Recordings]
16: Johnny Yono – Poison Whispers [Perfecto Records]
17: Sean Tyas – Da Doo Da Dah [Black Hole]
18: Armin van Buuren – Ping Pong (Simon Patterson Remix) [Universal]
CD2
01: Gaudium – Wrong Theory [Iboga Records]
02: Angry Man & Harmonic Rush – Purple Haze [Perfecto Records]
03: Sonic Element – Evolve [Borderline]
04: Greg Downey & Bo Bruce – These Hands I Hold [Perfecto]
05: Runa vs. In Progress – Saam (Under This Remix) [Expand Records]
06: Reverse – Ultima [Komplex Sounds]
07: Astrix – Sapana [Fine Play]
08: Magnus – Neon Division [Exclusive]
09: Simon Patterson – Drop The Bass [Exclusive]
10: Angry Man – Night Crawler [Perfecto Fluoro]
11: Eddie Bitar vs Fady & Mina – Shamiram (Extended Mix) [Exclusive]
12: Harmonic Rush – The Acid Test [Perfecto Records]
13: Simon Bostock ft. Becca White – When We Collide (Club Mix) [Monster]
14: XGenic & Proyal – Ganges [Exclusive]
15: Simon Patterson – Whites of Her Eyes [Perfecto Fluoro]
16: Simon Patterson Ft. Lucy Pullin – The One [Armada Music]
17: Simon Patterson & Matt Adey – Time Stood Still [Armada]
18: Oleg Byonic – Lyra (Green Morning)
How to Enter: 
1. Tweet the following:
"I entered to win a copy of @SIPatterson "Trance Nation" out now on @MinistryOfSound via @NocturnalTimes here: http://www.tinyurl.com/SITranceTNT"
2. Email contest@thenocturnaltimes.com with your FULL NAME, MAILING ADDRESS, CONTACT EMAIL with TITLE: TRANCE NATION.
*Contest ends Friday, April 17 at 1 p.m. EST.