ULTRA Europe Releases Phase 2 Lineup For Top Summer Destination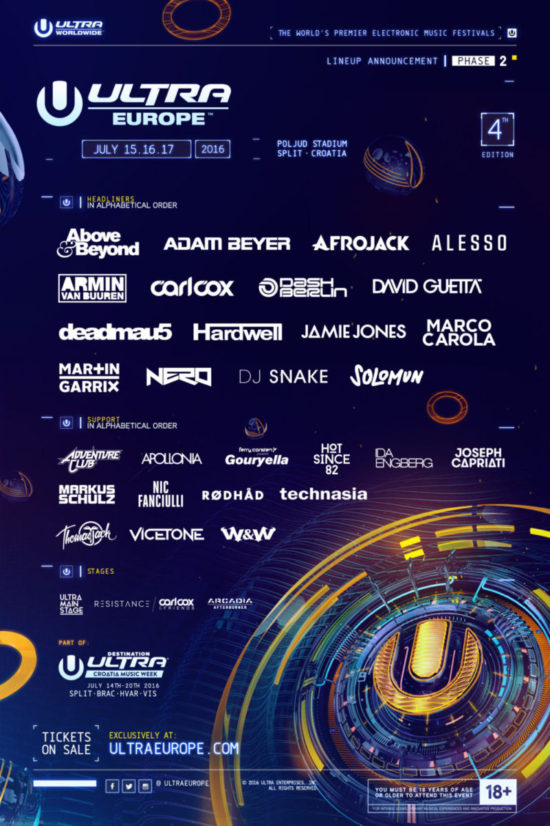 With the latest phase 2 announcement from ULTRA Europe, this easily ranks in one of the spots to party for 2016
Europe always has and always will be the destination center for any global dance music fan during the traditional summer months. ULTRA is one of the most well known brands and festivals in the world, when you bring these two together it creates an instant hot spot for this upcoming July 2016. For the fourth year in a row, ULTRA Europe is taking over and running its operation out of Split, Croatia. The coastal town rivals even the biggest names Europe has to offer in regards to an ideal beach setting, located right on the Adriatic Sea.
ULTRA Europe recently revealed its Phase Two lineup, three of the artists being big name headliners making their ULTRA Europe debuts in 2016. After making quite the impact on ULTRA Miami this year, ULTRA Europe has asked the head of Mau5trap, deadmau5, to come aboard. Nero and Rødhåd both join the festival with the newest artist additions as well. Other European star producers who will be in attendance are Armin van Buuren, Dash Berlin, and Carl Cox. Notable supporting acts include Adventure Club, Thomas Jack, and a special Gouryella performance. It shouldn't be any surprise that an ULTRA Music festival would bring you the best collective set of artists at this special coastal summer festival.
ULTRA Europe is the featured main event that takes place during July 15-17, but is part of the much bigger celebrated Destination ULTRA- Croatia Music Week put on by ULTRA. An opening party is being held on Thursday July 14 at the Giraffe Palm Beach House, located directly on the Adriatic Sea beach. The RESISTANCE team will curate the party which will be headlined by UMEK. Following the ULTRA Europe main event, there will then be an exclusive ULTRA Yacht Regatta Party to be held at the dreamy island of Brač. A beach party at the Hotel Amfora Grand Beach Resort will be held on Tuesday July 19 with Don Diablo and Robin Schulz headlining the event. Then to wrap off the week long music and travel celebration, RESISTANCE puts on one last party July 20.
With so much going on for Destination ULTRA- Croatia Music Week, don't miss the main even that is ULTRA Europe. Set to take place in the Poljud Stadium this July 15, 16, and 17.
Go directly to the ULTRA Europe webpage for assistance in travel accommodations, artist information, and tickets, HERE.