Tommy Trash Takes Over Musical Freedom Radio Vol. 19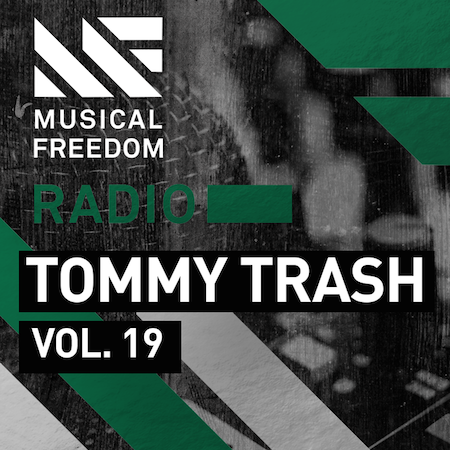 Encouraging artists to further explore their own "musical freedom" is what sets Musical Freedom Radio apart from the rest. This time—the iconic label called on Tommy Trash for a one-hour set, where he exits his comfort zone to provide listeners with a set that he wouldn't normally play live.
The initiative gives its guests the opportunity to step outside the box of what they might typically play live. Earlier this year, Oliver Heldens mixed a classic disco set, while Sunnery James & Ryan Marciano took on techno and Carnage mixed 60 minutes of drum & bass.
Musical Freedom Episode 19 boasts a set from Australian DJ/producer Tommy Trash who chose to blend some of his recently released music along with some classic tracks from the Musical Freedom catalogue.
Tommy exploded onto the electronic dance music (EDM) scene in 2007 and has since worked alongside some of the biggest names in the industry. Tommy's discography boasts a notable collaboration with Sebastian Ingrosso and John Martin ("Reload"), and an instant-classic remix of the popular deadmau5 release "The Veldt" feat. Chris James.
"When Musical Freedom asked me to do a guest mix for their radio show, I immediately thought it would be the perfect opportunity for a throwback mix with classic tracks from the label and from myself. I took some of my favorites from back when I released 'Future Folk' and my remix of 'Slumber' along with some more recent tracks that have been highlights in my sets. Hope you guys like it!!" reveals Tommy.
Tracklist:
Tiga – Bugatti (Tommy Trash Remix)
Bingo Players – Curiosity (Henry Fong Remix)
John Dahlback – Raven (Original Mix)
Hard Rock Sofa & Skidka – Let Me Hear You Scream (Amersy Remix)
Tommy Trash & Burns – About U (Original Mix)
Sidney Samson – Trojan (Original Mix) vs Martin Garrix – Torrent (Original Mix) (Tommy Trash Edit)
Tiesto, KSHMR ft. Vassy – Secrets (Don Diablos VIP Mix)
Evangelos x Sandro – Dope Haus (Original Mix)
The Sloppy 5th's – Kick That Snail (Original Mix)
Danny Avila – Tronco (Original Mix)
Green Velvet – Shake And Pop (Tommy Trash Remix)
Steve Forte Rio feat. Lindsey Ray – Slumber (Tommy Trash Remix)
Tommy Trash – Future Folk (Original Mix)
Dada Life – Unleash The F**king Dada (Original Mix)
Kryder & Dave Winnel – Apache (Original Mix)
Tommy Trash feat. JHart – Wake The Giant (Original Mix)
Nicky Romero – Generation 303 (Original Mix)
Sebastian Ingrosso & Tommy Trash – Reload (Extended Mix)