The Meadows Music & Arts Festival at Citi Field Brings Kanye West, The Weeknd, Kygo, Chromeo, Zhu to NYC in October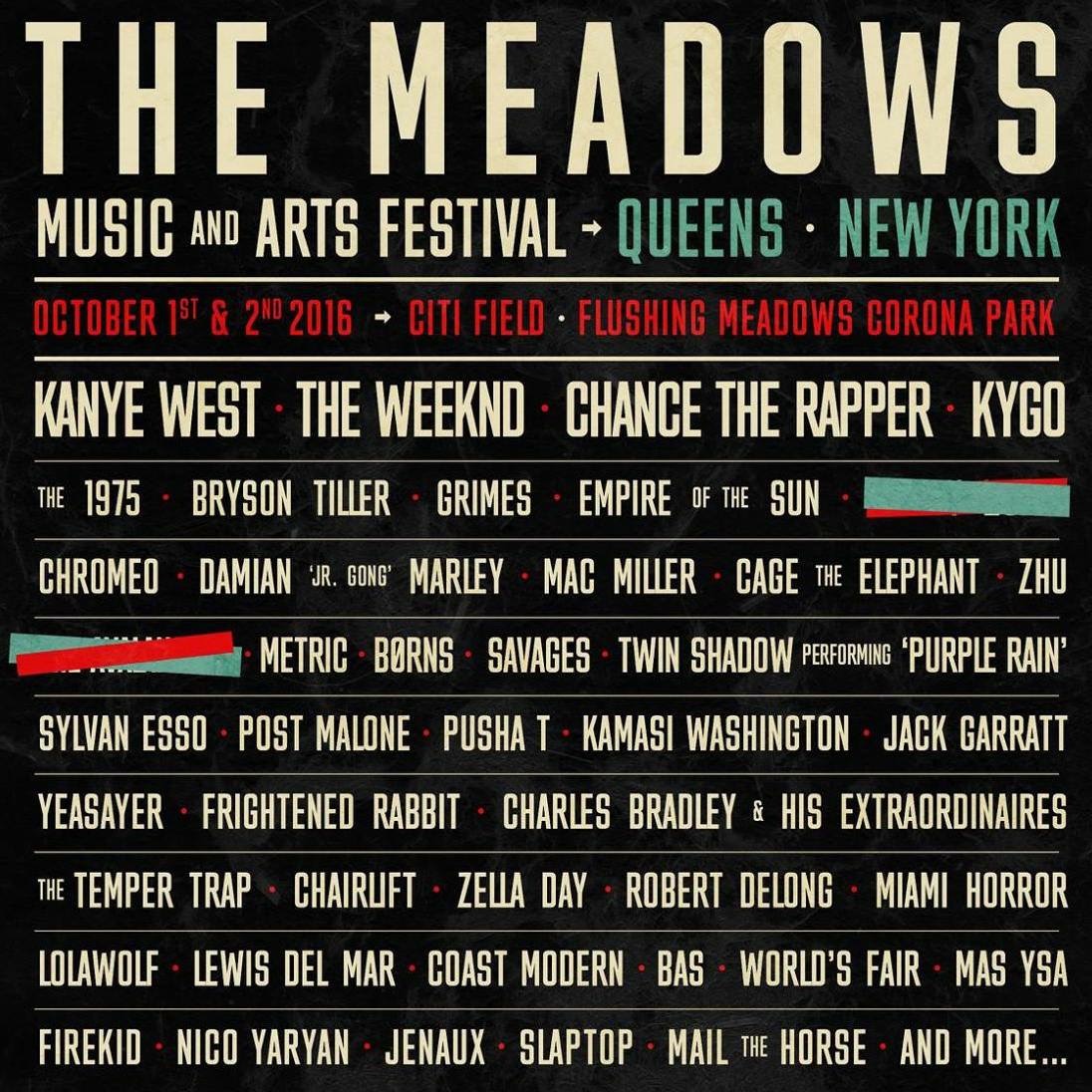 The Meadows Music & Arts Festival brings all-star music roster to Citi Field for inaugural New York event this year
Founders Entertainment NYC is thrilled to announce the inaugural edition of The Meadows Music and Arts Festival, to be held this coming October 1st and 2nd at the Citi Field complex in Flushing Meadows Corona Park in Queens, New York. Brought to us by the creators of the esteemed Governors Ball Music Festival, The Meadows Music and Arts Festival will feature the very best in hip hop, electronic, and indie, as well as four stages, a carefully curated food program, artisan cocktail offerings, graffiti art installations, and more.
Taking place in the heart of the beautiful NYC fall season, The Meadows is set to become a festival experience that stands out, due to the time of year, the venue, and the talent. With amphitheater shows slowing down and summer festivals at an end, The Meadows will be one of the final opportunities music lovers will be able to enjoy the beauty of an outdoor event before winter arrives. Citi Field complex is both multi-faceted and convenient, as it is easily accessible to most New Yorkers in the Five Boroughs and Long Island with the 7 Train and Long Island Rail Road servicing the park.
Despite being an inaugural event, The Meadows boasts over 40 incredibly eclectic artists across four stages that were hand picked for both days to create a cohesive energy that runs throughout the entirety of the festival. Artists include massive and hard-to-see acts such as Kanye West, Kygo, and The Weeknd, as well as a large sum of acts that have graced the stages of multiple festivals over the year, including Chance the Rapper, Grimes, Bryson Tiller, The 1975, Empire of the Sun, Chromeo, Zhu, and plenty more, including the announcement of two more surprise acts. The performance from The Weeknd will mark his only NYC area show in 2016, and the booking of Kanye West was born out of his weather-related cancelled appearance at Governors Ball 2016. Founders Entertainment saw a booking for West at the new The Meadows Music and Arts Festival as a way to follow through on bringing him to New York City for his only North American festival appearance in 2016.
Along with the diverse and carefully selected music lineup, a major element to The Meadows will be the careful curation of a wide selection of food vendors and craft cocktails brought to festival attendees by some of the best chefs and mixologists around. According to The Meadows' website, the festival promises to "embrace the amazing culinary diversity of Queens and New York City in general, following an attention to detail and immaculate taste similar to Governors Ball's stellar food line up", which in 2016 won praise and attention from Food and Wine, New York Daily News, AM New York, In Style, and many others for what GQ described as the "culinary glory" found at the festival. The Meadows Music and Arts Festival will further expand upon this element of the festival experience, while adding a selection of craft cocktails to the menu in celebration of a city with a bar scene that helped bring back the art of bar tending. The food and cocktail lineup has yet to be announced.
Another important aspect of the launch of The Meadows is civic engagement with the Queens communities surrounding the event. Founders Entertainment is a proud partner of Metropolitan Hospitality, and has a long record of giving back to the neighborhoods its festivals and events call home by working with and donating to local organizations, nonprofits, and community groups. In 2015 alone, Governors Ball Music Festival generated hundreds of jobs and millions of dollars in wages and economic activity for NYC. Through similar partnerships in Queens, Founders Entertainment is expected to bring the same great economic impact to benefit the Flushing Meadows Corona Park area and greater NYC through the curation of The Meadows.
"Launching the Meadows Festival in Queens this fall with an incredible lineup of music, art, food and culture is a dream come true. As a native New Yorker I grew up in awe of the innovative spirit surrounding Flushing Meadows-Corona Park. With this event we can shine a spotlight once again on this iconic neighborhood and bring with it the economic benefits, strong community partnerships and local hiring for which Founders Entertainment is known. We are so grateful to the de Blasio Administration and Metropolitan Hospitality for giving us this opportunity and to all the artists who have enthusiastically agreed to take this inaugural ride with us." – Tom Russell (Partner at Founders Entertainment)
Festival tickets are on sale now, with 2-day general admission starting at $230.VIP tickets are available starting at $495 and include access to VIP lounges located at each of the four stages which include close and comfortable viewing experiences, comfortable seating, phone charging stations, and special VIP bars serving beer, wine, and spirits. Super VIP is also available for $1600, and includes all VIP amenities, as well as on-site concierge, access to stage viewing for participating acts, access to front-of-house viewing areas, access to a backstage bar serving artists, sponsors, and entertainment industry personnel, three food vendor tokens for both days of the festival, and a Meadows merchandise pack.Payment plans are available for all ticket options. All ticketing information can be found HERE.
With several successful sold out years of Governors Ball under their belts, Founders Entertainment is looking forward to bringing festival fans throughout North America and around the world a unique new live music experience in The Meadows Music and Arts Festival.