Elements Music & Arts Festival 2016 Returns To Brooklyn This August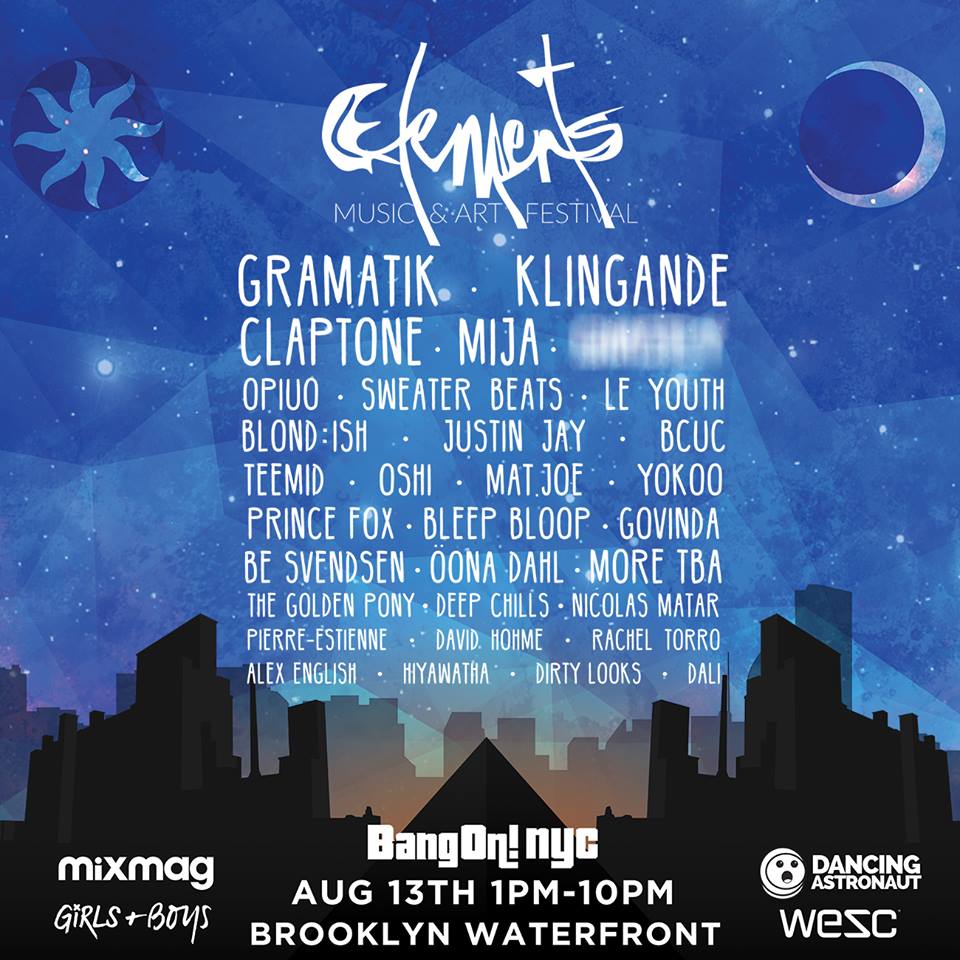 BangOn!NYC brings you another edition of the Elements Music & Arts Festival this August 13th on the Brooklyn Waterfront
The acclaimed Elements Music & Arts Festival 2016 is back in Brooklyn to throw another top summer city festival. There are countless event organizers within New York City, however BangOn!NYC has always stood out in one of the most competitive scenes in the world. They've thrown remarkable events such as their New Year's Day Parties, and had their very own curated stage during this year's Mysteryland USA. This upcoming August, they're bringing another wholesome daytime festival to city-goers and travelers alike. Elements Music & Arts Festival 2016 is not just an average festival, as BangOn!NYC caters to a variety of tastes and needs with this eclectic celebration. Stationed right by the waterfront, this festival will be the perfect summer cap in the city.
With the fresh original brand Elements Music & Arts Festival 2016 has built, it's only right the artist lineup had to match. This year's headline acts include Gramatik, Klingande, Mija; with support from Sweater Beats, Prince Fox, Deep Chills, Justin Jay and many more. There will be nine hours of music spinning and multiple stages showcasing over 30 acts. BangOn!NYC also offers much more than great musical performances; they will have four different themed stages planned, intricate art installations, circus acts, fashionable vendors, and hand picked gourmet grub all within the tiny world found at Elements Music & Arts Festival 2016 this August 13. Show up to the secret destination promptly at 1pm to be one of the first to get a peep at this year's boutique BangOn!NYC event.
Just recently an official Elements after party was announced, set to take place at Analog BKNY. The affair will run from 11pm-5am, with combination tickets being offered at a discounted price. The headline act to perform will be a jumble of surprise Elements DJs playing B2B. Any earnest music lover will surely appreciate the late night soiree. An after hours event brought to you by Elements in Brooklyn, with surprise B2B sets, will bring you the ultimate intimate experience.
More event information and tickets can be purchased HERE.
For more information on Elements Music & Arts Festival 2016 go to their Facebook, Twitter, and Instagram.