The Elusive GRAVEDGR Goes Hard Techno on Newest Mix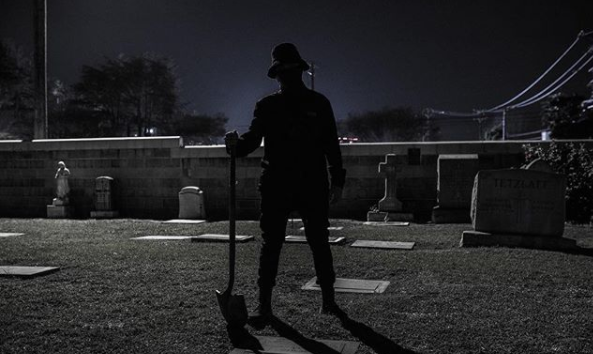 Not many things are know about the elusive figure called GRAVEDGR. Apart from the things he shared with us in this interview, there are still many mysteries surrounding this talented artist. With his insanely heavy and dark outfit he has graced many festivals and clubs these past couple of years. Now to kick off 2023 he just dropped his Hard Techno mixtape fittingly called Walking Through My Cemetery. This already marks the 4th installment this series.
"I hope you guys enjoy this new mini mix of my hard techno edits. I know it's not my typical "Rawtrap" but trust me, just give the mix a listen. You won't regret this new side of GRAVEDGR" – GRAVEDGR
With the fourth edition of Walking Through My Cemetery, GRAVEDGR shows us his hard techno side. Deviating from his usual Rawtrap style, for this edition he reworked 6 massive stompers and mixed them all together in a fantastic blend of pumping basslines, monotone voices and all the other sweet Techno ingredients. GRAVEDGR once again showcasing why is a true heavyweight how easy he is able to rework "Drugs From Amsterdam" or "Kamikaze" in to some fantastic Hard Techno edits but also staying very familiar to his Rawtrap roots. It seems GRAVEDGR might be more versatile that one might assume. One can only conclude that this is one fiery playlist.
Track List:
BUCK (GRAVEDGR HARD TECHNO VIP)
HEAVE (GRAVEDGR HARD TECHNO EDIT)
DRUGS FROM AMSTERDAM (GRAVEDGR & MIR HARD TECHNO EDIT)
MET HER AT THE LOVE PARADE (GRAVEDGR HARD TECHNO EDIT)
LIKE A SLUT (GRAVEDGR HARD TECHNO EDIT)
KAMIKAZE (GRAVEDGR HARD TECHNO VIP)