Tchami to Bring Prophecy Tour Across North America in 2017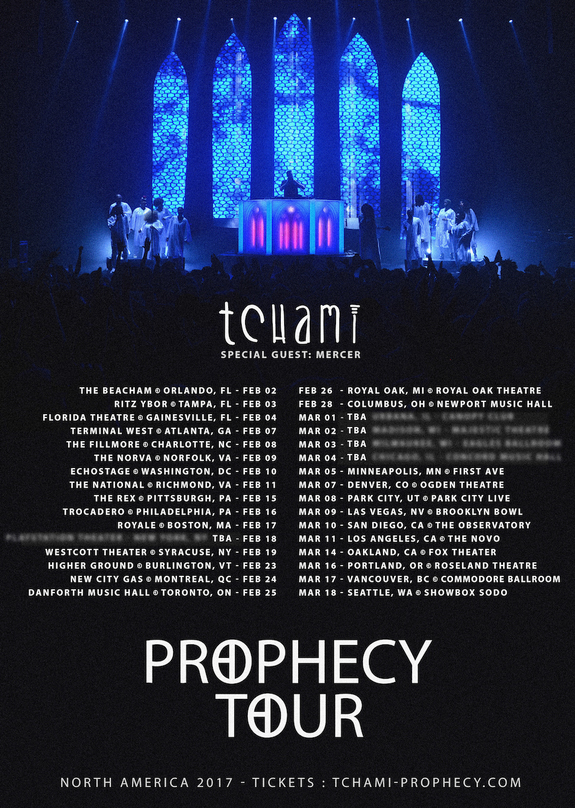 Tchami will be taking off for an extended tour featuring special guests and more with his latest Prophecy Tour
The Confession Label head, Tchami, has had quite the year including one of the year's best mixes with his November Essential Mix. After building up over a million listens on the original "Prophecy" single, Tchami's most recent collaboration with the secretive Malaa, Tchami has released a five-track remix pack to bring you some new flavor to the French House certified tune. Between managing one of the freshest floor thumping house labels around, releasing original material and remixes alike, Tchami has decided to "bless" the fans in the flesh with a full-fledged Prophecy Tour.
For the Prophecy Tour Tchami will be enlisting the help of fellow French DJ and Producer Mercer. Together the Confession labelmates will be traveling across all of North America through the months of February and March with 32 stops in store. To add to the excitement Tchami will also be bringing along a whole other element to the tour. This year during his Coachella set he debuted a live choir to go alongside his performance. A totally unprecedented move that takes "Live" sets to another level, the live choir will now be joining the Prophecy Tour for various stops. To add to the Prophecy vibe, Tchami will also be bringing his Church Stage for all 32 stops. With so many dates announced and a chance at seeing such a unique performance from the French phenoms, there surely is no excuse as to why you should be missing this one.
To catch just a glimpse of what's to come, view the Tchami Prophecy Tour trailer below:
Be sure to purchase your tickets early to the Tchami and Mercer Prophecy Tour HERE.
For more information on all things Confession, Prophecy, and Tchami follow him on his Twitter, Facebook, and Instagram.