The King Is Back: Snails Releases Debut Album, 'The Shell'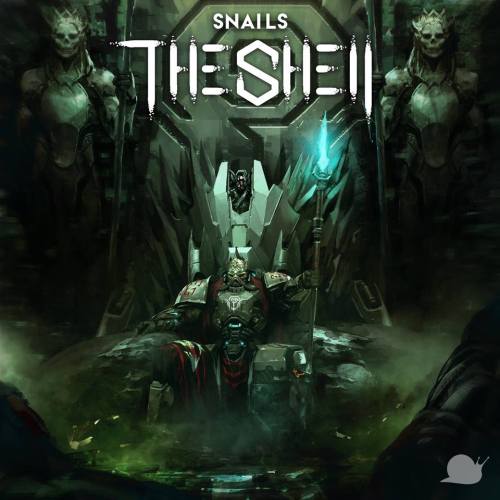 Attention Vomitsquad! Please rise and welcome your savior, Snails, to the stage. The king himself has finally blessed us with his debut album, The Shell, available for stream and download now.
It's amazing that an artist considered at the forefront of bass music is only now releasing his first EP. The mind behind Vomitstep has been headlining major festivals for a while now and somehow he has accomplished this with singles, remixes, and collaborations. But the headbanging world can officially welcome Snails to the party with a debut EP that could start a riot.
For any unfamiliar with the Canadian dubstep king, a quick listen through some of his major hits will help explain the inspiration behind his artist name and the sub-genre dubbed 'Vomitstep.' Snails' very unique production — usually created using Reason and imported into Ableton Live for arranging — has set him apart from other dubstep producers and opened a whole new array of sounds to explore.
From intro to end, The Shell is a wild ride that will pump up the energy of any setting — a warning to any headbangers playing this album in the car, as it could be bad for your health. "The Shell (Intro)" and "The Rise (Interlude)" are beautifully crafted soundscapes that drop the listener into Snails' world of vomit. Every single song on this album is a head-banging masterpiece and together The Shell could be played straight through and still destroy any dubstep set (not that he would do that).
If you're like me, early released singles "WFSU"  and "Only Want You" have been giving you goosebumps on a daily basis. But previously unreleased tracks like "Smack Up," "To The Grave," and "Forever" — just to name a few — live up to the high expectations set by the singles. I am used to finding two or three songs on a good EP to talk about while leaving several other tracks out of the conversation, but I can't stress enough how complete this album is. I will be listening to this album straight through for a long time, and I suggest you do the same.
For those who have not seen Snails live, his shows are filled with wild head-banging, huge mosh-pits, and tons of sweat. Please take a look at The Shell Tour schedule to see if the King himself will make an appearance in your town.