Richie Hawtin Presents CNTRL: Individuality & Creativity in Technology-Based Music College Tour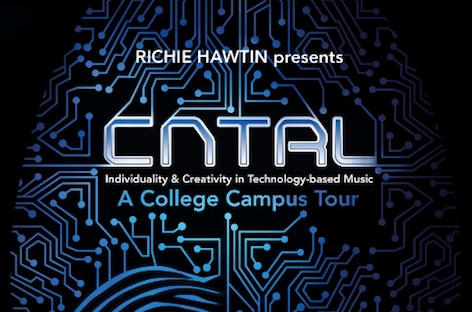 Richie Hawtin presents CNTRL: Individuality & Creativity in Technology-Based Music, a college campus tour, from April 15 – 25, 2015. Celebrating underground dance music, techno, and other sub-genres, Richie Hawtin is bringing along a slew of guests for the CNTRL college tour.
Kicking things off on April 15 in Boston, MA at Berklee College of Music and Middle East Downstairs, the eight-show tour will incorporate live sets in New York, Toronto, Montreal, Seattle, San Francisco, and Los Angeles.
"I hope that people walk away from the CNTRL tour with a deeper understanding and appreciation for the individual creativity that each artist & performer puts into their own shows. We hope that some of the participants and fans will be inspired to take their next steps at trying their hands at their own creativity." -Richie Hawtin
The technology companies participating as sponsors that will unveil and flaunt new products include: AIAIAI / Beatport / DJ Techtools / Funktion One / Little Bits / Livid / Pioneer / Roland / Splice / Subpac / Traktor (Native Instruments)
The day will consist of an hour-long masterclass produced and hosted by one of the world's premier electronic music schools Point Blank Music School. Additionally, Richie Hawtin, Ean Golden, and DJs on each respective date will provide discussions, and at night, attendees will experience all learned come to life during CNTRL's club events.

Confirmed Tour Dates & Lineups:
Wednesday, April 15
BOSTON
Berklee College of Music / Middle East Downstairs
Richie Hawtin
Matthew Dear
Matador
Ean Golden
Guest Speaker: Michael Bierylo, Chair, Electronic Production and Design – Berklee College of Musi
Thursday, April 16
PENN STATE
Penn State University / Levels
Richie Hawtin
Matthew Dear
Matador
Ean Golden
Friday, April 17
NEW YORK
NYU / Webster Hall
Richie Hawtin
Francois Kevorkian
Ean Golden
Dantiez Saunderson
Saturday, April 18
MONTREAL
Concordia / New City Gas
Richie Hawtin
Marc Houle (Live)
Ean Golden
Mateo Murphy
Guest Speaker: Blue Hawaii
Sunday, April 19
TORONTO
University of Toronto / Coda
Richie Hawtin
Marc Houle (Live)
Justin James
Ean Golden
Wednesday, April 22
SEATTLE
University of Washington / Neptune Theatre
Richie Hawtin
Dubfire
Chris Liebing
Ean Golden
Friday, April 24
SAN FRANCISCO
San Francisco State University – Music/Recording Industry Program/ DNA
Richie Hawtin
Chris Liebng
Matrixxman
Ean Golden
Saturday, April 25
LOS ANGELES
UCLA / Hollywood Palladium
Richie Hawtin
Chris Liebing
Victor Calderone
Ean Golden
Lee K
Guest speaker: Grimes
For more information visit http://cntrl-edu.com.