Mixmag Live Makes its Debut at Output with Richie Hawtin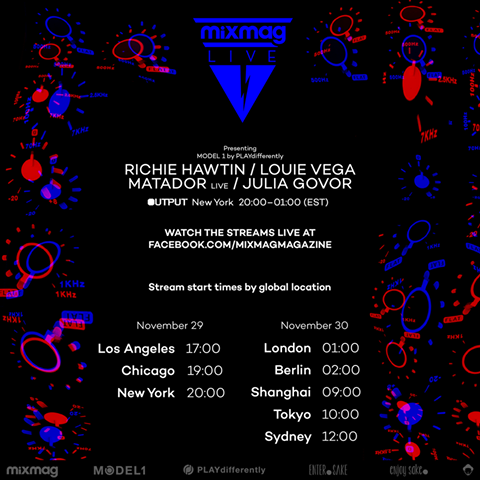 Mixmag Live made its' North American debut at beloved Output NYC this week, showcasing the new PLAYdifferently Model 1 Mixer with Richie Hawtin, Louie Vega and friends Julia Govor and Matador
Mixmag Live events have made their way stateside, and the Nocturnal Times was front row with the exclusive, first event ever taking place this past Tuesday at Brooklyn's premier nightclub Output. Techno's finest Richie Hawtin, was joined by the legendary house music pioneer and Bronx native Louie Vega, and up and coming strong talents Julia Govor and Matador. Each artist had their own unique sound and the variety of genres sampled truly reflected the outstanding quality of the PLAYdifferently Model Mixer. Partygoers were even able to sample the mixing technology hands on in the Halcyon record store during the event.
The entire event was live streamed all over the globe via Mixmag's Facebook page, and the live sets were recorded for everyone that wasn't able to tune in to this memorable event of high energy, quality dance music. The streams took place over Los Angeles, Chicago, New York, London, Berlin, Shanghai, Tokyo, and Sydney. It was a surreal feeling knowing that the rest of the world was also a part of the experience. It's a rarity these days to find any of the artists sets recorded online, and ban of video-taping is typically a strict rule that Output has enforced, but Mixmag Live beat all odds and made it happen.
Watch Richie Hawtin's Mixmag Live set from Output:

The event took place over five hours, and started at 8 PM with Russian newcomer Julia Govor warming up the night. Her use of minimal and ambient beats, truly displayed the incredible clarity and quality of the new mixers, and Govor's ability to get a crowd moving. Before becoming a hailed world talent, Govor debuted as a cassette-DJ in the small military town of Abkhazia and sang in a military band. Govor, and the rest of the league of talent, are all ambassadors of the new PLAYdifferently Model 1 Mixer.
You may be wondering what the fuss about the new PLAYdifferently Model 1 Mixer is all about. To put it shortly, it's a purely analogue mixer that features technology normally found in the finest studio environment consoles, and delivers an extremely clear, clean sound, to scale in a nightclub setting. MODEL 1 is engineered by Andy Rigby-Jones, and was co-designed by none other than Richie Hawtin himself, with two years of testing, feedback, and refinement with artists, clubs and engineers from across the global electronic music community. The artist ambassadors are a heavy loaded lineup, and include techno queen Nicole Moudaber, Paco Osuna, Dubfire, and more. The mixer features six fully featured input channels plus two stereo returns in a small format frame. It has many features not currently available on any comparable device, such as Input pre-amplifier drive control, hybrid filter/swept bell EQ, dual cue system, dual mixer linking system, and a fully balanced Tascam DB25 connector system. These technological advancements result in a fully balanced sound that cannot be found in any other mixer.
Next up on the decks was Louie Vega. His old-school vibe, which has derived from his career over three decades, was a nice contrast to the upbeat techno warm up, and throughout his set were live instrument samples and a jazzy influence. One of the crowd favorites that garnered cheers of appreciation was when he played the classic Hardrive track, which Vega has put his name to, "Deep Inside." He balanced out the classic house tracks with a closing focused on disco, and it was impossible to keep from dancing all the way to the very end. Vega and Hawtin went B2B for a few moments in their transition, and it was amazing to see two legendary figure heads in music side by side having a ball playing together.
The Mixmag Live event was taken to a different level when Richie Hawtin took the decks around 10:30. There was a slow and proper build up to an epic bass blare which could be felt throughout your body. That was when everyone started dancing frenetically and at a faster pace. Gone were the colorful lights that had been washing the club over with a glow, and instead minimal white lights and darkness characterized the madness of Hawtin's presence. Hawtin got his start in the iconic Detroit scene in the 90s, prominently with his work as Plastikman, pushing the sound of minimal techno to the forefront and helping to define the genre in its early stages. After establishing his labels and developing a solid presence in the techno genre, Hawtin went on to begin exploring the many realms with which music could be combined. He established ENTER., which is a specially curated party at Space Ibiza, which called upon a wide variety of talents across five rooms in the nightclub.
Matador, known for his highly popular live performances, closed out the night which ended at 1 AM. Matador is a Dublin native, and has brought his techno force all over the world from Ibiza to Berlin and Los Angeles to Miami. He continued the techno energy of the night put forth by Hawtin, with his set characterized by dark pounding beats and sinister melodies, using minimal techno beats. The underground and energetic vibe was perfectly selected as the close to the event.
See what the Mixmag Live celebration of music and technology was all about and view the live recorded performances here.