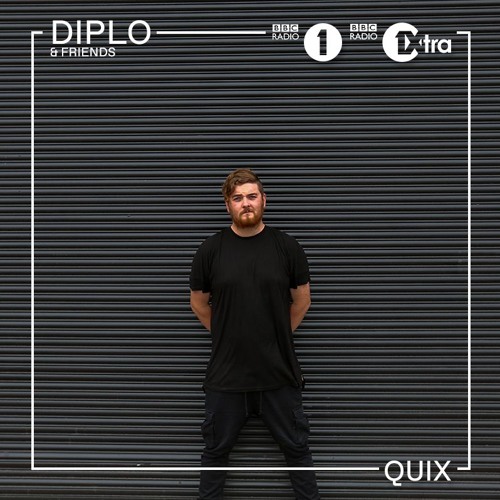 Quix delivers a variety of trap, dubby, and classic bangers in his hour long Diplo & Friends Mix.
Quix has been on the rise in the past couple years, breaking through with one of bass music's biggest hits of 2016, "Supernatural." He's had the support of some of the best indie labels in the game including Mad Decent, Dim Mak, and Nest. A highlight of his year has been a release in the form of an EP called 'Heaps Cool' featuring six tracks. Most recently he released a fresh mix filled with nothing but energy and entertainment  the BBC Radio1 show Diplo & Friends.
The mix aired live on June 11 and on the respectable Diplo & Friends feature radio show. The New Zealand producer went through an assortment of classics, hard hitting dub, trendy and fitting hip-hop/rap remixes, and plenty of trap hype and kicks to go along with it. If you like any sorts of bass music production this mix is definitely worth a run through. He steam rolls the listener with a hard cut into the drop of the Gentlemens Club remix to "Ectoplasm" by Eptic & MUST DIE! followed by a self produced edit on the Excision & Space Laces' beserker of a tune "Throwin' Elbows."
Quix also proceeds to provide listeners with some bang-up mashes and mixes on hip-hop hits like the use of the trumpets in Drake's "Trophies" on Zhu's "Wasted," the selection of big time tune "Mask Off," and the monstrous Suicide Squad soundtrack "Purple Lamborghini" featuring Rick Ross. He takes it off to a nostalgic moment with the addition of classic experimental bass music in the form of Carmack's track "Charge," and the new track with Stooki "Uppers." Alison Wonderland also gets some love in this superb radio mix, as Quix follows Matroda's "Bad And Boujee" edit with the ever so "lit" Alison Wonderland "Messiah" Re-Crank'd version by Crankdat.
This whole set provides listeners with music to get hyped to, bump along with, and a wholesome collection of classic dubby hard tracks that were never the type to be overplayed either. Give a listen below to the full mix from Quix on BBC Radio1's Diplo & Friends Show: