Nocturnal Times Exclusive Interview: Tritonal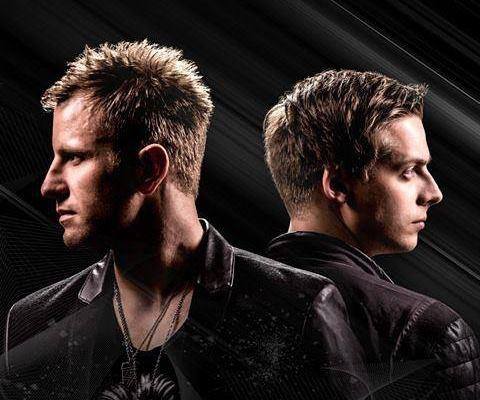 Many years after Tritonal has exploded onto the dance music scene, the powerhouse DJ and production duo have proven more successful than ever. Chad Cisneros and David Reed—better known as Tritonal—have been dominating dance music charts, festival main stages, and dance floors across the globe with their signature sound. Brace yourselves, Tritonians, the best is definitely yet to come.
The Nocturnal Times recently had the opportunity to sit down with Chad Cisneros of Tritonal to discuss their latest mix album "Tritonia Chapter 002." The in-depth exclusive interview informs fans of all that actually goes into the making of a mix compilation, the tracks selected for the mix, new music, Miami Music Week 2015, and where Tritonal see themselves in five years.
The Nocturnal Times: Your new mix album "Tritonia Chapter 002" is set to release on March 9th. What were your criteria for selecting the tracks that made the album?
Chad Cisneros: When it comes to producing songs ourselves, choosing songs for our radio show, or picking our tracks for our compilation albums – our choices all stem from the same ethos.  Music that matters!  Whether it's a huge energy filled explosion song or a touching melody, it should have some emotional connection with the listener.   We don't believe that what we make or choose to play will resonate with every single person on the planet, that'd be silly.   So in order to stay true to ourselves we pick music that touches us personally in some way.   We believe that if we feel it within ourselves, someone else may too.
TNT: These new Tritonal productions, namely "Satellite" feat. Jonathan Mendelson, and of course, "Anchor," already have had tremendous success on the charts not to mention we turn up the volume when we hear them on Sirius XM. What was the inspiration behind these emotional songs? 
Chad: They're songs that hopefully inspire, give people some form of hope and positive outlook!    Music means so much more to us than just another party song, we feel these songs have lyrical and melodic content that sort of speaks the soul of what Tritonal is all about…uplifting energy.
TNT: Tritonia Chapter 002 is packed with loads of new music from the Enhanced Music label artists like Estiva, Jus Jack, Juventa, Disco Fries, Mike Shiver and Thomas Hayes, just to name a few. What was it about the 22 tracks that made them mix so well together?
Chad: Well, first of all thank you.   We feel they flow well too, but hearing that is great.  🙂  All the producers you mentioned are so talented, so we wouldn't want to take anything away from those guys by acting like our "slick mixing skills" make the album great.   It's really about having great songs.   We worked for almost 6 months A&R'ing tracks for this album along with our label mate Will Holland.   If we can take credit for anything, it would be giving these artists our personal insight and direction on how to make the songs even stronger.   We were picky, and ultimately had to turn down a lot of good music for even better music.   Patience is required, as we would have honestly liked to have released this in December of 2014.   We decided to wait, really make what we had as good as possible, and push our artists to deliver their absolute best.
TNT: Speaking of new music, let's go back to this brand new Tritonal track "Electric Glow" feat. Skyler Stonestreet (Arston Remix). A perfect vocal track to open up the album and you guys are sharing it with your fans as an instant download when they pre-order Tritonia Chapter 002. Is there a story to coincide with this massive production?
Chad: The story goes like this… We Love Arston, The End! ha! No but really, Electric Glow is a gorgeous vocal. He smashed it, what more can we say?
TNT: As we are all aware, Miami Music Week is approaching quickly. What can you share with the Nocturnal Times readers as far as your personal plans during the month of March?
Chad: Ahh Miami is just around the corner, always so much fun 🙂   We unfortunately do not have the liberty to announce shows as of now.  😉
TNT: Another brand new track from Tritonal, "Ginsu," is releasing on February 23rd. An energetic and melodic instrumental coming from the Mainstage Music imprint, "Ginsu" brings back the past sound Tritonal was known for a few years back. Can fans expect some more of this style or is the vocal dominance still your prime production preference?
Chad: What a fun song to produce!   Sure, we'll do more stuff like this in the future, always fun to bust out some energy on an instrumental song.  That said, we love working with vocals so much, they just do something for us that instrumentals seem to lack.   It's had great support so far with guys like Hardwell, Guetta, N. Romero, W&W and more supporting it, seemed like a fun way to kick off 2015!
TNT: What does the rest of this year hold in store for Tritonal? What can fans expect from Chad and Dave as far as new music, upcoming gigs, collaborations, or even personal goals? 
Chad: We've been working SO HARD on our next artist album.   Already almost 5mos worth of work, and we've got so much more to go!!  We're hoping it will be finished and released this year, we know our fans are eager and I don't think we've ever worked more diligently in our career. Something special is on the way!!
TNT: Where do you see Tritonal five years from now? 
Chad: I see us happy, I see us maturing even further in the art of musical composition.  I see us writing another album in LA.   I see us making the music we love to make, and sharing something deep within ourselves with our Tritonians.