The Nocturnal Times Exclusive Interview: Gabriel & Dresden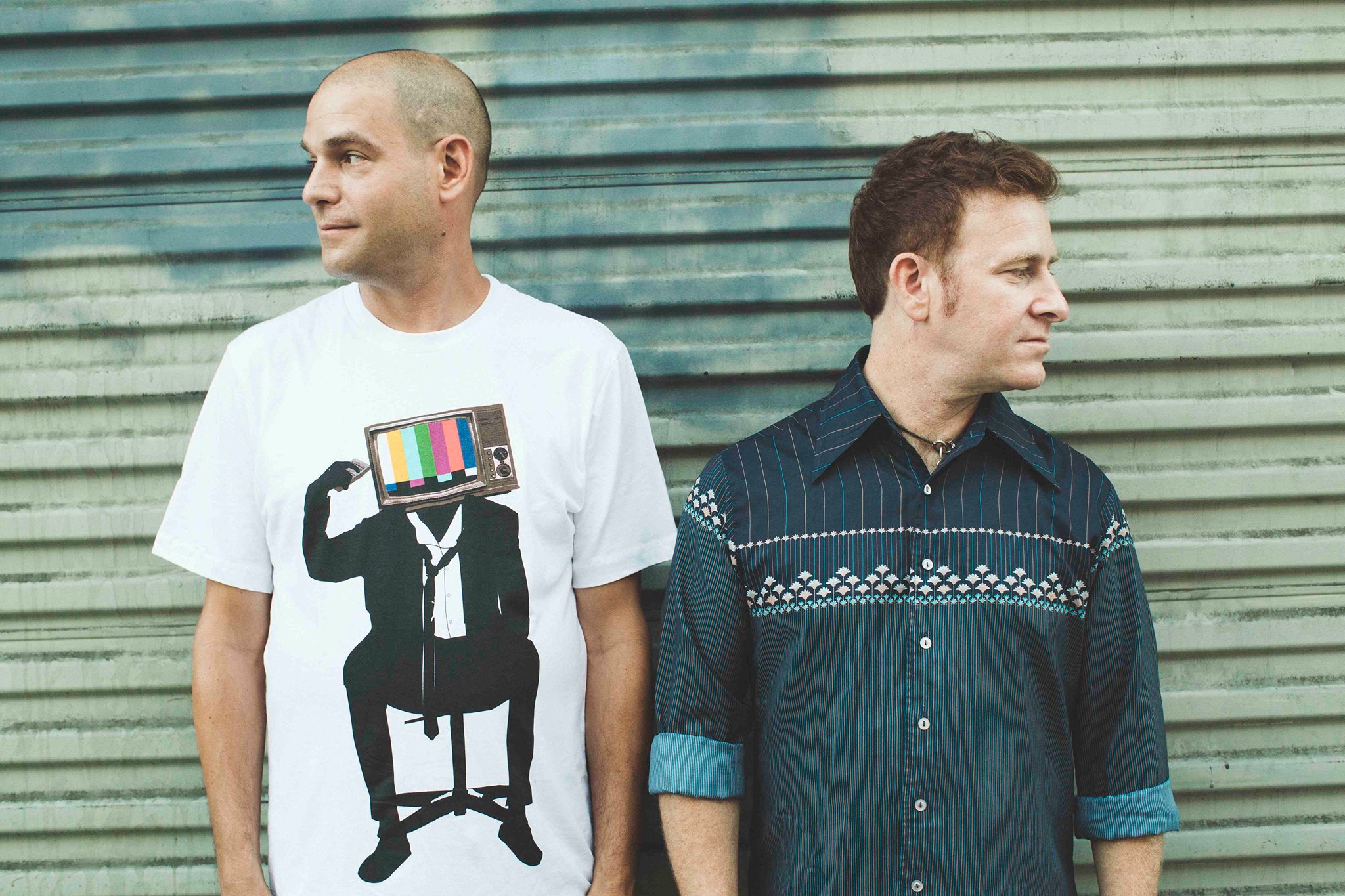 It's been nearly 15 years since things began for Gabriel & Dresden—and it's been a wild ride. Little did they know, they would shape the mold for the future of electronic dance music, setting the bar higher for those to follow in their footsteps. The Nocturnal Times recently had the opportunity to sit down with the iconic emotional dance duo following the announcement of their upcoming Classics Only Tour.
Following their high-praised classics only DJ set at the Anjunabeats Pool Party at The Raleigh Hotel this past Miami Music Week, G&D decided to give the fans what they want—more classics! The legendary pair will sweep through North America for an open-to-close Classics Only Tour this summer, where they plan to showcase only their own productions and remixes. We chat with the powerhouse pair about their plans for the forthcoming tour and any surprises they may have up their sleeves for the live sets.
Gabriel & Dresden exploded onto the scene in the early 2000s, securing their legendary status shortly therein. For those who may be unfamiliar with Josh Gabriel and Dave Dresden, the pair is behind the Organized Nature label, contributors to Motorcycle alongside JES (yielding "As The Rush Comes"), and an extensively noteworthy discography.
In lieu of their upcoming tour, Gabriel & Dresden recall memories of their earliest encounters and recollect on the very beginning of G&D. Appreciated for their high-energy, emotional, sing-a-long live sets, the Classics Only Tour will notably be one for the books. Hear which productions, remixes, and mash-up's Dave and Josh will include on their Classics Only Tour and grab tickets to a show near you now.
The Nocturnal Times has partnered with Gabriel & Dresden to offer one lucky partygoer a chance to win 2 free tickets to the Classics Only Tour stop at Cielo in New York City. Enter to win HERE.
The Nocturnal Times: How and when did you guys first meet? Were you friends prior to forming Gabriel & Dresden or were you already pursuing solo careers?
Gabriel & Dresden: We met at Miami WMC in 2001. We had never met each other before but we got to talking in the lobby of the Royal Hotel and the next thing you know an hour had passed. We found each other interesting because we came to realize that we had similar tastes in music.
Fast forward about two hours later, and there's a DJ event on the rooftop pool of the same hotel. Dave was chatting it up with some other people when he saw Josh motion to hand DJ Leon Alexander a copy of a vinyl record. Dave went up to Josh and asked what the record was. Josh responded that it was his first ever pressed vinyl 12" record called "Wave 3"
Dave was immediately intrigued because of the conversation that they had earlier about music. "Can I have a copy?" asked Dave. "I'm actually an American talent scout for Pete Tong, If I like it I might be able to get Pete to play it on the Essential Selection" He continued.
Josh, being from LA was skeptical because there's always a fast talking idiot around the corner trying to blag free stuff, but Josh trusted Dave enough to give him one of the 25 copies of the vinyl he had brought to Miami.
Lo and behold, the first week after Miami, there was "Wave 3" front and center in the first hour of Pete Tong's Essential Selection radio show. Josh called Dave to thank him for his support.
Which got us talking even more and Josh played Dave some of the other tracks he was working on. "Hey, if you did this at this part of the song, it would work on the dance floor better." "The snare needs to hit harder" "the bass seems too loud" were a few of the things Dave told Josh about the unfinished tracks. Josh agreed with many of Dave's comments and that got us talking about one day maybe collaborating on a song.
About 2 months later, Pete Tong asked Dave if he wanted to have a crack at remixing a song by New Order. Dave had been looking for a reason to work with Josh and this seemed like a perfect place to start. And the rest, they say, is history!
TNT: What was the very first track you began producing together? Was it released?
G&D: It was the aforementioned remix of New Order's song "Someone Like You" – it was released as a promotional 12" vinyl and supported by many DJ's (most notably Tiesto) but was never commercially available.
TNT: When did you ultimately decide that a Classics Only Tour was necessary?
G&D: There are many reasons we decided time was right to do the tour. But the primary reason is that the fans have wanted us to do something like this for years. We see requests and praise every day for a number of songs we've made on social media and the idea has always been in the back of our minds.
We did a show at the end of December, one of the closing parties for Guverment in Toronto and we decided that since we had a lot of history in that venue that we'd play more G&D classics than usual that night. And when we saw how they still worked on the dance floor all these years later with people singing along and going crazy, that we might be able to really pull something like this off as a tour.
TNT: How long do you plan to play during your Classics Only Tour stops?
G&D: The tour is open-to-close, so it depends on how long the venue wants to stay open. We have way more than 7 hours of music that we've made, plus all the other music that we put on our mix compilations and other inspiring music from the time, we could do 12 hour sets if need be.
TNT: Is there one song specifically that you plan to incorporate in each of the tour stops?
G&D: Well, we're gonna have to play the big hits at all the shows. We know that. But we also might do things like break songs down to super minimal elements and build them back up live bit-by-bit using the stems and parts and a controller. We've always wanted to do that but have never really had the chance to. You get a lot more freedom to experiment when you play open-to-close sets.
 
TNT: What do you consider to be some of your most underrated productions? Remixes?
G&D: The insane thing is that there really weren't too many tracks we made that didn't find their way. Maybe some of the stuff we made just before we went on hiatus, such as the Shiny Toy Guns and Faithless remixes were never the huge request items that a lot of our other music became.
TNT: While we understand it's very difficult to pick a favorite, what are a few of your personal favorite productions?
G&D: Right now, we've really been feeling the track "Eleven" It's definitely not an obvious choice but the sounds and the way they work together and the ride that track gives you is pretty priceless.
Of course Andain "Beautiful Things" is always a favorite because it's so unique. A track at 131 BPM with very little energy but that much power demands your attention.
TNT: Bringing a strictly classics tour to fans across North America, are there any plans for G&D to remix any older productions or create new mash-ups to use on tour? Can you share what fans can expect from the live sets?
G&D: We really want to focus on playing the originals this time around. When we came back in 2011, we did a lot of those types of mash-ups and a lot of times we found those versions, while they crushed it at festivals, alienated a lot of the true G&D fans. The ones who who made us, who've supported us and travelled all over the place to come see us. We are doing this tour for them.
TNT: Do you guys have any old unused vocals or productions, collaborations, or remixes in the vault that were not released from early in your career?
G&D: We have a whole folder with 5 gigabytes of unreleased material. That will likely find it's way into the sets on the tour. We're goin' deep here.
TNT: What are some of your favorite dance albums of all time? Non-dance albums?
G&D: These questions are always so hard to answer when you possess nearly 30,000 albums in your collections collectively. There's some Cure in there, definitely some Depeche Mode ("Black Celebration"), Underworld, Chemical Brothers, Sasha, Human League, The Smiths, the XX, we could go on and on.
TNT: Where do you see Gabriel & Dresden five years from now?
G&D: You never know where this journey is going to take you.